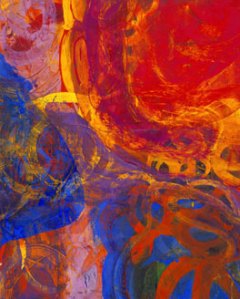 Let's get the ugly truth out of the way: Galleries are commercial enterprises—in short, they're stores. Profits may not be the motive for starting a gallery (usually a genuine love of art is involved), but capitalism has a way of overshadowing aesthetics. Which isn't to say that the two are mutually exclusive. Take, for instance, The New Landscape/The New Still Life: Soutine and Modern Art, a museum-quality exhibition at Cheim & Read.
In setting paintings by the Belarussian expressionist Chaim Soutine (1893-1943) alongside those of 20 or so contemporary artists, the gallery's stated goal is to illuminate "the consciousness of past art" that "all modern artists carry with them"—an exemplary goal, and a rare one in Chelsea, where most artists can hardly be bothered with the chic trivialities of the past five minutes, let alone a poverty-stricken Jew in early 20th-century Paris tussling with the legacies of Rembrandt, Courbet and Van Gogh.
More than a few of those contemporary artists (or their estates) happen to be represented by Cheim & Read, who have a financial stake in seeing the work of their roster hanging alongside an artist rubber-stamped by museums around the world. The avowal of artistic continuity brings historical credibility to the product at hand. Prestige helps boost (fingers crossed) an already perfervid marketplace.
Still, art hearteningly asserts its independence at Cheim & Read. Curated by Esti Dunow and Maurice Tuchman, authors of the Soutine catalogue raisonné, Soutine and Modern Art is divided into sections devoted to thematic subjects: dead flesh, the landscape, still life and more dead flesh. Pictorial similarities are also underscored, particularly Soutine's roiling brushwork, as well as the "impenetrability to logical analysis" that characterizes his work.
That phrase comes from American painter Jack Tworkov's sharply observed (if highly romantic) essay, which is excerpted in the catalog. Originally published more than 50 years ago in Art News, it posits Soutine as a precursor of Abstract Expressionism. Tworkov wasn't off the mark. After some eye-glazing dramatics—really, how much "tragic anxiety" can a reasonable person tolerate?—he hits upon what unites Soutine and the New York School: "The hand is the dancer … when the soul is dead the hand knows nothing. [Painting] is not a technique but a process. It is most unlike carpentry." Action painting, anyone?
The centerpiece of the introductory gallery is the sumptuously visceral Carcass of Beef (c. 1925), a signature work on loan from the Albright-Knox Gallery. Soutine's slathered-to-the-edges approach is echoed in surrounding pictures by New York School figures like Willem de Kooning, Jackson Pollock and, least convincingly, Tworkov himself. The glistening panoply of reds coursing through Soutine's masterpiece achieves its most spectacular correspondence in the jewel-like tones of Bill Jensen's The Five, The Seven VII (Céret) (2005). The quasi-religious pathos inherent in Soutine's canvas, itself an homage to Rembrandt's Carcass of Beef (1655), is best exemplified by the hanging tangle of wooden blocks and wire in an untitled sculpture (from 2005) by Joel Shapiro.
The rest of the exhibition doesn't quite match the first gallery's moody elegance, but it's filled with astute juxtapositions. Additional nods to painters working in the mode of the New York School—Milton Resnick, Louise Fishman, Joan Mitchell and de Kooning again—are included, yet Soutine's example doesn't pertain solely to abstraction, as is fitting for a painter who never relinquished an often-tenuous grip on representation.
Are Brits hot on Soutine? It would seem so, though their tributes don't always fare well when placed alongside the work of the man himself. The academicism of Leon Kossoff's and Frank Auerbach's heavily impastoed cityscapes is divulged all too clearly when seen alongside a painting like Soutine's churning Landscape at Céret (c. 1920-21). Lucian Freud's Painter's Garden (2003) tempers Soutine's compositional violence while narrowing his emotional timbre—claustrophobia, not carthasis, is the motif. It's an unexpected respite.
The final two galleries are devoted to still life and memento mori. Soutine canvases like Brace of the Pheasants and Two Pheasants on a Table (both c. 1926) exert an anti-gravitational pull, but this latter section is dragged down by the heavy hands of Georg Baselitz, Susan Rothenberg and the sainted Louise Bourgeois.
In sober contrast, Avigdor Arikha tunes in to the spirit, if not necessarily the body, of Soutine's vision: His Socks, Paris (1998) is a startling reminder that significance can be found in the most mundane objects. Still lifes by Philip Guston and Richard Diebenkorn, though radically different in character, share Mr. Arikha's positive spin on Soutine's influence.
Soutine himself could barely sustain the tempestuous nature of his art; it's remarkable that he sustained it at all. Even given his short life span—he died of a perforated ulcer at the age of 50—he didn't entirely escape mannerism or parody. His galvanic art, once fully formed, never developed. Passion is in abundance; breadth is missing. He's a one-note wonder. His example can inspire; it should also prompt caution. That's perhaps the most pertinent lesson offered by Soutine and Modern Art.
The New Landscape/The New Still Life: Soutine and Modern Art is at Cheim & Read, 547 West 25th Street, until Sept. 9.
This Way, That Way
As its title and spelling pretty much indicate, everywhichway, a group show at Edward Thorp Gallery, is more typical of summer gallery fare than Soutine and Modern Art. The Thorp exhibition doesn't have posterity or scholarly focus in mind. A miscellany of talent provides reason enough to throw some paintings up, kick back, crank the A/C and enjoy the languorous season.
Would that Thorp kicked back more often. Commercial galleries use the slow time of year to audition artists for possible representation or to do favors for friends. Whatever occasioned the easygoing tenor, the gallery should tap into it more often: everywhichway is the most interesting show Thorp has mounted this season. Why aren't these seven "under-known" artists considered worthy of prime time?
Despite their stylistic diversity, their art coheres in unpredictable and sometimes weird ways. The secretive dialogue that occurs between the paintings of Colin Thomson and the ceramic wall pieces of Joyce Robins is a case in point: They share a constant in form—the circle—and an interest in meditative rhythms, yet Mr. Thomson and Ms. Robins explore different tangents. Mr. Thomson looks to mid-century design to create brashly patterned abstractions; they mirror and then still the shifting tumult of images emblematic of our virtual age. Ms. Robins' ceramic reliefs, with their crackled patinas and accumulations of punctures, take less from culture than nature: Each piece seems a meditation—a requiem—for the fleeting and fragile sensuality of the body.
Some artists benefit from being alone. The peculiar paintings of Katherine Bradford and Jennifer Riley are wisely cordoned off in their own spaces. Ms. Bradford's luridly colored pictures of battleships are a pseudo-naïve version of history painting that is more quizzical than whimsical. Ms. Riley's clean, clinical systematic abstractions bracingly swallow the space around them.
Against the odds, the main gallery manages an equilibrium between artists of stubbornly individual, all-but-impenetrable purpose. It's certainly hard to tell what Sigrid Sandström is up to: Her theatrical paintings are an uncertain, if smartly crafted, jumble of gestural brushstrokes and northern landscape painting, ironic commentary and sublime associations. Harvey Tulcensky makes obsession work for him in a suite of meticulously constructed drawings of tightly meshed linear networks. And Chris Martin's tendency to overestimate his every move indulges a necessary chutzpah in his bluntly fashioned iconic abstractions. Bright colors, big forms, unapologetic surfaces and more glitter than any artist should be allowed to sprinkle deliver a punchy counterpoint to a diverting smorgasbord of art.
Everywhichway is at Edward Thorp Gallery, 210 11th Avenue, until July 28.