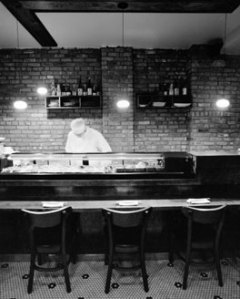 When I first walked into Nagomi at 8 o'clock one evening a few weeks ago, all the tables were empty. This small Prince Street storefront, with its French doors, wood tables, red brick walls and mosaic tile floor, has seen many incarnations. For years it was a café in what was once an Italian neighborhood. But now, two Japanese chefs stood idling behind the sushi counter that had replaced the old espresso bar. Instead of straw-covered Chianti bottles and views of the Bay of Naples, the room was decorated with a brown lacquered seascape, a spray of artificial cherry blossoms and two dozen votive candles arranged on a trellis, flickering merrily along one wall. Louis Armstrong and Ella Fitzgerald played softly on the sound system. A couple of chic young Japanese women dressed in black waited by the door with anxious smiles, like hostesses secretly wondering if they'd forgotten to send out the invitations to their party.
I'd stopped by for take-out. And given the dearth of customers, I didn't expect anything special when I took home a couple of orders of the Nagomi "sushi bar dinner." There were eight pieces, an eel and cucumber roll, and miso soup for $19. It was so good (and the fish so fresh) that my husband and I went back to eat at Nagomi the next night.
This time there were four other customers in the restaurant, French tourists from the provinces. They looked over the menu in bewilderment. "Qu'est-ce que c'est 'kitchen entrée?'" asked one of them, a middle-aged man in shorts and a red, tie-dyed sunburst T-shirt. (A reasonable question: In France, the entrée is served between the fish and the roast.)
"L' entrée c'est les plats," explained one of his companions, a woman with the air of a schoolteacher.
The Frenchman's eyes glazed over as he continued to read. He passed on the sushi and ordered salmon tartare and a plat du jour—duck breast in an orange-soy glaze—with a glass of red wine. Just like home.
Nagomi is more than just a sushi restaurant. The menu, which has over 100 dishes (not including 28 choices of sushi), also branches into fusion, and there are interesting specials every day. Bright green, lightly crisped pancakes come with a soft filling of puréed peas and are topped with mushrooms and a sliver of Parmesan. Hunks of beef ribs, falling off the bone, are coated with a thick teriyaki sauce; a risotto is made with uni and sprinkled with pearls of salmon caviar (not a complete success—the rice could be creamier). The glazed duck arrives in rare, meaty slices with a salad of slivered, raw red cabbage and cucumber.
Over the next few weeks, I ate my way through a great deal of Nagomi's menu. I was on deadline for a book and had little time to cook at home. So I was pleased to be able to walk in and get a table right away. But I also began to wonder if the place was going to make it. With Blue Ribbon Sushi around the corner and Tomoe Sushi up the block, not to mention at least three other Japanese restaurants nearby, you wouldn't think the neighborhood needs another one.
But Nagomi's sushi is first-rate. Much of the fish is flown in from Japan, and in addition to the usual choices, there may be amberjack, kampachi (Hawaiian yellowtail), orange clam and giant live scallop on the menu. I asked our waitress if they had toro.
"Toro is tomorrow," she replied.
And on the morrow for toro, I tried not only toro sashimi, but seared toro tempura, wrapped in a roll with shiso leaves and scallions. It was great. Marinated mackerel, skinned and served in thick slices with onion and a lemony ponzu sauce, was also wonderful, as was the ubiquitous miso black cod, a "kitchen entrée" every bit as good as Nobu's.
Another night, a wooden platter arrived sparkling as though it had been decorated with jewels. What had we ordered? Rolls: shrimp tempura rolls, with pink feet sticking out of the end; a dragon roll with eel, avocado, mango and sliced plum; a crunchy spider roll made with soft-shell crab, legs in the air, served with cucumber, avocado and tiny bright orange beads of masago, the caviar made with smelt fish roe.
Pepper tuna is a dish I avoid in unfamiliar sushi places (and certainly in supermarkets), since sometimes it's not made with the freshest fish. It's one of the best things on the menu at Nagomi, seared and served with a creamy sesame sauce. Smoked eel is wrapped in coils of cucumber in a sweet-sour vinegar dressing.
Nagomi's wine list is elementary and inexpensive. The sakes are much more interesting, and there are four Japanese beers.
Desserts include an Asian pear poached in sake, a crème brûlée flavored with ginger and lemongrass, and green-tea ice cream with a red bean and jelly rice ball.
Each time I visited Nagomi, there were a few more customers. On my last visit, I arrived just in time to get the last free table in the house.