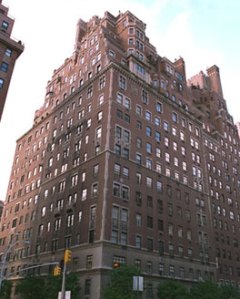 For years, the more politics-minded denizens of the ritzy co-ops on the Gold Coast and Central Park West have played host to dinners and cocktail parties for candidates they support (or whose ears they want to bend).
But there's trouble these days in the once-cozy relationship between exclusive co-op buildings and Manhattan's most prolific political givers.
"They are sick of the fund-raising," said one Upper East Side broker, of the top co-ops. "They don't want elevators filled up with people. They are going to make sure people that want political fund-raisers find halls."
According to several of Manhattan's most high-end brokers, co-op boards in some of the best buildings—including 720 Park Avenue, 770 Park Avenue and 1 Beekman Place—are beginning to clamp down on large political bashes, asking pointed questions in board interviews of buyers known for their campaign fund-raising.
Kathy Sloane is a broker at the luxury real-estate agency Brown Harris Stevens. She is also a prominent political fund-raiser, and so it's no surprise that in political circles, the broker who found Hillary and Bill their homes in Chappaqua, N.Y., and Washington, D.C., is well-known to a few of their friends looking for an apartment suitable for giving fund-raising cocktail and dinner parties.
"I've had customers come back to me and say that they were asked if they would be giving large fund-raisers in the apartment" when they come before the co-op board for approval, said Ms. Sloane.
Traditionally, top co-op buildings have shunned anyone who might bring unwanted attention to their wealthy, publicity-shy residents. In the past, that's included flashy Hollywood stars, tabloid-friendly musicians, foreign dignitaries and even a former President—essentially, anyone regularly trailed by paparazzi or burly men in dark suits, with sunglasses and squiggly wires tucked behind their earlobes.
These days, political functions require an ever-increasing security detail for certain figures, bringing with it a higher level of intrusiveness.
"In a political fund-raiser, many people walk through the front door who are not known by the host or hostess," said Ms. Sloane. "So I think there is less confidence about the guests at a large political fund-raiser."
Also, there are inconveniences that the truly rich must deal with, like trying to get past a horde of limousines and town cars lined up outside the building, or getting into an elevator when 200 people are coming and going upstairs.
In the past year, Ms. Sloane has worked with prominent Democrats like Stephen and Sharyn Mann, and Carl Spielvogel and Barbaralee Diamonstein-Spielvogel—who purchased a $20 million apartment 10 floors below their current residence at 720 Park. Over the years, the power couple's luxurious spread has been visited by former Senate Majority Leader Tom Daschle, Attorney General Eliot Spitzer and the Clintons. (Incidentally, it was President Clinton who made Mr. Spielvogel the Ambassador to Slovakia.)
But since the Spielvogels were only moving downstairs, they wouldn't have to face the tough board questions that could have arisen if they were seeking entry to another gilded corridor on Park or Fifth.
And at some co-ops, it might be difficult to deal with the strict rules—especially when one wishes to bring their partisan donor pals around for drinks. With wealthy Northeast liberals never in short supply, most exclusive Manhattan co-ops lean towards the Democratic Party—especially on Central Park West, with the Beresford, Dakota, El Dorado, 88 C.P.W. and the most donkey-friendly of them all, the San Remo.
"In the past, you didn't want movie stars there," said Laurance Kaiser IV, of Key Ventures Realty. "Now, you don't want a politician who's controversial."
While the East Side buildings still have more Democratic donors on average, based on campaign contributions, the political makeup is comparatively more mixed.
"As far as political fund-raisers, the broker who is attempting to find a place better understand the makeup of the building," said Emilie O' Sullivan, of the Corcoran Group. "If the building tends to be Republican, they don't want a Democratic fund-raiser. If there are a lot of Democrats in the building, they might not want to take a big Republican fund-raiser."
In one unfortunate instance, "a prime fund-raiser who attempted to get into a top-notch building" was denied, according to Ms. O'Sullivan. Although the broker declined to name the buyer, she said that the unlucky buyer was given the right to withdraw, taking their deposit with them. "[T]he person ended up buying in a condominium," she said.
"The reason you do it in your home is to avoid the overhead," said Ms. O'Sullivan. "Then it's all donation. [But] those days are getting to be slimmer and slimmer. The ones that have been having them—720 Park, 770 Park—they've been asked to pull back."
While some luxury brokers claim there is a decline in the number of politically driven soirées, one veteran political consultant hasn't noticed a drop.
"The biggest, highest donors still do it in their homes," said Hank Sheinkopf. "There's still no substitute to Park and Fifth Avenue as the locales for the rich to meet with the rich—and give checks to rich."
"Some of these apartments are absolutely spectacular," added Mr. Sheinkopf. "The apartments themselves are draws. It is both a social and political event. It's the best way to wed two things—comfort and cash removal."
But if Ms. Sloane and her friends in the real-estate world are to be believed, that marriage may be coming to an end.
"In the old sense, the big cocktail parties are not so much a practice anymore," Ms. Sloane said.
Now, she thinks, the place to put political moneybags is out in the Hamptons, or in townhouses.
"Their house is their castle, so they can make the rules," she said.