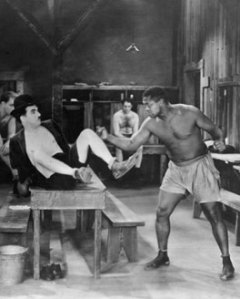 Last year in Paris, I went to a Chaplin exhibit at the Jeu de Paume. There were artifacts, stills, posters and very well done video projections of scenes from his films. One of the scenes being shown was the outtake from City Lights (1931), first uncovered by Kevin Brownlow and David Gill, in which the Tramp does battle with a piece of wood stuck in a grate and slowly brings a busy city street corner to a complete halt.
It's one of the best scenes Chaplin ever devised, a Chekhovian story of idleness and frustration done in mime, but he ruthlessly cut it out of the film because there was no place for it; wherever the scene was placed, it stopped the narrative dead.
The children and adults gathered around the screen at the Jeu de Paume didn't care about all that: They started watching the scene with small chuckles that ascended toward belly laughs. It was like that with every scene—the feeding machine in Modern Times (1936), the boxing scene in City Lights, the rhythmically perfect ending of The Circus (1928), which was cleverly projected next to the similarly framed yet murderously different ending of Monsieur Verdoux (1947).
Two points: I think you can make a serious case that Chaplin is the most important figure in the history of the movies, if only because he seamlessly turned the toughest trick in the liveliest art: great commercial success and great critical respect. Besides establishing a practically chimerical goal that has destroyed dozens of directors in the 90-odd years since his screen debut in 1914, Chaplin gave the movies both a business and an aesthetic base.
Second point: The man had balls the size of cathedral bells. After sound irrevocably altered the medium in which he'd flourished, he ignored it for a decade, then invested $2 million of his own money in The Great Dictator (1940), a virulent anti-fascist satire at a time when America was awash in isolationism and much of the European market was already lost to him. Further proof of his testicular courage: Monsieur Verdoux, a satire about a wife killer that takes the murderer's side.
Those two points—and many more—get made in The Essential Chaplin, Richard Schickel's intrinsically valuable new anthology. A similar volume called Focus on Chaplin (1971) covers some of the same ground: Both books reprint Minnie Maddern Fiske's appreciation from 1916, as well as pieces by Edmund Wilson (superb), George Jean Nathan (ridiculous), Francis Hackett (excellent), Robert Sherwood (O.K.) and Walter Kerr (ditto).
Mr. Schickel has updated the list of contributors to include my favorite piece in the book, Alistair Cooke's glistening, elegant reminiscence, originally published in 1971; a lovely piece from The Observer's Andrew Sarris, as well as essays from such comparatively heavy lifters as Theodor Adorno (all too heavy, unfortunately) and Robert Warshow. Cumulatively, it's an invaluable guide to the changing critical fortunes of one of the 20th century's great artists. For roughly 30 years, Chaplin was reflexively regarded as nonpareil; then, quickly, he became cultural anathema for reasons both political (premature anti-fascism) and sexual (he liked perilously young girls). That was followed by the critics' turn toward Buster Keaton.
For the record: I love Keaton, but I can't imagine why anybody would consider him the superior overall artist. Keaton is obviously a great film technician, but he's often too clever to be truly funny, and I can't see where he ever got close to a unified work of art like City Lights. (Few have.) The problem, of course, is that Chaplin is overtly emotional, Keaton the driest martini imaginable, and we live in a time that's suspicious of emotion.
Mr. Schickel himself is a somewhat late arrival to the roster of Chaplin admirers; I recall a piece he wrote in the early 70's entitled "All Hail Chaplin—the Early Chaplin," which indicated that he thought the comedian had topped out around 1917. Mr. Schickel has come around, but not totally; he dislikes Chaplin's talkies.
I agree that the reach of Monsieur Verdoux exceeds its creator's grasp, but what's so terrible about that? A lot of people, myself among them, think that Limelight (1952) is nearly a great film. We will draw a respectful veil over A King in New York (1957) and A Countess from Hong Kong (1967); suffice it to say that Chaplin obviously drew a great deal of aesthetic inspiration from the reliable faces and structure of his little studio in Hollywood, and couldn't replicate the magic in alien studio environments in London.
A far more serious problem with this book is Mr. Schickel's basic lack of sympathy for the medium in which Chaplin's best work was done: "The silent film was largely, and perforce, a cinema of broad romantic and exotic adventure, a cinema that had to deal mainly in the kind of emotional expression that did not require nuanced explanations, that did not even offer a realistic portrait of the world as we daily lived in it and perceived it."
Mr. Schickel is perversely seeing the silents' strength—their potent otherworldliness, so much closer to ballet than theater, the novel or the surface realism of sound—as their weakness. Also, the silents did slice-of-life realism just fine. Right off the top of my head, there's Vidor's The Crowd, von Sternberg's The Docks of New York and Seastrom's The Wind.
Then there's that "perforce." The Sir Walter Scott locution emphasizes the fusty, Professor Kingsfield–ish tone that has crept into Mr. Schickel's prose as he's aged.
Finally, there's the matter of creeping condescension. In his recent book on Elia Kazan, the condescension was directed at Clifford Odets and anybody who might have entertained the heretical thought that Kazan possessed a touch of the weasel as well as a touch of the poet. In this anthology, it's redundantly slighting references to some of the contributors. Penelope Gilliatt "was in her day a highly regarded short-story writer and an occasional novelist and screenwriter." And: "In his day … Alexander Woollcott was a force to be reckoned with …. " It's an irritating master of ceremonies who can't stop keeping score, who has to interject himself between the audience and the performers.
But none of that interferes with the stimulating spectacle of many good and great critical minds circling around an artist truly worthy of their attention. In his own long scene-setter at the beginning of the book, Mr. Schickel concludes somewhat wonderingly by saying, "He really was a genius."
Yes. He really was.
Scott Eyman's Lion of Hollywood: The Life and Legend of Louis B. Mayer was published last year by Simon & Schuster.