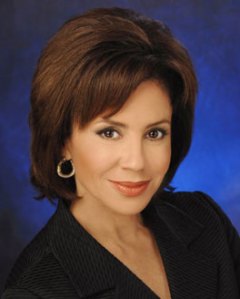 Long before she became part of a trans-Atlantic celebrity love story, before her face was in the British papers, WCBS Channel 2 anchor Dana Tyler dreamed of becoming a nun. Never mind a family history that all but foretold a future in journalism, including a great-grandfather who spent the First World War on the Western Front as possibly the only black correspondent. One viewing at age 10 of Sally Field as The Flying Nun, and she was smitten.
"I can only say that I was a child," Ms. Tyler said in her second-floor office at the CBS production center in Hell's Kitchen on a Tuesday afternoon. "She had goodness, and she flew, and it was magical."
Ms. Tyler, 47, has slim shoulders and the smoky eyes and satin voice of Claire Huxtable. She wore a mauve Max Mara blazer, a full face of makeup and three silver bands, tantalizingly, on her left ring finger. "I bought them on vacation with my girlfriend in the hotel gift shop in Florida," she said wearily.
She politely declined to answer questions about the 55-year-old pop star Phil Collins and the spring romance that has extended her fame beyond the local-news broadcast radius. "I interviewed him as part of the Tarzan press junket," she said, "and I don't want to talk about my personal life."
Is she a Genesis fan?
Ms. Tyler looked to her publicist. "Do you know who Genesis is?" she asked facetiously.
Turning back, she leaned to within inches of NYTV, scrunched her nose and shook her head. "No," she said.
Ms. Tyler prefers show tunes, Billy Joel and, on occasion, the Osmonds. A high-school cheerleader, longtime Girl Scout, perfect student and onetime candy striper, Ms. Tyler got her start in television at the age of 8, when she appeared as a "clean plater" on a show called Lucy's Toy Shop, which aired locally in her hometown of Worthington, Ohio. Her job on that program was to eat a plateful of spinach and sing a jingle to a tree. ("Hi there, Mr. Tree!")
Ms. Tyler now occupies the 6 p.m. and 11 p.m. anchor desks for the third-rated Channel 2. On July 10, she solo-anchored her network's coverage of the 62nd Street building explosion. She spoke of a housecat that "succumbed to smoke inhalation."
She transitioned fluidly to a piece about a New Jersey murder-suicide. Then on to a story about calcium supplements for weight control, which she read over B-roll of fat ladies waddling. Then a birdnapping in Queens, during which she proved, against all odds, that it was possible to deliver the line "There's something fowl at Bob's Tropical Pet Center in Ridgewood, Queens" with grace.
Ms. Tyler started her journalism career as an intern at WBNS Channel 10 in her native Columbus, Ohio. Over the next decade, she climbed eventually to the plum 6-and-11-p.m. anchor job. In 1987, she co-hosted a show called Heart of Ohio, for which she won an Emmy.
In 1990, Ms. Tyler jumped from the nation's 34th-biggest market to the biggest, joining WCBS as a weekend anchor. She was one of very few on-air personalities to make it through the decade of staff shake-ups and attrition that followed. Channel 2 has struggled for years against competing newscasts and has taken grief from as exalted a power as David Letterman, who blamed weak lead-in for his lower-than-Leno ratings.
After a promotion in April, she now co-anchors the two evening newscasts with Jim Rosenfield and hosts CBS 2 at the Met on Sunday mornings.
"I have survived because I've worked hard and I have a good attitude," Ms. Tyler said. "I had one sick day last year, one sick day the year before. I'm still sort of the same person I was as a kid, never missing school."
Ms. Tyler also hosts the occasional special about the New York theater community, including CBS 2 on the Aisle and Broadway Under the Stars, a program airing on July 15. She remembered attending 50-cent matinees at a local high school with her mother and sister.
"Every show is like the only show there ever was," she said. "They're live people up there, and whatever it was in their life that was stressing them out before they got onstage, they left it out there and instead they gave to me."
It was through her theater coverage that she met Mr. Collins, the British star fresh off his third divorce. On May 9, Ms. Tyler interviewed Mr. Collins about his work on the Broadway adaptation of Tarzan, which would open the following day to mostly withering reviews. During the interview, Mr. Collins, who's sold 70 million solo albums and 130 million during his time as the drummer for Genesis, sat at the bench of an upright piano, a black scarf looped primly around his neck. The chemistry was palpable.
"I kind of felt that … I'd had … the big, omnipresent 80's Phil Collins had gone, you know? Thank God for everybody," he said, to giggles from his questioner. The refrain of "You'll Be in My Heart," his chart-topping Tarzan ballad, played in the background.
Later, the two discussed the power of the theater.
Ms. Tyler: "Broadway just has this—"
Mr. Collins: "I know, has this thing."
Ms. Tyler: "This thing! Are you letting yourself enjoy this thing?
Mr. Collins: "Yeah, absolutely."
The two hit it off and began dating—quietly, until she brought him for a tour through the WCBS newsroom on June 20 and word leaked to Page Six. When the story broke, Dave Kaylor, Ms. Tyler's former co-anchor in Ohio, sent her a congratulatory e-mail. As usual, she responded promptly: "It's been a very unusual day. Thanks for your kind thoughts."
"When I left the station in August a year ago, she came into town for the party," said Mr. Kaylor, who saw Mr. Collins live in concert last summer in Columbus. "I remember at the time I said, 'I just do not understand why there's not a man in your life, Dana.' She just looked and said, 'I don't know.' But there is now, I guess."
Ms. Tyler has a reputation for honesty around the station. "If she doesn't like your tie," said weatherman John Bolaris, "she'll tell you she doesn't like it." She's given to bouts of extravagance, such as treating the entire on-air crew to dinner at Nobu this April, before the start of May sweeps. She's "very professional, very gracious, very warm," said former WCBS political producer Alex Benes.
Ms. Tyler is also an admitted clotheshorse and has kept a daily log of outfits since high school. "My mother sewed a lot of our clothes, you know, Vogue pattern stuff," she said. "I'm not Deborah Norville, and I always tease her about that, because she does sew things for her kids, but I like clothes. Look. I'm not on the radio."
When the mood is right, the Channel 2 news team likes to break between broadcasts for a little off-air dance-athon, which they call "Dance Fever," and she has been known to sing along, in what Mr. Bolaris described as "her Dana Tyler kind of humming way." Her repertoire is heavy on show tunes, particularly Hairspray, which she's seen 11 times.
Ms. Tyler is a recreational golfer, with a handicap in the high 20's. She was spotted teeing up with Mr. Collins at a Connecticut course.
Mr. Bolaris, who once golfed with the anchor in Westchester, offered an assessment of her game: "You know what? She looks great off the tee. She's got a nice, easy-tempo swing. And she dresses great."
It was not always so. Back in Ohio, Ms. Tyler used to needle her colleagues for playing what she thought was a stuffy game. "She used to laugh at me and say, 'Oh, you guys! You country-club guys!'" Mr. Kaylor said. Now Mr. Kaylor needles her back, about her "new golf partner."
Mr. Bolaris, like Ms. Tyler, picked up the game late in life.
"We both have a newfound love," he said. "Not that love."