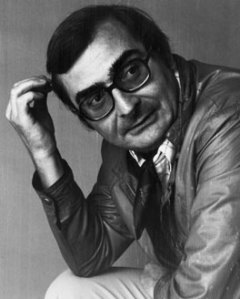 Claude Chabrol's The Bridesmaid (La Demoiselle d'Honneur), from a screenplay by Pierre Leccia and Mr. Chabrol, based on the novel by Ruth Rendell, develops a passionate love story amid a creeping malignancy that ultimately engulfs the two lovers. It is vintage Chabrol noir, that dark side of the cinema in which the now-76-year-old onetime Cahiers du Cinéma critic and nouvelle vague auteur of 51 feature films has specialized and excelled. Although Mr. Chabrol and his Cahiers colleague, Eric Rohmer, collaborated on the first perceptive study of the films of Alfred Hitchcock, Mr. Chabrol has always considered his own style closer to Fritz Lang's than to Hitchcock's.
My own favorite Chabrol film is still Les Bonnes Femmes (1960), which I screen every year in my international-film history class at Columbia, and of which I never tire. When I was in Paris in 1961 and everyone was raving about Jean-Luc Godard and François Truffaut, I asked Henri Langlois, the head of the Cinémathèque Française, who he thought was the most promising of the nouvelle vague directors. Without a moment's hesitation, he answered with defiant certitude, "CHABROL!"
Hardly anyone agreed with him back then, and not too many do now. Over the years, I myself have written much more about Mr. Rohmer, Mr. Godard and Truffaut than about Mr. Chabrol. But the certitude of Langlois has stayed in my mind. On the highest level, it can be argued—and has been argued by many—that Mr. Chabrol is too much about death and not enough about life. Yet, ironically, what is more pervasive and omnipresent right now than death? Perhaps Mr. Chabrol's time has come at last. Certainly, The Bridesmaid is the most compelling film I have seen this year since Jean-Pierre Melville's Army of Shadows, and that, too, is mostly about death, though in a far more heroic context than is to be found in the delusional world of the Chabrol-Leccia-Rendell story.
Philippe (Benoît Magimel), the point-of-view protagonist of The Bridesmaid, lives with his divorced hairdresser mother Christine (Aurore Clément) and his two sisters, Sophie (Solène Bouton) and Patricia (Anna Mihalcea), in a petit-bourgeois household of no particular distinction in a small French town close to the Atlantic coast. Sophie is about to be married to a nondescript fireman, and Patricia seems restless and eager to escape the family nest as well. The "family" is now preparing to visit the home of Christine's 50-ish admirer, Gérard (Bernard Le Coq). To mark the occasion, Christine asks Philippe to accompany her to the garden to remove a stone bust of the head of Fiola from its pedestal. Christine intends to present this piece, given to her by her ex-husband, as a gift to Gérard. Philippe is somewhat puzzled by this grotesque (and very heavy-to-carry) token of Christine's affection. He is also skeptical about Gérard's seriousness with the relationship. Every doubt, including Christine's, is underplayed at first with the familiar litany of low-key family grousing.
For example, when Philippe first enters the house, he grumpily shuts off the television set before which the two sisters have been sitting transfixed by the media circus surrounding the mysterious disappearance of their former classmate. The missing girl's picture is splattered all over the screen in familiar CNN fashion. The director has planted a seemingly extraneous detail into the plot, but it will take the rest of the picture to come up with the shocking payoff.
Meanwhile, Philippe in his dour way is behaving very suspiciously. We catch him lying on his cell phone about his plans and his whereabouts to his mother and to his employer, the real-estate contractor Nadeau (Pierre-François Dumeniaud). Philippe begins spying on Gérard and takes advantage of his absence on a business trip to steal the stone bust back, hiding it in his own bedroom. All I can say is that he makes a particularly woozy point-of-view character.
Meanwhile, Sophie's wedding to her fireman goes off without a hitch. Since Philippe has broken up with his own girlfriend and Sophie can't use her as a bridesmaid, she instead chooses the bridegroom's cousin, Senta (Laura Smet), to whom Philippe feels an immediate attraction (and she to him). The sexual sparks passing between them are ignited in lightning fashion after it turns out that she is as wildly impulsive as he has been hitherto rigidly repressed. The degree of uninhibited sexuality on display is unusual for a Chabrol film: His characters have traditionally been more guarded and fearful of consequences from the hobgoblins of bourgeois nightmares.
Even with all the good and easy sex dumped into his lap by the relentlessly sensual Senta, Philippe begins to fear that he is getting in over his head when she proposes three tests for true love: planting a tree, sleeping with a person of one's own sex, and killing a perfect stranger. Philippe is at first horrified by Senta's three conditions of love, but discovering that he cannot live without her, he tries to trick his way into her heart with the help of an obscure crime story in the papers. But the joke is on him when he eventually discovers that he stands—not without some nobility—on the edge of catastrophe.
The Bridesmaid reminds me of something that the late Louis Croneberger said about Oscar Wilde's precocious wit in The Importance of Being Earnest: "Everything counts, and nothing matters." It is not surprising, therefore, that the film ends dominated by the stone bust of Fiola—though whether this is mocking or compassionate, one cannot tell. And just before the passionate climax is the anticlimactic high farce of the family writhing in its own absurdity: Philippe is recruited to rescue his sister Patricia from a police charge of shoplifting. In this tedious task he is successful, though he couldn't care less.
In replying to an interviewer's observation that he never projects a particularly attractive image of family, Mr. Chabrol observed: "The family is one of the biggest frauds ever invented. As much as it is a tremendous concept, when it becomes an obligatory social structure, it's atrocious. Right now, things are very interesting because people talk a lot about the breakdown of the nuclear family, but instead of using real feelings as a starting point, they use a kind of charter of obligations. The traditional idea of the family is an abomination. The family tree is a monstrous invention."
The operative word in Chabrolian cinema is feelings. It is as true of the last shot of Les Bonnes Femmes as it is of the last shot of The Bridesmaid; the rest is just mechanical social intercourse.
One Line Too Many
Woody Allen's Scoop doesn't work very well on any level, but it is, as always, at least minimally interesting for anyone (like me) who has been laughing or at least smiling at Mr. Allen's jokes and conceits for almost longer than anyone can remember on stage, screen and television. As he lurches into his early 70's, it is not surprising that he is gallivanting in Scoop with the Grim Reaper. After all, he seems to have been traumatized by Ingmar Bergman's The Seventh Seal (1957) while he was still in his 20's, and he made it a point to parade his morbid intimations of mortality with Bergmanesque overtones throughout his remarkably productive and prestigious filmmaking career. Woody keeps going, no matter what, and no one can take that away from him. Much of his fan base may desert him—no matter. He simply calls in his bargaining chips from abroad, where he is widely perceived to be a genius. Garbo's career was saved by the European market before World War II destroyed it and Carmen Miranda came to the fore. On the other hand, Danny Kaye lost his comic edge when the British royal family adopted him as their pet poodle at the Palladium.
As it turned out, Match Point succeeded by not even trying to be funny, and managing instead to be whimsically and outrageously immoral. For her part, Scarlett Johansson projected a satisfying sensuality that made her plausible as both a temptress and a victim. Mr. Allen's absence from the cast of Match Point made it possible for the audience to concentrate on the narrative without anticipating its being undermined by any of Mr. Allen's wheezingly misanthropic gags.
No such luck in Scoop. Mr. Allen has returned with a whole arsenal of aggrieved one-liners in the role of Splendini, the Magician. The Woodman has received points in some quarters for at long last acting his age and not pawing or groping Ms. Johansson, behaving instead in a more appropriately paternal manner. But he does something even more bizarre and questionable with Ms. Johansson: He tries to transform her into the female equivalent of Woody as the bespectacled, Brooklynish Sondra Pransky, with loose-fitting sweaters to complete the sexless masquerade. He then saddles her with the ridiculous role of an aspiring journalist seeking the "scoop" of the century by exposing a British aristocrat named Peter Lyman as the Tarot Card Killer. I say "ridiculous" because Ms. Johansson is singularly maladroit in her labored attempt to be a Woody wannabe, and Hugh Jackman's Lyman is singularly unconvincing pretending to be charmed by such a creature.
If I still believe that Mr. Allen's Manhattan (1979) and Annie Hall (1977) represent his highest cinematic peaks, it is in large part because Diane Keaton was so much his most independent Galatea, with her own comic timing. Ms. Johansson comes into her glory only once, and that is when she slips into a well-fitting bathing suit to seduce Lyman. The rest of the time, she is just squinting her way into oblivion.
The suspicion persists among many critics that when one of Mr. Allen's films fails, it is because he isn't really trying: He doesn't spend enough time rewriting, he doesn't do enough retakes, etc. One can be tempted to believe that Woody is the prisoner of his own reputation. After all, why does a genius have to do retakes or rewrite his own spontaneous wit? One can also suspect that talent diminishes with age, but where does that leave us aging critics? Perhaps the ability to make people laugh fits into a special category. As Chaplin got older, he was widely thought to have lost his comic gifts. With beloved aging performers, the question becomes more and more complex. Did people really laugh with exuberant surprise when Jimmy Durante performed the same shtick for the thousandth time the same way he'd performed it 999 times before? Or was something more complex at work, something like nostalgia or shared survival? The problem is that Woody never asked us to love him: His humor was more sharply edged than that, and now the edge is gone. Or is it? I ask because I do not know.
So I return to my first theme: death. Woody has now made two films in a row with death in the text as well as in the subtext. He has displayed a certain degree of narrative ingenuity in both films. The mistake he has made in Scoop is that he has tried to make us laugh while exploring new areas of his morbidity and self-hatred, and it may be too much of a balancing act for him to perform at this stage in his career—not to mention at this stage of his troubled existence. Still, there are moments of pathos in the ghostly importunings of the late journalist Joe Strombel (Ian McShane) that made me think that the Woodman himself may be scraping more harshly against the rough edges of eternity, and that more interesting narrative inventions may be on the way. But Woody—enough with the one-liners.