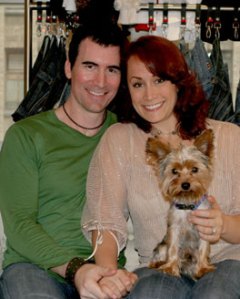 Amanda Danuser and Vince Parenti
Met: Nov. 7, 2000
Engaged: Nov. 1, 2005
Projected Wedding Date: Dec. 2, 2006
Amanda Danuser, 29, the co-founder of the Green Room, a fashion showroom, intends to marry Vince Parenti, 41, president of Reverie Pictures and a filmmaker whose latest feature, The Longest Yard Sale, is in the early stages of post-production; he is already working on another, titled The Restoration of Life. The wedding will take place at Loft 11 in midtown, with the bride in a customized gown from Kleinfeld.
The creative couple, who enjoy hiking, live in a studio on the Upper West Side with their teacup Yorkie, Stanley. "He's going through a humping phase," the honey-complexioned, auburn-haired Ms. Danuser said, meaning the dog—we think.
They met when Mr. Parenti spent a weekend in New York City visiting an actor friend that Ms. Danuser was dating. He was instantly attracted to her, but managed to contain himself, even when she and the actor came to stay in his West Los Angeles three-bedroom for a month. It could have easily become a bad episode of Melrose Place, but "I never crossed the line at all," the dark-haired, chisel-cheeked Mr. Parenti said.
After the relationship foundered, however, he wasted no time in calling Ms. Danuser. "Just to say hi!" he said.
"Yeah, right," she scoffed. "You said: 'We should go out some time.'"
"Wouldn't you construe that as being a friend?" he asked the Love Beat, who looked away nervously. "O.K., the mask is revealed," Mr. Parenti said. "Vince is a dawg."
Ms. Danuser said she needed more time, and Mr. Parenti gave her eight months, at which point he realized that he urgently needed a date for the premiere of I §Huckabees and hers was the first name in his cell phone. Ms. Danuser couldn't make the movie, but invited him to join her and some girlfriends for drinks at Cinespace in Hollywood, where Mr. Parenti earned major points picking up the drink tab. She wound up bumping and grinding with him on the dance floor.
The next day, they met for an official first date: smoky Korean barbeque. "It was so much fun to go and meet him all over again, because he was always such an 'other' friend," Ms. Danuser said. "Then turning into a boyfriend and a lover, and a best friend—that was the exciting part of it."
Six months later, offered the chance to start the showroom, she broached the idea of moving back to New York. "It wasn't a hard decision," Mr. Parenti said. "My position in L.A., it's secondary. It's my job, but she's my life."
"I don't know anybody who would have ever done that for me," Ms. Danuser said. "That's when I knew it was forever."
Soon afterward, she busted him shopping for rings online in the kitchen. "The Internet, the freakin' thing, was so slow," Mr. Parenti said. "The stupid 'back' button wouldn't go back."
Together, they picked out a two-carat oval diamond set in an antique-style pavé-encrusted platinum band from the Jewelry Factory.
"It's all about wholesale," Ms. Danuser said.
Celeste Loft and David Stern
Met: November 2003
Engaged: Nov. 29, 2005
Projected Wedding Date: Aug. 12, 2006
Celeste Loft, a makeup artist, was working on The Amazing Floydini, an independent feature film (her first), when she saw key grip David Stern across the set and felt a sudden urge to rub rouge into his chubby cheeks.
"Nice job," she told him when the cameras stopped rolling.
The bronzed and prematurely gray Mr. Stern was delighted. "A fine young rookie!" he said. The day after the project ended, they met for sushi at Yama, where Ms. Loft, a petite blonde with a soft laugh who usually works on magazine shoots, confessed that she was doing a little casting of her own. "I'm interviewing for the position of man in my life," she said, "and I am only accepting viable candidates at this point."
"I liked her honesty," Mr. Stern, 37, told the Love Beat. Unfortunately, he was heading to Las Vegas the next day to work for three months on The Casino, a reality show on Fox.
"I thought, 'Well, he's going to Las Vegas, so I guess that's that,'" Ms. Loft said.
But Mr. Stern "couldn't let it go," as he put it. "She has a certain mellowness about her," he said. "I felt this should be explored further—try to figure out if this serenity is real or not."
On New Year's Eve, Mr. Stern traveled to Seattle, where Ms. Loft was visiting family. During the 23 hours he was there, they saw the fireworks from the top of the Elliot Hotel, watched The Last Samurai ("not such a hot date movie," he admitted) and made out like maniacs. Later, he flew her to Sin City for a little hanky-panky and a Cirque du Soleil show.
They celebrated his return to New York with a dinner date at her two-bedroom apartment near Union Square; Ms. Loft cooked Dijon salmon and wasabi mashed potatoes.
On July 4, they watched more fireworks from a friend's roof in the East Village. "I think I'm falling in love with you," said Ms. Loft, who'd had a couple of margaritas. "I'm so glad to hear that," Mr. Stern responded, "because I'm falling in love with you, too, and have been for a long time."
In spite of her proclamation, Ms. Loft refused to be shackled with the term "girlfriend," forcing her beau to invent his own term ("special lady friend"). Mr. Stern, in turn, didn't say the word "love" again until their anniversary, when they returned to Yama. "I wanted to make sure I wasn't tricking myself, or rushing, or judging my feelings in some wrong way," he said. "I wanted to make sure it was the real deal." Oh, you key grips!
He proposed a little over a year later, with an emerald-cut diamond set in weathered platinum from the Soho store Push, while on a balcony of the Art Deco Beekman Towers, which Ms. Loft had first glimpsed with her father when she was 14 (she is now 33). "I remember being dazzled by the city and thinking I wanted to live here," she said.
They will live in a two-family brownstone in Crown Heights and are planning a wedding at the Rotunda in Olympia, Wash., followed by a reception at the State Capital Museum, an event that may be the most fruitful byproduct of The Amazing Floydini.
"At least we're getting released," Mr. Stern remarked dryly.