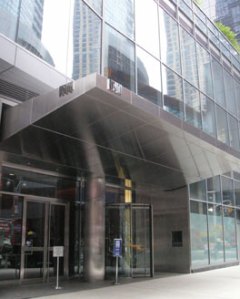 Fox News anchoress Greta Van Susteren and her husband, John Coale, have traded in their fancy Essex House pied-à-terre for a penthouse—on Times Square.
The host of Fox's On the Record and her husband, a D.C. lawyer, dropped $2.57 million for a 1,582-square-foot apartment on the site of the former Studebaker Building on Broadway at 48th Street after selling their Central Park South condo this summer.
The old place, they said, was cramped; their new one has two bedrooms and a private terrace.
"The problem with that place is that we had no windows," Mr. Coale said of their old Essex House digs. While their new condo, at 1600 Broadway, offers all the Blade Runner glory of Times Square, he said, the Essex apartment's view opened up "into the back of another building."
"You look out and you see Times Square!" said Ms. Van Susteren. "What can I say, how can you not love Times Square?"
"Each wall, almost, is glass," Mr. Coale said. "So we have, I don't know, three sides [of] views. We're getting curtains because it's like daylight at night.
"And you would think there's so much noise," said Mr. Coale.
You certainly would. There isn't?
"It's soundproofed," Mr. Coale explained.
The building, between 48th and 49th streets, was once the 10-story Studebaker Building, built in 1902. It was demolished at the end of 2004, then rebuilt as a 27-story luxury tower complete with a landscaped roof garden with trees and a putting green.
According to Fred Rosenberg, senior vice president of Sherwood Equities, its 137 units have all been sold.
Ms. Van Susteren and Mr. Coale make their primary home in Washington, D.C., where Mr. Coale's practice is based and where Ms. Van Susteren films her show.
The couple also has a condominium in Clearwater, Fla. And then there's the Old Mill Inn in Mattituck, Long Island, which Ms. Van Susteren and former Ms. editor Elaine Lafferty bought earlier this year.
So, now that they've bought a glass-walled penthouse, will the couple spend more time in New York? "I hope to be up a lot, except when it's 100 degrees," Mr. Coale said. "I love the place."
He will occasionally travel to and fro on the couple's 80-foot 1947 Trumpy yacht.
As for Ms. Van Susteren:
"I'd like to spend time enjoying New York more, I just don't get the chance to. I've been saying that for ever."
George Stephanopoulos' Folks Get Awesome New Pad
The Rev. Dr. Robert Stephanopoulos, a leader of the country's Greek Orthodox community, has bought a $1.08 million co-op at 399 East 72nd Street.
For now, he and his wife Nikki will stay at their rectory apartment next door to the Archdiocesan Cathedral of the Holy Trinity, where he is dean.
"We're only moving a couple of blocks!" said Ms. Stephanopoulos, who works on news and communications for the Greek Orthodox Archdiocese. The Cathedral and rectory are on 74th Street.
"It's an apartment that we decided it was time to buy," said her husband. "The time will be coming for full retirement, so we have to think ahead."
The couple's son is the former Clinton aide George Stephanopoulos, who is now ABC's chief Washington correspondent, and host of the Sunday show This Week. His wife, comedienne Alexandra "Dabs" Wentworth, also has interesting roots: Her mother is Muffie Brandon Cabot, the social secretary to Nancy Reagan.
Until they move in, the Stephanopoulos' daughter will live in their co-op. "This worked out very well," said Ms. Stephanopoulos. "She's renting there—it's very nice. When the time comes, she'll move on."
How will the couple feel about relocating to a co-op from their rectory home—where they've lived since its 1987 construction? "We're very excited. We'll certainly stay in the neighborhood, as we've always wanted to," the reverend said.
He and his wife have slowly begun to consider retired life. "Is it going to be Florida? Or Minnesota?" she said. "This is where we spend our time, where it is most convenient for our children. New York is where we want to be."
On West Side, Landmark Neo-Georgian Goes For $9 M.
The landmark neo-Georgian townhouse at 22 West 74th Street, the 42-year home of the Stephen Gaynor School, has been sold for $9.1 million.
"It was a wild sale," said Corcoran senior vice president Anne Snee, the firm's director of townhouse sales. "Brown Harris Stevens had the exclusive, but I brought the buyer. I came in at the last minute, put together a contract in one day, and we signed in the lobby of the school head's co-op apartment at night. We knocked out several other people."
Ileen Schoenfeld and Dorothy Arnsten, the Brown Harris Stevens brokers who listed the townhouse, are both on vacation.
"It's a beauty," head of school Scott Gaynor said about the townhouse. His program works with students who don't meet their academic potential, "which can fall under the criteria of learning disabled—or special education."
The townhouse is one of 18 mansions built by the Clark family, developers of the Dakota. "In an ideal world it would have been nice if a school moved in," Mr. Gaynor said. "But a 10,000-square-foot brownstone is out of reach of most educational programs."
Ms. Snee said the buyers, a hedge-fund manager and his wife, asked not to be named. According to city records, the couple sold their co-op at 44 West 77th Street last month for $4.4 million.
This fall the school will move to its new 37,000-square-foot building at 148 West 90th Street.
Because of that construction, Ms. Snee said, the contract for the 74th Street townhouse took 16 months to close. And it will be another year before the neo-Georgian mansion transforms from a school for 120 students into a single-family home.
"It has to be ripped to smithereens," she said. "It's going to be wonderful. Wonderful!"
Siemens Chief Sells At Belvedere For $3.97 M.
Albert Hoser, the founder and chairman emeritus of the Siemens Foundation, has sold his penthouse at the Park Belvedere for $3.97 million.
Mr. Hoser, now retired, and his wife Doris will be heading to Florida and also plan to spend time in Germany. But they said they're sad to be leaving New York.
"[It] hurts like hell," said Ms. Hoser.
"We have all four views here," Mr. Hoser added. "We see the Hudson, of course, directly in front of us, and Central Park on the other side. So that is very nice, very beautiful."
"I sit on my terrace at night," Ms. Hoser said. "Sometimes I felt like the warden of the West Side."
They've got a while to get used to the idea. Though the deal closed in June, they won't be moving out until this fall, after Ms. Hoser has run her 10th New York Marathon.
Mr. Hoser served as the chief executive of the Siemens Corporation from 1991 to 1999. He left to helm the nonprofit Siemens Foundation, which now runs the high-school science competition previously known as Westinghouse.
The couple moved to New York in 1991.
"At that point," Ms. Hoser said, "the West Side wasn't quite 'in.'"
Really?
The seven-room penthouse at 101 West 79th was sold without a broker. Though Mr. Hoser described the buyer as a company "we've known for quite a while," he wouldn't identify it.
"I am 72," Mr. Hoser said. "For me, it was finally time to retire."