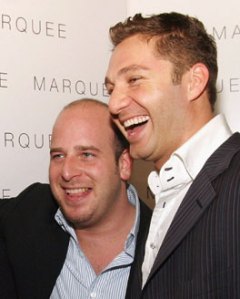 It was Saturday, May 6, a weirdly warm 85 degrees, and Noah Tepperberg, 24, and Jason Strauss, 26, the co-owners of the one-year-old Southampton nightclub Conscience Point, were trying to decide how to mark the entrance to the six-bedroom house on Noyack Street they'd bought for $640,000 five days earlier.
"Maybe a sculpture?" asked Mr. Tepperberg, who was wearing Helmut Lang khakis and Adidas slip-ons.
"Or a girl in a bikini," suggested Mr. Strauss, waving around his blue-tinted Oliver Peeples sunglasses.
Out back by the pool, the hot tub, the future tennis and beach volleyball courts–as the two tried to rouse Russell Simmons on his cell phone–it appeared that come Memorial Day, the place would live up to its nickname as Noah and Jason's Playboy Mansion.
"I'm pretty famous for my hot-tub parties," said Mr. Strauss. The house sleeps 25, is about a mile from Conscience Point and will be crammed with famous and barely legal clubgoers until Labor Day. Noted potential guests–MTV's Carson Daly and actress Tara Reid–and friends like Nikki and Paris Hilton, Max LeRoy, Ivanka Trump, Sean Lennon and Shoshanna Lonstein get V.I.P. treatment at the velvet-roped club, where a reservation for a table and a bottle of alcohol goes for $300. After hours, the party continues back at the house. In June, there will be real live playmates for Conscience Point's Playboy party.
To avoid any buzz kills, the two club owners have also rented the house behind them for $55,000 and expanded the parking area. And it wasn't clear if Mr. Tepperberg was joking when he said they planned to install a Budweiser net so the volleyball wouldn't stray into the 75-foot buffer between his house and the neighbors'.
Sean (Puffy) Combs will also be up and running again as a host in time for summer 2000. In April, after he paid a $2,000 fine to the town of East Hampton based on charges that he had 500 more guests than his permit allowed at a Fourth of July party last year, 30-year-old Mr. Combs signed a contract to purchase a bigger house on seven acres in Quogue, for $3.9 million.
Mr. Combs is on the senior end of things this year in the glorified summer exurb, formerly saved for the established-and-successful. Now it's a beach ready to be assaulted by the under-30-with-immense-disposable-income crowd. Two other party promoters have also purchased huge houses. Michael Ault wants to build a singles party community and there are Real World–style houses in the making, where 22-year-old D.J. Samantha Ronson and her pals have been invited to come hang out. This is not their fathers' Hamptons.
Last year, the house rented by the Conscience Point owners "was … like camp," said one regular who once ended up in the pool in her dress. Well, camp with champagne. "It was always a party." Mark Ronson (who crashes at his parents' place in Bellport) celebrated his 26th birthday at the club before returning to the beach house at 6 a.m. Chris Barish, 27, who stays at his dad's Southampton estate on Dune Road, and Peter Morton's son, Harry, 19, who also stays with his dad, often stopped by to play basketball, shoot pool, take a dip, or "pregame" with a burger or beer before going to the club. And Danielle Field, 21, daughter of Interscope Records founder Ted Field, would visit when she wasn't at daddy's rented estate. Kid Capri D.J.'d at Mr. Tepperberg's birthday party at the house last summer; the party was attended by Q-Tip and Ivanka Trump, 18.
A Conscience Point regular remembers Ralph Lauren's son David, 27, complaining that he had to drive all the way back from the club to his father's mansion in Montauk. "He has a driver wait outside the club in a big Explorer-type jammy," she said. His sister Dylan, 25, who just started a candy company, also frequents the club.
This year Nikki Hilton and her sister Paris, 19, may be permanent fixtures. Last year, they had to make due with a room at a bed-and-breakfast while their parents toured Europe. But their father, Rick Hilton, bought them a Dutch Colonial estate on three acres off Wickapogue Lane for $2.385 million in October; renovations will be completed by the end of the month. Mr. Hilton said the house features an exercise room, a wine cellar and a pool with waterfalls. "I'm sure we'll be having a housewarming party," he said.
But that won't keep his daughters home at night, now that they're even closer to the Conscience Point summerhouse and another right down the road. "We have too many friends to entertain in Jason's dad's Dune Road house in West Hampton," said Mr. Tepperberg about laying down a $116,000 down payment. "You can't be a promoter in the Hamptons without a house essentially."
Identical twin brothers Neil and David Levenbook, 28, agree. An Internet lawyer and a headhunter by day, respectively, they organize parties for Life in Manhattan and Conscience Point in Southampton. In February, they bought a house down the street from Mr. Teppenberg and Mr. Strauss' house for about $700,000–after renting for the past four years in Southampton and Quogue. The five-bedroom, four-bath wooden contemporary has a pool, tennis courts, hot tub and a basketball court.
The brothers, Long Island natives who graduated from Hofstra Law School, will use their new house the same way as the club owners. "There's lines at clubs and it's all about who you know. We can walk our people in," said Neil, claiming to have as many as 50 guests on a busy weekend night. They offer models, young corporate executives, dot-commers and even pro athletes a place to stay in exchange for their getting drunk in public in the clubs.
Mr. Combs entertains both young and old for pleasure. The estate he is buying in Quogue, called Winnecomac, has seven acres of lawns and landscaped formal gardens, which include a lily pool and a pergola. The three-story manor house built in 1907 features 10,000 square feet, eight bedrooms, eight bathrooms, 10 fireplaces, a staff wing, an elevator, a wine cellar, a heated seven-car garage and a four-bedroom guesthouse. The East Hampton house, on 1.6 acres, is not on the market.
Then there's Britain's Channel 4 version of MTV's Real World and the Yahoo! Syngery Spa which is supposed to be a live Internet feed from a 11,000-square-foot Water Mill house with a spa, screening room, basketball courts and even a gourmet chef. Samantha Ronson and photographer Patrick McMullan, 40, who has recorded the goings on at Hamptons clubs for years, have been invited to the Channel 4 house. "I never agreed to live there, but I will be staying there," said Mr. McMullan, who is a firm believer in forgoing rent in favor of house-guesting. "I think it's going to be, kind of a house with a bunch of groovy people. And I'm, like, one of the groovy people invited."
At 30 and 33, Eric von Brock and his brother Gordon, co-owners of Tavern nightclub in Southampton and Lava Lounge in Manhattan, are seasoned Hamptons party-givers and homeowners. They bought a house in Watermill four years ago and now want into Southampton. But in stark contrast to Mr. Tepperberg and Mr. Strauss, the von Brock's use their nine-bedroom house on Deerfield Road with a pool, a Jacuzzi and a volleyball court for what Eric calls, "a very peaceful, nice get away from Tavern … at least by day it's peaceful …. It's more of a hibernation place by day," he said. "We try not to overload it …. When I owned at 26, I was more into the share thing–it wasn't a hassle yet."
The brothers do promotions similar to those of Mr. Strauss and Mr. Tepperberg, and although they are competitors, they joined forces for a large-scale New Year's Eve bash. But they draw different crowds. Last summer's guest list ran from Bijou Phillips to Oliver Stone.
"Southampton is absolutely, definitely becoming Daytona Beach–y," said Michael Ault, who prefers the more family-oriented Bridgehampton but plans to rent in Southampton for the summer. "It's just changed and is a lot less attractive …. We're all scrambling to find the next spot."
That may be partly of his own doing. Two years ago, Mr. Ault, 35, and David Sarner, 36, owners of Chaos nightclub, bought four acres in Sagaponock for about $1 million to build an entertainment complex. Mr. Ault calls the planned gated complex that will include several houses, a pool, hot tubs, probably 12 bedrooms and a small lake as a "fun fantasy retreat."
Nothing has actually been built yet on the plot, and brokers in the Hamptons were skeptical about the plan's fruition. "There is no way they'll get a permit for that!" declared one Bridgehampton broker.
"We have felt inclined to graduate to that level," said Mr. Ault, who during the summer of 1996 rented an old house on Main Street in Southampton with his business partners Tony Theodore and Mr. Sarner for about $80,000 to use a promotion tool for their nightclub Spy Bar, a club past its heyday. "We would bus girls from Elite and Wilhelmina and Ford [modeling agencies] out to the house and there were some mornings when the owner would show up with the police and see 40 people camped throughout the house," said Mr. Ault, expressing remorse for the "tragic" fate of the homeowners' silver and porcelain.
Lara Shriftman, 30, who co-owns a public-relations firm, said she had enough of the young scenesters in Southampton but she won't leave because she said she doesn't have time to drive any farther from Manhattan.
"It's so weird," said Lizzie Grubman, 29, who runs a public-relations firm with Peggy Siegel about the Daytona-fication of Southampton. "I feel so old."
Ms. Grubman is sticking it out in Southampton this summer, but not her ex-boyfriend, Andrew Sasson, 30, who owns Jet East and a piece of Conscience Point. They both used to spend summers at the home of Ms. Grubman's father, entertainment lawyer, Allen Grubman. Mr. Sasson bought a house on Sag Harbor Road in Bridgehampton for $875,000 on May 1, but he has even considered bringing one of the doormen from one of the clubs over to keep young party-crawlers out.
"How much is an electric gate?" Mr. Sasson asked a broker on May 6.
Until this year, brokers have consciously tried to keep young renters as far west as possible–Southampton or Quogue–and they've also sometimes turned them out when they said they wanted to buy.
"I don't take them to places where neighbors will be unhappy," said broker Elizabeth Clark of Aguam Realty, who refers to Mr. Tepperberg and Mr. Strauss as "my moguls." She sent them back to Quogue last summer, saying they should come back to her Southampton office when they were older. "Are we old enough yet?" they asked this fall, when they decided to buy a house. The moguls looked at 75 houses with three brokers before settling on a classic Mediterranean. "Anything south of the highway wouldn't work," added Ms. Clark.
Brokers and residents have reason to be happy about the young frolicking at their own risk. Stuart Epstein, owner of Devlin-McNiff Realty, reminisced about a deck of a house in Sagaponock that collapsed last summer under the weight of late-night revelers. The house at 359 Parsonhee Lane with four bedrooms and a heated pool, which belonged to a gallery owner, was sold this year for $1.3 million to a builder who bought the house and the one adjacent to it for $1.2 million.
But a lot of money is still convincing people to rent to 30-year-olds. Phyllis Schlessel, a real-estate agent with Dunemere and Associates, rented a $400,000 house in Quogue with 11 bedrooms and a wraparound porch to Adam Cohen, 30, and his girlfriend, Jennifer Sultan, who sold their Internet company, Live Online, in January for $70 million. The lease included a stipulation–conceived by Ms. Schlessel–for the dot-commers to split the $35,000 cost for the owner to install a pool and deck for the summer.
"There are people who just don't know what to do with [their money]," said Ms. Schlessel.
Judi Desiderio, a broker at Cook Pony Farm in Bridgehampton, was struggling to tear a 31-year-old Internet executive away from his desk long enough to show him properties upward of $3 million. They spent one day looking until they had to shine headlights at 9:30 p.m. to see a house. One bought a plot of land on Flying Point Road in Southampton for $500,000 and another bought a $1.8 million house in East Hampton.
One film-industry executive in his early 30's, who wanted to spend between $40,000 and $50,000 for a summer rental, hired a driver to speed a check out to the Bridgehampton rental agency to beat out what his broker called the competing "Wall Street brats" with buying power. And he still lost out to a higher bid, but ended up renting a $45,000 house in Bridgehampton North. Cook Pony Farm picked up the driver's fee–anticipating white-glove treatment would bring him back to buy next summer.
But Hamptons brokers may have been expecting even more of the young rich to knock on their doors. "Dot-coms do not have time to go to Hamptons every weekend," insisted Jason McCabe Malacanis, 29, editor of The Silicon Valley Reporter. "The idea of spending six hours driving to the Hamptons and back and wasting all that time is unacceptable to the efficiency-minded Internet person."
On May 6, over lunch at Sag Harbor's B. Smith's restaurant, broker Paige St. John of Cook Pony Farm in Bridgehampton, 38, sister of Whitney Fairchild, told a story about showing a carload of five 20-something houses for summer rentals in April. The renters, including a publicist, insisted that money was no object because a banker who works for George Soros was writing the check for the house of their choice.
Ms. St. John took the group to the house of developer Jeff Collé, a self-declared "builder to the stars," on Town Line Road in Wainscott, which is on the market for about $10 million but can be rented for $350,000 for the summer. "It's a Federal house with apple trees," said Ms. St. John. "It's a grown-up house …. They actually wanted to play grown up." Even though she charmed Mr. Collé by gushing over a picture of his good friend Alec Baldwin, there was no way he was going to fork over his keys to a cute young publicist with big party ideas.
According to Mr. Tepperberg, the crew ended up renting a house in Water Mill next to Wilzig Castle, the house complete with a movie theater that rapper Jay-Z rented last summer for $30,000 a week.
"There definitely seems to be a younger crowd in Southampton than there was a few years ago," said Dan Rattiner, editor of Dan's Papers, the Hamptons' free weekly paper, who partially credits the remodeled and expanded movie theater last summer for the town's revival.
"I think what's happened with people in their mid-30's are becoming successful with the Internet–it's allowing them the opportunity to buy into this market at great levels," said Jason Binn, the 32-year-old publisher of Hamptons Magazine and South Beach's Ocean Drive Magazine and son of multimillionaire Moreton Binn. But, he said, referring to longtime residents like Howard Gittis, George Soros, Ahmet Ertegun and Peter Morton, "the core institution here will never go away."
In a case of role reversal, Marci Klein, 33, a co-producer of Saturday Night Live, signed a contract to buy a house overlooking the ocean from Beach Lane in Wainscott for $3.75 million in March. Her father has yet to rent a house for this summer.
The clubgoers, too, are stepping up to the plate. "I'm part of the community now," said Mr. Tepperberg. "I'll be at community-board meetings."
"Owning a house is like [having] a baby," said Mr. Strauss, who one night last summer, considered jumping off the second floor of his house into the pool, but was convinced by a friend that the act would indeed kill him.
"I'm being selective on the grounds that I do own the place."