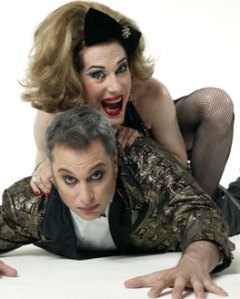 After the show, Justin Bond's dressing room reeked with the powdery, meaty smell of foundation. On a table crowded with eye shadow, a box of Red Bliss chips and a Rockstar energy drink hardly seemed more edible. Mr. Bond was moisturizing. His dirty blond hair was short, jagged, plastered down. Though he is slender and a little angelic, his voice was unbelievably husky and low. Out in the hallway, a less obviously exhausted Kenny Mellman, East Village nerd-chic in a Mountain Goats T-shirt, was actually a little wired, but he did have a headache.
So, their performance that night as their alter egos Kiki & Herb had not gone well. They went out the back door of the Wilma Theater—at the edge of Rittenhouse Square in Philadelphia—and lit up a smoke.
It was Friday, Aug. 4, their second-to-last night of out-of-town workshop performances of their show, Alive on Broadway, and only a week before they were to open on Broadway at the Helen Hayes Theater.
"The show just wasn't up to snuff," Mr. Bond said.
For Kiki & Herb, a crap show is still a fairly spectacular performance. A good one is unbelievable. For a decade and a half, Mr. Bond has played Kiki DuRane, an aged, liquor-loving lounge singer, and Mr. Mellman has been Herb, the devoted piano accompanist with whom, Ms. DuRane has told us so many times in a signature bit, Kiki broke out of a Pennsylvania "institutional" as teenagers.
That night onstage, Mr. Bond, in full Kiki DuRane sloshed-truth-telling mode, had variously whipped and tottered through songs by Gnarls Barkley and Radiohead and Public Enemy and the Cure. In between songs, he had lambasted the religious and the "fundamentalist free-market economy bitches" alike. Kiki had asked her audience, "What's so good about being right? Why not try being friendly?"
They went through an alley for a drink next-door at the Doubletree Hotel's bar, which is named Standing O, and which has recently forbidden smoking.
Mr. Bond had said from the stage that the troops in Iraq hadn't come from good families. It really wasn't what he meant at all.
"It was a class issue, and I didn't articulate it properly," he explained. Onstage, he had retracted it immediately, but it left a funny feeling in the air. "We are in a time of war, ladies and gentlemen," he had told the full house, and they staggered off on a great and vicious version of "One Tin Soldier."
"I just wanted to get out of there," Mr. Bond said.
More unusual even than a political drag-cabaret act going to Broadway for a month-long run is a theatrical collaboration appearing on Broadway with no director. Although they have been directed in previous shows, including a long Off Broadway run at the Cherry Lane Theatre with Scott Elliott at the helm, this time—when the stakes are highest—the duo and their producers are going it unmolested.
Mr. Bond ordered a beer, and Mr. Mellman and his boyfriend, with whom he has achieved a Chihuahua, ordered matching double Jack-and-sodas. Onstage, they had been thinking about money a little, and pressure. They had also found out that day that the Broadway "previews" were really going to be no such thing, as the press would be invited. The eventual result of all the turmoil: Mr. Bond tried to wrap up the show by urging the audience to be "nice" to one another—which, after, he felt was seriously weak.
"I was watching myself do the show," Mr. Bond said. "When I screw up, it makes the show really trivial."
"We're just going to make it work," Mr. Mellman said of their looming New York caper. "Of course we are." He shrugged in a way that meant he didn't really mean the gesture. "Or not."
KIKI & HERB'S PERFORMANCES ARE ABOUT the death of bohemianism and the needless death-panic of the baby-boomer generation whose dirty diapers wiped it out. And, as their act and our situation have developed over the last 15 years, American life during wartime.
The shows are outrageous, and outraged. At a show during the early days of the war in Afghanistan, at the Jane Street Theatre, Kiki exulted in the smashing of the Taliban: American soldiers could finally tear the burqas off the women of that country "so the men could see who they were raping." Back at San Francisco's Eichelberger's in the early 90's, Kiki would climb atop a table, open one of the second-floor windows and scream to the people below: "Don't get too comfortable!"
The first show after the shootings at Columbine High School, at the basement venue Fez on Lafayette Street, Kiki & Herb retooled their act by adding a new segment: In Ms. DuRane's reflections on her friendless, long-lost high-school daughter, she expressed a strangely tender homage to Dylan Klebold and Eric Harris, and launched into a screaming cover of "I Don't Like Mondays."
Kiki DuRane, in her Zelig-ism over the decades, has told stories about Princess Grace, a young pole-dancing Maya Angelou ("I know why the caged bird sings," she says. "Because she can't write!"), and hooking up with that guy from the Wu-Tang Clan on a subway platform while pushing her shopping cart to pick up a prescription—they gave each other a "taste" of their work, and the collaboration, in the mind of Kiki at least, has been going strong ever since.
Ms. DuRane regurgitates a history of counterculture and consumption in a brassy wail. It's been a streaming ephemeral documentation of our time, which—with the exception of a Christmas CD and a recording of their two-years-ago faux-farewell performance at Carnegie Hall—is available for oral-history playback only on late nights in homosexual bars. She once told the audience that she was in the women's room at a club in the 1950's, turned to Lillian Hellman and said: "I cannot and will not cut my conscience to fit this year's fashions." And so Kiki plagiarizes her way into the front lines of the McCarthy-era counterculture while simultaneously asserting herself as its authentic spokeswoman. So if Messrs. Bond and Mellman seem an odd fit for Broadway, consider how Kiki & Herb must feel.
They received an unqualified rave in The Phila-delphia Inquirer during workshops.
"I love Philadelphia," Mr. Mellman said. "I was so sad today we got distracted, because we meant to go to the Mütter. It's my favorite place on earth. Last time, they had a tour of people with Down syndrome in wheelchairs. I'm standing in front of this crucified fetus or whatever, and this woman is crying. And there's this couple of pregnant women, standing in front of the fetuses with horns, or whatever. And the husband is like, 'They have tests for things like this now!'"
Mr. Bond and Mr. Mellman left Standing O to smoke. "We are at the wrong fucking bar," Mr. Bond said.
They talked about the old sleazy days of San Francisco and the East Village: hand jobs in the backseats of cars, dead drag queens, that sort of thing. "We've grown up," said Mr. Bond. Mr. Mellman said that they had no interest in standing on the street with sandwich boards, screaming about the end being nigh. Mr. Bond recalled a conversation with Antony, of Antony and the Johnsons, about people who came of age in the 80's and 90's. "We all know the world's a really bad place," he said. "So we can try to look past that. He says we're standing on the precipice of hope."
They went back in. It was nearly 11:30 p.m. "There's that old Virginia Woolf line," Mr. Bond said. "For all the time women spend getting ready, they could learn Greek. Sure can translate that to all the time I've spent having cocktails."
SATURDAY NIGHT, THE FINAL PHILLY SHOW, reportedly had none of the troubles of Friday night and was smooth as glass.
"After, we went to—what's that place called?" Mr. Mellman asked. "We went to some gay bar and had a few drinks, and the Madonna videos got to me and I had to go home. It really did. It was like the 10th Madonna video. And I was like"—he mimicked Lisa Kudrow's character from The Comeback—"'I don't need to see that.'"
On Sunday, the performing duo took the train back to New York. They talked about their producers. "Of course they're nervous," Mr. Mellman said later. "They have X amount of dollars with investors that they have to answer to at every turn. Of course they're nervous. We're not, exactly—we're like live wires in a lot of ways."
The "X," incidentally, stands for something like a half-million dollars. This is cheap, by Broadway standards—if not by downtown basement-cabaret standards.
Jared Geller is one of the show's producers, and the director of development for Foster Entertainment. That company also produced Puppetry of the Penis, both Kiki & Herb's and Rufus Wainwright's shows at Carnegie Hall, and Slava's Snowshow.
"They know what's right and what's working and what's not," Mr. Gellar said, giving his official vote of confidence. "So the biggest—I guess, there is some anxiety. But it just has to do with trust. And I don't know if I would trust a director to direct them.
"Of all the people I've worked with over the years, they're probably the easiest. They've really played everywhere. Royal Albert Hall? Fez? They're also some of the most gracious people—Kenny especially. Every e-mail that he e-mails, he says, 'Thanks for all you've done.'"
For the first time in a while, the twosome might stand to make some money. Still, Mr. Bond is planning on having a benefit to pay for his tuition for the year he recently spent at St. Martin's College. He has no New York apartment, just a rented room in London. "It's only on for four weeks," he said of the Broadway gig. "We will make money—but we haven't been making money for months now."
They haven't ever had to take other jobs along the way, Mr. Mellman pointed out. "It's a testament to how goddamned hardheaded we are," Mr. Bond said.
The duo have spent their careers before fans. Are they ready to open their arms to the strangeness of strangers?
"We want to be in a venue where tourists from Jersey can go see this thing. And half of them will like it," Mr. Mellman said. "And the other half will be appalled at the politics. I consider our show very political. It's nice," he said, "that we have a place to stand there and rant."