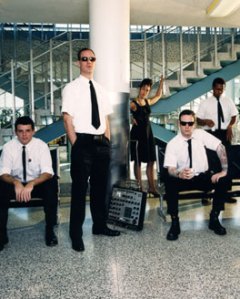 Ten years ago, many critics (and at least a few sane people, too) thought that rock had breathed its last. The early-90's grunge wave had crested and broken, leaving behind lots of second- and third-tier bands but not much in the way of captivating music. Britpop was a non-starter for most folks who aren't English. Metal wasn't worth discussing. And so the term "post-rock" came into being, originally coined to describe a small group of adventurous, eclectic, largely instrumental artists who were, it was thought, moving beyond rock to forge a new hybrid style.
The quintessential post-rock band was a quintet from Chicago called Tortoise. They were post-rock because they didn't have a singer, because their members swapped instruments frequently (meaning no one had a set role in the group), and because their music was wildly experimental yet still accessible. Their best album, Millions Now Living Will Never Die (1996), opened with a 21-minute suite, "Djed," that made reference to everything from cool jazz and dub reggae to minimalist composition and Indonesian gamelan ensembles; midway through, the piece dissolved in a burst of tape distortion, then recongealed with a completely different theme. All very pretentious—and all very exciting.
The new genre didn't have much of a shelf life: By the turn of the century, most of the "post-rock" bands were fading into oblivion. Tortoise, however, continued to record and perform, cheered on by a small cult audience. Unfortunately, their latest release, A Lazarus Taxon (Thrill Jockey), a three-CD, one-DVD boxed set that looks back to the band's 15-year career, is unlikely to expand their popularity. Any truly effective sampler of Tortoise's output would have to include highlights from their six albums, but that's not the case with this set, which is made up mainly of various B-sides, EP tracks and remixes, many of which have been out of print for years. (Hence the title: A Lazarus taxon is a paleontological term referring to life forms that vanish from the fossil record for long periods only to reappear later, like Lazarus rising from the dead.)
The box starts off well with "Gamera," from 1995, which begins with a jaunty, folk-like acoustic guitar figure, morphs into a high-octane jam over an ominous drone and finally, more than 11 minutes later, fades out with a hiss of backwards percussion. The band's sense of pacing is exemplary here; whenever bassist Doug McCombs switches to another note, it feels like a tectonic shift. But as the set progresses, the going gets tougher, peaking in difficulty with a remix of the 1994 track "Cornpone Brunch." In its original version on Tortoise's eponymous debut album, the song was a thrilling rush of power chords and frantic drum rolls; the remix, by Mike Watt of the great 1980's band the Minutemen, submerges these positive features beneath what sounds like 20 additional bass parts. The truth is that only committed fans will want to hear most of these tracks more than once.
Worse, the whole package has an air of artsy superiority. Black-and-white photos of traffic accidents by the Swiss photographer Arnold Odermatt adorn the covers of the four separate discs and the box itself, as if to say, "Gee, isn't modern society messed up?" Not exactly a novel observation. And the liner notes by Alan Licht, though clear overall, push the great-cultural-significance angle a little too hard. "[T]he fall of the Berlin Wall and the end of the Cold War," Mr. Licht claims, "set the stage for a new interest … in free musics (free jazz, free improvisation) but also for dub and remixing." Just how the opening of Checkpoint Charlie affected the decision to record a song in Chicago featuring two vibraphones—a Tortoise trademark—is unclear to me.
When I first heard Tortoise in the mid-90's, I didn't think of them as any kind of rock band, post- or otherwise, but as a new kind of fusion group—one of the few to actually follow the aesthetic lead that Miles Davis took on his late-60's and early-70's albums, the most famous being In a Silent Way and Bitches Brew. For the past 30 years, fusion has been the subgenre that dares not speak its name, due to the fact that many of Davis' protégés turned it into a platform for the soulless display of chops. But Miles and his producer, Teo Macero, had something very different in mind: Their goal wasn't to wow people with flashy solos but to pull them in by creating an alluring atmosphere. Mr. Macero's editing, his mixing and especially his artful cross-fades transformed short, distinct pieces into lengthy sonic collages. In much the same way, the members of Tortoise have used the remix techniques of electronic dance music to give their material greater depth.
Still, obsessive experimentation can easily become a major drag, and Tortoise's love of making strange noises gets too much play on this boxed set. For instrumental music to succeed, the listener has to have something to hold on to, whether it's a memorable melody or a distinctive solo voice (Miles' trumpet, for example). Tortoise has several such voices, most notably the biting tone of guitarist Jeff Parker and the percolation of those trusty vibraphones, as played by any of the group's three percussionists (John McEntire, Dan Bitney and John Herndon). And they've consistently proven that they can come up with clever melodies. But when those strengths are overwhelmed by their penchant for knob-twiddling, the music suffers.
For these reasons, the DVD of A Lazarus Taxon is by far the best of the box. Along with a handful of nifty video clips, there's a generous selection of live performances, which show what Tortoise really sound like, remix-free. On two outstanding tracks from the 1999 Deutsches Jazz Festival, the band expands to a nine-piece unit with the addition of four jazz players, including saxophonist Fred Anderson, a founder of Chicago's fabled Association for the Advancement of Creative Musicians. Mr. Anderson's composition "Othello" gets an energetic workout, revealing the band's free-jazz influences.
Elsewhere on the DVD, you can find murky footage of a 1996 gig in Toronto, which demonstrates both Tortoise's onstage intensity and their early lack of crowd-engagement skills; Mr. Herndon stares out into the room as if he were inspecting a poorly plastered wall.
Matters seem to have improved on this front in recent years, however. The newest clip here, from an appearance last year on the wonderful Chicago public-access TV show Chic-A-Go-Go, features the band playing "Seneca" while wearing Planet of the Apes masks. The people making up the studio audience, many of them also creatively attired, are clearly having a great time, and no wonder—the party vibe is infectious.
In short, Tortoise: fine band making noble music. A Lazarus Taxon: not the career retrospective they deserve. But while you're waiting for the real Tortoise boxed set to arrive, see if you can borrow the DVD from one of your indie-rock completist pals. You could do a lot worse.