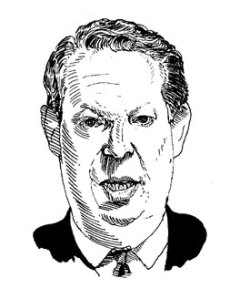 The Observer has learned that former Vice President Al Gore and business partner Joel Hyatt, an entrepreneur and Democratic fund-raiser, will close the deal to pay around $70 million to French-owned Vivendi Universal this week, making them the owners of the tiny digital-cable channel Newsworld International (NWI), moving Mr. Gore from politics to mini-media-moguldom.
Mr. Gore's group plans to transform the sleepy foreign-news outlet into a youth-oriented public-affairs channel, a jump-cut news network for the iPod set. Despite vociferous claims that the network isn't attempting to be the liberal antidote to Rupert Murdoch's Fox News, it's difficult to ignore the obvious: It may be fair, it may be balanced, but it's going to be owned by Al Gore.
Meanwhile, the other Al among media giants, media-political hybrid Al Franken, incipient Minnesota Democratic candidate and Bill O'Reilly tag-team partner, was launching his somewhat more overtly political media project, Air America Radio, the little liberal radio network determined to correct the Fox effect on American news. And Al's pal Al was delighted.
"Fabulous!" Mr. Franken said. "I think it's a good thing. I think Al Gore's a good guy." He started laughing with pleasure just thinking about it. "And I think Al Gore is a smart guy who has tremendous curiosity, and I think he's a person who likes ideas," he continued. "And I think, you know, from all I know from the people I've met in media, he'd be a good choice as someone to have a piece of it. I'm much more comfortable in his hands than a lot of people."
As far as the dovetailing between Air America Radio and Mr. Gore's project, Mr. Franken said, "It's all part of the same thing. It's fighting back …. I think that the country–there's an odd idea that the mainstream media is liberal, and it just isn't. And I think the mainstream media has become scared of its own shadow. Basically, their testicles have been sucked up into their body cavity with a slurping sound."
And how were his own testicles holding up?
"Mine are hanging fine," he said.
Would he address Mr. Gore's new TV network on his radio show?
"Yeah. I think we're going to have Al on the show, actually," he said.
Had Mr. Franken considered coupling the radio network with Mr. Gore's TV project? He hadn't, but "I'd be open to that," he said.
No one from Mr. Gore's camp would comment. They were keeping a low profile, said a source, until they had a high-wattage executive to face the press. "They're going to stay quiet until they've hired their Roger Ailes and let him do all the talking," said the source, speaking of Mr. Ailes, the media visionary, liberal bête noire and former Nixon adviser who put Fox News on the map. "They don't have him yet."
Mr. Franken agreed that Mr. Gore had to find an Ailes type to lead the show. "Roger does a very good job," he said. "That's exactly what they need. And I told them that at the beginning: a little less evil, but someone like him."
Mr. Franken didn't speak the name of Mr. Murdoch; he didn't have to. After all, it was News Corp.'s conservative tycoon who, 10 years ago, laid the groundwork for the empire that would redraw the American political center, step up to bat for George W. Bush and send the American liberal establishment into a frothing, reactive tizzy, and Mr. Franken into best-sellerdom.
It wasn't easy for Mr. Gore to get his hands on NWI. According to two sources familiar with the situation, Mr. Gore went so far as to seek the influence of French President Jacques Chirac in buying the channel, hoping that Mr. Chirac would aid him in landing a sweetened deal with Vivendi chief executive Jean-René Fourtou–and quick. That request resulted in a meeting last summer with executives of Universal Television Group and Vivendi's chief operating officer, Jean-Bernard Levy. At the time, however, Vivendi was preparing to sell its cable properties to NBC, which temporarily stalled Mr. Gore's media ambitions.
The deal was delayed for nearly a year, most recently by Barry Diller, chairman and chief executive of InterActive Corp. As the former owner of USA Networks, which he sold to Vivendi for $10 billion in 2001, Mr. Diller still owned a stake in those properties. Sources said Vivendi was keen on selling NWI to Mr. Gore, but Mr. Diller needed to resolve his ownership in Universal properties first. One source with knowledge of the situation suggested that Mr. Diller had stalled the deal as a bargaining chip to improve his take on Vivendi's sale of Universal to NBC. But a spokeswoman for Mr. Diller disputed that. "It was only Mr. Gore who asked us to reconsider, given how long the process was taking," she said, "to which we did agree to let this asset escape from our J.V. [joint venture], for no consideration of any kind or as part of any discussion with Vivendi."
In any case, the path was cleared for Mr. Gore's group to close the deal. It's not clear where Mr. Gore and Mr. Hyatt rounded up the money, or how they will cover the gargantuan programming costs to come. But as you may recall, Mr. Gore's first gig after the election of 2000 was becoming vice chairman of Metropolitan West Financial Inc., headquartered in Los Angeles, which hired him to explore high-tech investments. With the assistance of Peter Knight, his former Democratic fund-raiser and a managing director at Metropolitan West, Mr. Gore had access to scores of investors, according to sources close to him.
The Observer has also learned that the chief operating officer of the fledgling company will be a Los Angeles–based media consultant named Mark Goldman, who served during the late 90's as the president and chief executive officer of Mr. Murdoch's satellite company, Sky Latin America.
So here we are. Mr. Murdoch had astonishingly realigned the American media while the Democrats had wallowed in power during the Clinton-Gore era, building a base by insisting nonstop that the traditional television networks (CBS, NBC and ABC) were liberally biased–the same claim that Republicans had been making from Barry Goldwater on, and that reached a near bull's-eye with Vice President Spiro Agnew's attacks (written by Pat Buchanan and William Safire) in 1970.
It took a while for the right to get a commander of Mr. Murdoch's power and vision, but he showed up. And since the liberals' command of the media, such as it was, was neither as explicitly ideological nor as passionate as Fox's, they wallowed lazily and cluelessly as they were turned into culture villains by the right. And as liberalism went into abeyance–debunked even by President Clinton–the left never really developed an explicit alternative.
Starting in the early 1990's, with mighty-righty railer Rush Limbaugh, Republicans had built a well-oiled machine of speakers' bureaus, think tanks, newspapers and magazines–including Mr. Murdoch's own glossy high-end neoconservative mouthpiece, The Weekly Standard–and spearheaded the whole thing with the revolutionary cable juggernaut, Fox News. Suddenly, in 2000, what constituted the fair and balanced was over here, rather than over there.
In 2002, a motivated and focused Al Gore, having lost the Presidency for reasons that he partly chalked up to what he felt was a rancid culture, told The Observer that Fox News and Mr. Limbaugh were part of a "fifth column" within the media, responsible for injecting "daily Republican talking points into the definition of what's objective."
With a veritable culture war driving the Presidential year–and with the news media serving as the weapon of choice to bludgeon the hell out of an opponent–the Democrats are building their own left-handed sledge, or at least a rough approximation of the weapon of the right. It started with the Center for American Progress, former Clinton chief of staff John Podesta's think tank, the left's response to the Bush-approved American Enterprise Institute. Next came Governor Howard Dean with his populist Internet–admired by Mr. Gore, the Deanie Web site was apparently the thing that made Mr. Gore most ga-ga to endorse the Vermont governor for President–performing a counterweight to the Wild West of right-wing Web sites. A source close to Mr. Gore said that his endorsement of Mr. Dean's bid was inspired almost exclusively by his fascination with Dr. Dean's media approach and his ability to reach young voters through the Internet. "The reason why Gore became engaged with Dean," said the source, "was he was fascinated with the way they consumed information and communicated with their supporters, and the way their supporters communicated with them."
"He clearly got it," recalled Joe Trippi, Dr. Dean's former campaign manager and now an MSNBC election analyst. "He clearly got that there was a difference now, that you had to go from the bottom up to use the media."
And now there's Air America Radio, the anti–Rush Limbaugh network.
Suddenly, in New York, you can find Mr. Franken on WLIB 1190 AM. It may not be the FAN, but it's there. And Mr. Gore's NWI will be on Time Warner Digital Cable, Channel 103–a long way from Hannity and Colmes, but a signal nevertheless.
For a time, Mr. Gore's TV channel will maintain its current programming, for which there appears to be a very, very small market. NWI has carriage in about 20 million homes, and packages "foreign newscasts originally broadcast in countries such as Germany, Japan, Canada and the European community," according to its Web site. Currently, Newsworld is a bit like something Bill Murray would flip on in the hotel in Lost in Translation: a two-minute dialogue-free video essay on squirrels, followed by the news about a freak rotating-door accident in a Tokyo shopping mall.
Sources close to Mr. Gore insisted that his new cable network wouldn't be a liberal answer to Fox News, as some had reported and even hoped. But everyone seemed to agree that the channel would be a 24-hour news, documentary and public-affairs channel geared toward kids in their 20's, with a scrappy, Dogme 95 news philosophy that would arm kids with cheap digital cameras and empower them to do an end run around the big media. As The Observer reported last year, Mr. Gore's principal business partner, Mr. Hyatt, purchased a Web site called V.tv from the .tv Corporation in April of 2003, prompting speculation that Mr. Gore's channel would be called VTV. The company's Web site listed Mr. Hyatt, who teaches business at Stanford University, as the representative of Mr. Gore's holding company, INDTV L.L.C., registered in Stanford, Calif.
One thing that's clear is that VTV seems to fulfill Mr. Gore's own youthful ambitions to get behind the camera, as opposed to being in front of it. His 103-page senior thesis for the government department at Harvard was entitled "The Impact of Television on the Conduct of the Presidency, 1947-1969." In essence, Mr. Gore argued that as soon as Presidential hopefuls could bypass newspapers and talk directly to millions of TV viewers, a scintillating personality became a job requirement. It was prescient, if not self-applicable.
Mr. Gore then worked as a reporter, first in Vietnam while serving in the U.S. Army, then at the Nashville Tennessean in the mid-70's. Much later, of course, he gave the Internet a crucial boost while in Congress. Mr. Gore's obsession with newfangled tech-geek stuff was catalyzed by the dot-com boom. As Apple Computer chief executive Steve Jobs told reporters in 2003, confirming Mr. Gore's geek credentials: "Al is also an avid Mac user and does his own video editing in Final Cut Pro."
He was also a big fan of MTV's late-90's video-diary show, Unfiltered, which inspired him to meet with its creator in 2002 in the hope of producing similar programming himself. In the last year, Mr. Gore began building a rationale for a new television service: In a speech to students at Middle Tennessee State University in November 2003, he spoke of television's "quasi-hypnotic influence" on the electorate. "If people are just staring at a little box for four hours a day, it has a big impact on democracy," he said. "We have to choose to rehabilitate our democracy in part by making creative use of these new media and by insisting within the current institutions of our democracy that we open up access to the dominant medium."
Mr. Franken agreed that the left had been lax during the techno-revolution while the right "felt a certain urgency, to their credit, and they had a lot of right-wing financiers who saw this as a need. A lot of them were trust-fund babies who inherited a lot of money and wanted to keep it and now have bought their way into the Congress and the Bush administration, and you have a lot of wealth trying to keep a lot of wealth and a very stacked deck in this country right now."
Mr. Franken has said he may only do his radio show for a year, depending on how he likes it. For him, there was a pointed political endgame to his own media pursuits–getting Senator John Kerry elected to the Presidency. "I think Rush has had some effect on elections, and I wouldn't mind having some effect on this one," he said. "I don't know how quickly … but hopefully we'll be able to have some influence and some effect on the way people think."
Then Mr. Franken paused. There was an edge in his voice. He seemed to realize that he suddenly owned a piece of the playing field and it wasn't just a college game, that there were stakes.
"Kick a little ass," he said.