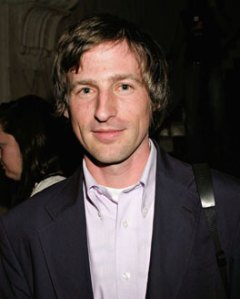 Indie-darling filmmaker Spike Jonze just bought an apartment at the Forward Building—the new Lower East Side condo that's turned from a center of lefty Yiddish culture into a home for hip Hollywood.
According to the deed, Mr. Jonze paid $2,647,450.
What distinguishes his 2,590-square-foot eighth-floor apartment?
"Slamming river views," said celebrity broker Michael Bolla, who's marketing the building. "Dead-on river views."
Other slamming tidbits include a Poliform kitchen, a massive living room with fireplace, and neighbors like Tatum O'Neal and Lance Acord, the cinematographer for Mr. Jonze's adaptation of Where the Wild Things Are.
(Mr. Acord also works with Spike's ex-wife, the filmmaker Sofia Coppola.)
Then there's Brigitte Lacombe, the French artist known for her still photography on film sets, including Mr. Jonze's 1999 breakthrough Being John Malkovich.
According to city records, Ms. Lacombe also has a place at 7 Essex Street, a chic condo across the street. As it happens, that's where Mr. Jonze is coming from too. Earlier this month, Mr. Jonze sold his apartment there for $1.659 million. He bought it for a bit less only last December, taking it from the building's sponsor, Christopher Prokop.
"It was customized throughout, incredibly high-end and beautifully done," said Citi-Habitats' Danny Davis, who was Mr. Jonze's broker for 7 Essex. "The developer had moved into the unit. He pimped it out, basically."
But?
"If you want to know the truth, [Mr. Jonze] never moved in," Mr. Davis said. "He had the opportunity to buy a considerably larger loft. I shouldn't speak for him, but it was just about space."
The Forward Building was designed by George Baum in 1912 to house the Socialist-minded, Yiddish-language Jewish Daily Forward. Its famous content included the "Bintel Brief," an advice column for immigrants, and later contributions by Elie Wiesel and Art Spiegelman.
After 9/11, architect Ronald Castellano got the building for just $23.5 million, even though its buttery neoclassical exterior had been renovated less than two decades earlier. He individually designed 29 apartments from the 39 units that had been there.
They went on the market early this year. "We're sold—finito!" Mr. Bolla said this week.
But Mr. Jonze didn't grab the final apartment: "The last deal was to a beautiful lady from the Upper East Side."
And perhaps yet another friend-of-Spike?
Mr. Bolla would not elaborate.
Producers Producer Sells at Hampshire For $3.15 M.
Broadway theater magnate Rocco Landesman, who produced The Producers, has sold his Hampshire House co-op for $3.15 million, according to city records.
The Central Park South apartment went to Willem Cordia, a Dutch financier.
"It was the most convenient place I've ever lived," said Mr. Landesman, who confirmed the sale but would not confirm the price. "I miss the easy access to 15 great restaurants."
How to describe the old Hampshire House? "Elegant, upscale, makes you want to go 'Oooh, this is fancy,'" said Corcoran's Ric Swezey, who represented Rocco and his wife Deborah Landesman.
For example, there's an evening pianist who plays in the Dorothy Draper–designed lobby. Then there's the house car and driver: "It's hard to get a cab at theater time," Mr. Swezey explained.
Mr. Landesman became the president of Jujamcyn Theaters in 1987, producing shows like Big River, Angels in America and Proof. He bought the company in 2005 for a reported $30 million.
According to his broker, the producer kept his Tonys on the fireplace mantel, plus posters and pictures commemorating his shows around the apartment.
Though Central Park South is known as a street of pieds-à-terre, Mr. Swezey said the Hampshire House is "more like a little residential community." A little residential community that includes Luciano Pavarotti, and has previously counted Rupert Murdoch, Frank Sinatra and Ava Gardner as members.
Will the Dutch financier move in for good? His broker, Sotheby's International Realty's Gabriele Devlin, would not comment.
This April, city records show that the Landesmans paid $4,233,883 for a three-bedroom penthouse atop the Heritage at Trump Place. According to Prudential Douglas Elliman's Gilad Azaria, who has sold extensively in the building, penthouse perks include "a beautiful Jacuzzi with views of the East Side."
Were there other reasons for the couple's move? "We loved our apartment on Central Park South, but needed a little more living space," said Mr. Landesman. "My youngest son can have a place to stay when he's home from boarding school, and so forth."
The apartment was 1,500 square feet, though the views made the place seem vast. "When you're inside, it just feels so big," Mr. Swezey said, "because your front lawn is Central Park."
The cool thing about the Hampshire House, according to the broker, is its dead-center location on Central Park South. "The other cool thing about this particular apartment is that it's between the 10th and 14th floors. Almost perfect: a little bit above the tree-line, but not too high."
No offense intended, though, to the couple's new Trump penthouse.
Marianne Boesky Sells in Tribeca for $4.3 M.
Art dealer Marianne Boesky has sold her Richard Gluckman–designed penthouse at 39 N. Moore Street for $4.3 million. Television executive Brian Lacey bought the 2,850-square-foot duplex.
The prewar apartment has a professional kitchen, two terraces and the requisite library with fireplace (with a bonus 25-foot ledge to display art).
"It was raw space when I bought it," said Ms. Boesky. "I brought Richard in before I closed–I wanted to make sure he was on board!" (That's Richard Gluckman, who's worked for Versace and with Richard Serra; he also designed Pittsburgh's Andy Warhol Museum.)
The Tribeca apartment was dark and narrow, but Mr. Gluckman had a solution for that: skylights. Really, really big skylights.
"We made light shafts and extended them down two or three floors," Mr. Gluckman said. "I think the vertical shafts of light and the moving plastic walls which we used to segregate the internal space were very effective."
But the roof garden is brightest of all: "We had a park up there," said Ms. Boesky. "It was really so nice."
Her broker Roger Erickson, a senior managing director at Sotheby's International Realty, enjoyed the open spaces too. "I really feel it was one of the all-time best terraces in Tribeca," he said about the patio off the library. "You looked uptown, and it was a view forever."
Mr. Erickson also admired the penthouse's neighbors: "Tom Freston had lived across the hall," he said.
But then there was the shimmering art. "We have a big beautiful butterfly by Damien Hirst, with a blue-sky background," Ms. Boesky said. Plus: "A great Barnaby Furnas, one of his suicide paintings, and a Martin Kippenberger from '94, a big flower and dog's face."
Above the fireplace, Richard Gluckman's 25-foot ledge displayed works on paper: some Cindy Sherman, some Felix Gonzalez-Torres too.
Harvey Keitel sold the apartment to Ms. Boesky in 1998, though it was before he ever moved in. City archives don't reveal how much Ms. Boesky paid.
Can the new owner, Brian Lacey, match the seller's discriminating taste? Ms. Boesky said he connected with the place right away: "He bought it in the middle of the apartment."
According to his Web site, Mr. Lacey has distributed over 3,000 television episodes to 100 countries. He was behind the global marketing of ultra-mega successful Japanese shows like Pokémon and Yu-gi-oh.
"It's a fantastic space," he said about his new duplex. "One has a sense of the first floor being public—the layout and the feel and the design. But the second level has a wonderful, warm private space."
That's a dichotomy Ms. Boesky has been thinking about too, because she's moving into an apartment above her built-from-scratch gallery at West 24th Street and 10th Avenue. Who designed it? "There are four—no, five—Gluckman galleries on 24th, so I had to find someone else!" she said. "He's awesome, but I couldn't be the sixth."
So Debra Burke built the new Marianne Boesky Gallery, which opened last Saturday. "I'll miss Tribeca a lot, but I have a 2-year-old daughter. I'd like to spend more time with her, so it works."
Their apartment is on the second floor, though there's a little artist's apartment for visitors in between.
How will the young Miss Boesky handle the proximity to high art? "Even at 2, she knows to respect it," said her mother. "To keep a certain distance—she looks, and touches very gently." The little girl's grandfather is the arbitrageur Ivan Boesky, an inspiration for Gordon Gekko's character in Wall Street.
Model Rizer Settles Debts on $1.9 M. Condo
By the time porcelain-faced supermodel Maggie Rizer sold her 1,895-square-foot Franklin Street apartment this summer, she had been repeatedly sued by her building's board of directors and was ready to move away.
"They brought a lawsuit against her, but it's over now; everything's cleaned up," said her attorney, the iconic entertainment lawyer Ed Hayes. "Her stepfather threw her financial affairs into chaos. She owed them money, and she paid them."
In October 2004, Ms. Rizer's stepfather pled guilty to stealing the young Calvin Klein model's $7 million fortune, which he squandered on a multiyear Quick Draw binge. Afterward, she couldn't keep up on the mortgage for her two-bedroom condo at Franklin Tower, where Mariah Carey keeps a Mario Buatta–designed triplex penthouse.
So in 2005, the building's board sued Ms. Rizer in New York State Supreme Court for more than $21,000. At the time, board lawyer David Abramovitz told The Observer that his client had sued her before, and she had paid up.
Franklin Tower dropped the lawsuit? "Yeah." Were there any hard feelings? "You can't blame the co-op," Mr. Hayes said. "She was behind."
So, to recap: "She sold the apartment, she took the proceeds, paid off her debts," said Mr. Hayes, "and I think she wanted to live outside the city anyway."
But the proceeds weren't monumental. According to the deed, Channappa Chandra, a chief orthopedic surgeon at the University of Tennessee College of Medicine, paid Ms. Rizer $1.9 million for the Tribeca place. She had bought it six years earlier for $1.6 million.
Maybe Ms. Rizer wanted something higher? The buyer's broker, Century 21 NY Metro executive vice president Philip Kiracofe, has a different theory: "I know she has two dogs, and one of the things they mentioned was that she was looking for more room for them to run around, somewhere outside the city."