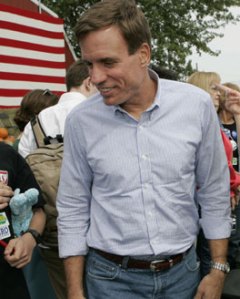 Like some aspiring small-town actor called back for an audition, Mark Warner returned to New York last week in another attempt to land the part of understudy and potential replacement for Hillary Clinton.
Performing in front of audiences made up of the city's top Democratic donors, Mr. Warner joined a cast of Presidential hopefuls who, over the last few months, have surreptitiously beaten a path to opulent Upper East Side apartments in search of influential friends and lucre.
But unlike potential candidates like Al Gore, John Edwards or John Kerry—all of whom would seek to claim a distinct patch of turf to the left of the Hillary juggernaut—Mr. Warner, the 51-year-old former governor of heavily Republican Virginia, is making a run right at Mrs. Clinton's well-heeled supporters.
"Warner's greatest strength is electability, and Hillary Clinton's most significant weakness is electability—at least in the Democratic primaries," said Larry Sabato, director of the Center for Politics at the University of Virginia. "If not No. 1, he wants to be No. 2 on their lists."
And so, six months after the cover of The New York Times Magazine tinted his jowly face for a grotesquely surreal portrait—the piece was headlined "The Anti-Hillary?"—Mr. Warner has quietly resumed operations in New York. This time, his intention is to raise money, not his profile, for 2008.
According to the city's most influential donors and bundlers, Mrs. Clinton is still the single most significant obstacle on the road to the White House for all of the prospective candidates. As a result, she is the unspoken subtext of all of their meetings.
"If she chooses to run, how do they distinguish themselves as the person that you should back rather than her?" said Hassan Nemazee, a veteran Democratic donor who threw a dinner of home-cooked Chinese food for Mr. Warner and fellow donors at his Park Avenue residence in June. He has also hosted events for John Kerry, Tom Vilsack, Joe Biden and Mrs. Clinton. "All of these conversations are nudge-nudge, wink-wink."
Mr. Warner clearly concluded that a soft approach—at least in the heart of Hillary Clinton's New York—is a necessity.
"Do I have a sign that says 'stupid' written across my forehead?" Mr. Warner said when asked in a recent interview to talk about his supporters and fund-raising apparatus in New York.
He was sipping a diet soda at the bar of Fresco on 52nd Street, where a Wednesday-night fund-raiser was planned upstairs. As the disco lyrics of "Last Dance" pulsed out of the restaurant's speakers and drowned out his words, Mr. Warner ever so quietly and carefully made the case why he might be a more pragmatic option than Mrs. Clinton.
"I think there is something different about somebody who has had executive experience," said Mr. Warner, who wore a blue shirt and yellow tie. "Oftentimes for a legislator, the end of the battle is once you've passed the bill—the facts are that's just the beginning. Once legislation is passed, that doesn't mean the problem is solved; that's the actual beginning."
In private, Mr. Warner is less bashful, if still not explicit, in defining why he might have an advantage over Mrs. Clinton with general-election voters.
On the evening of Sept. 12, primary night, Mr. Warner arrived at the Fifth Avenue apartment of prominent party donor Steven Rattner and his wife, the former Democratic National Committee fund-raiser Maureen White. Roughly 20 top donors attended the two-hour meeting, taking turns speaking individually with Mr. Warner while dining on fresh scallops. The guests included former U.S. Ambassador to the United Nations Richard Holbrooke as well as recognizable Democratic fund-raisers and opinion-makers like Robert Zimmerman, Michael Froman, Blair Effron and Mr. Nemazee.
According to several donors who were at the dinner, Mr. Warner stressed his homeland-security credentials—an attempt, perhaps, to address his lack of foreign-policy experience—and demonstrated his centrist qualifications by expressing a pro-business, pro-technology attitude and an open mind on nuclear energy.
But the donors all said that he emphasized his success in being elected in a traditionally Republican Southern state and underlined that the party could not win by running a polarizing figure—polite candidate-speak for Mrs. Clinton.
No one seemed to mind the allusion.
"If the donor community of New York were locked into Hillary Clinton's candidacy, these events would not be taking place," said one donor who was there. "They have not made a blood-oath commitment to Hillary and they want to win, and they want to see who can do that."
As a successful businessman with a personal fortune estimated around $200 million, Mr. Warner possesses that rare and highly-sought-after ability to write his own checks. At the same time, he has demonstrated a knack for separating donors from their dollars, raising $5.5 million for Democratic candidates and committees since Election Day of 2004, according to the most recent numbers provided by his political-action committee, Forward Together.
During his two days in New York, Mr. Warner held multiple events and raised more than $100,000, according to a source at the P.A.C.
On Wednesday, Mr. Warner argued that in order to take back Congress and the White House, Democrats needed to do more than attack President Bush's record.
"It's going to take a real willingness to lay out ideas, a willingness to rally all Americans to the cause regardless of party, to try to decrease the level of polarization," said Mr. Warner, adding that that held true for "whoever is going to get elected at either at the White House level or the Congress level."
It's no secret to Democratic donors that their last two successful Presidential candidates happened to be governors of Southern states with strong domestic-policy credentials. You have to go back to John F. Kennedy, they are well aware, to find a Senator who made the leap to the White House. And there is also a strong belief among donors that, yes, the political landscape has fundamentally changed since 9/11.
"I think in 2008, as we are seeing in the 2006 elections, the Republicans, whether we want to talk about it or not, will make the issue security and national defense," said Mr. Nemazee.
Still, the New York fund-raising community is far from a consensus on who is best positioned to argue these issues. While public polls ranking prospective Presidential candidates consistently show Mrs. Clinton's support in the high 30's or low 40's—as opposed to Mr. Warner, who is consistently in the single digits—the donors can basically be characterized in three ways: those who unflinchingly support Mrs. Clinton and believe she can win; those who are deeply skeptical about Clinton fatigue and think she has no shot in a general election; and those who occupy some murky space between the two.
"Probably the largest group is in the middle—people who think well of her, like her, wish her well, might support her, but their mind is somewhat open and they are a little bit questioning of the electability factor," said another influential donor present at Tuesday's dinner. "So two of the three groups are in the process of meeting and greeting."
All of them, in the course of making their decisions, take Mrs. Clinton as their central point of political reference.
"All these dinners are either auditions or dating, speed-dating," said Fred Hochberg, a longtime Democratic donor and dean at the Milano New School for Management and Urban Policy. Mr. Hochberg has known Mr. Warner for 20 years but didn't attend any of his events. "In candor, I am one of the people who would wait and see what Senator Clinton is going to do. Why would I spend all of my time doing this if I'm really going to wait and see?"
According to John Catsimatidis, another Democratic donor who was not at the dinner, Mr. Warner and his fellow travelers have overcome unenthusiastic donors by imploring Clinton devotees to introduce them to their undecided but wealthy friends.
And in one respect, Mrs. Clinton's enormous fund-raising apparatus, which insulates her from new donors, may actually help Mr. Warner.
"There is a sense among some people that if you are not already part of the Hillary circle, you aren't going to have preferred seating," said Ken Fisher, a former New York City Councilman and longtime Democratic strategist. He added that some donors might find the easy access to Mr. Warner more appealing.
In the meantime, Mr. Warner is actively pursuing supporters among the usual suspects while taking advantage of his connections in the investment and technology community, where he made his own fortune, to locate new blue blood.
On Wednesday, as he joked about his image on the March Times Magazine cover as "Mr. Ed or the Joker character," he waved to a cotton-haired woman in a red dress and pearls who had arrived early to his fund-raiser. Between an impassioned critique of President Bush as lacking faith in the American people and an analysis of the Iraq war's influence in Senator Clinton's primary-night landslide, he called the waiter over to get a bite to eat.
"Whatever you got," said Mr. Warner. "Once I get upstairs, I'm not going to be able to eat any of it."
But when asked to identify any of the donors gathering upstairs or at various meetings during the week, Mr. Warner reverted to reticent candidate-speak.
"Lots of folks in New York have a broad array of interests," he said, leaning back in his chair, stretching his lanky arms and spreading a broad smile across his face. "They have helped with a lot of folks who are voices in the Democratic Party."