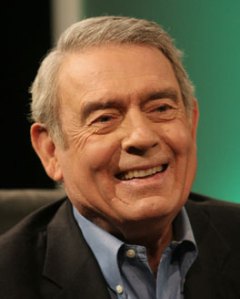 "It's a long road to Tipperary," Dan Rather sang, tentatively, in a whisper-soft baritone. He paused, searching for the next line.
"It's a long way to goooo…"
Mr. Rather squinted and scratched his nose. It was 7 p.m. on Labor Day, and he was sitting at a corner table in a coffee shop on the Upper East Side, his back to a window looking out on Madison Avenue. Periodically, a city bus would drive by behind him, bearing—as all city buses currently do—the giant, smiling visage of about-to-debut CBS Evening News anchor Katie Couric on its front grille.
Mr. Rather rotated his coffee cup in its saucer.
"I can't remember the rest of the words," he said finally, after a long silence. "But you get the idea."
Mr. Rather looked tan and rested, maybe a few pounds sturdier than in his days at the CBS anchor desk, and healthier, too. He wore jeans, black leather work boots, and a navy blue polo shirt under a khaki-colored safari jacket, the kind with several tiers of pockets and pouches, fit for an international adventurer. There was a Band-Aid around the tip of his left index finger, covering a minor fishing injury.
Asked if he would be watching Ms. Couric's first broadcast the following night, he put the bandaged finger to his temple.
"The only reason I'm thinking about it is, I'm traveling tomorrow," he said. "I have to go to the West Coast on a story. If I can, I will be.
"That's not a dodging answer," he said. "I'm just not sure if I'm going to be in the air or what."
Since his tense and chilly negotiated retirement from CBS in June, Mr. Rather has spent most of his summer traveling on assignment for his new job, as the star anchor and reporter for HDNet, the infant television network created by tech billionaire Mark Cuban. He is developing a weekly show called Dan Rather Reports for Mr. Cuban, who is best known as the hands-on owner of the N.B.A.'s Dallas Mavericks.
"I wish we'd been on the air this summer," Mr. Rather said, "particularly when the Israel-Hezbollah events were happening. Everything in me wanted to go. And if we had been on the air during that time, I certainly would have."
In his last year at CBS, after being deposed from his anchor duties, Mr. Rather had filed the occasional piece for 60 Minutes and watched as his replacement, interim anchor Bob Schieffer, bested his ratings by 250,000 viewers a night.
Mr. Schieffer left the broadcast on Aug. 31. At a big party that night, network president Leslie Moonves described Mr. Schieffer, to wild applause, as "possibly the man who saved CBS."
At 9 p.m. the following day—the Friday before Labor Day, the single lowest-rating day of the broadcast calendar year—CBS aired the hour-long tribute to Mr. Rather it had promised when announcing his retirement. In New York and Los Angeles, the nation's two largest markets, the leading local affiliates pre-empted it in favor of N.F.L. exhibition games (WCBS aired it late at night, after the Jets' third-stringers finished beating the Eagles' fourth-stringers). Mr. Rather's wife, Jean, tried to watch, but she couldn't find it on TV.
Mr. Rather, who had given an interview for the special, had been traveling that night, too—on his way back from Cordova, Alaska, where he had been fishing with his grandson and researching a story for HDNet. On the Alaska trip, he said, he had been reading a collection of essays: a short one about friendship by Francis Bacon, another one by Bacon that "was just sparkling" on the subject of revenge.
And he had come across one by George Santayana, about British soldiers singing of Tipperary in the battles of World War I. He had read it many times before, he said, but this time it stuck with him.
"It was kind of a marching song," Mr. Rather said. "Santayana takes that as his talking point. O.K., the war is over; the survivors are back home, talking about the brave new world, the great new world. Metaphorically, what he's talking about is, they think they've reached Tipperary—maybe in the same way we thought we had reached Tipperary in World War II. We thought it was over, but it was never over. The feeling is: O.K., you're gonna fight a war. And even if you win—especially if you win—you think you can take a deep sigh of relief and have your beer in the pub and play with your dog, and life is gonna be great. But it's a reminder that it's a long way to Tipperary."
He scratched his nose. "I fear I have not done it justice," he said.
Mr. Rather had ordered a cup of black coffee. It arrived too hot and sat untouched for 45 minutes, at which point he took a single sip and forgot about it for good.
"Life is good," Mr. Rather said. "I run across a lot of people who say, 'Well, how's your re—tirement?' I try gently to explain to them that I retired from CBS News, but I'm working full time."
Dan Rather Reports is rushing toward its Oct. 24 premiere. "It is not unlike trying to change the fan belt on a moving Mercedes," Mr. Rather said, pausing to let the simile linger.
Mr. Rather has also formed an independent company, News and Guts Media, with tasteful blue-and-gray business cards (on recycled paper) listing a new e-mail address and a Dallas-based phone and fax. The Web site, newsandguts.com, has no content as yet. And he is working on a book. "Although I'm always working on a book," he said. "Who knows when it'll be finished, and who knows what it'll be about?"
The HDNet program will be an hour long, on Tuesday nights, and Mr. Rather will supplement it with the occasional documentary. He has hired a small team of journalists to help.
On Sept. 5, Radar Online reported that among his new hires was Mary Mapes, the CBS producer who prepared the report about President Bush's National Guard service that doomed Mr. Rather's CBS career. Reached at her home in Dallas, Ms. Mapes said she had not been approached to join HDNet and that the whole story, including several quotes attributed to her, was "made up." (Radar editor Maer Roshan stood by the story.)
The two are still close and talk occasionally on the phone. Ms. Mapes is working on a paperback version of her book defending the Guard report. Mr. Rather said he has mostly put the incident behind him.
"I can't in truth say I never think about it, but I don't often think about it," he said. "I find that most people have moved on. I've really been heartened, if that's the right word, and I think it is. Most people understand about that. There are some people who had their minds made up about it and cling to it for one reason or another, but until and unless new additional information comes forward—which it may—then history will be the judge of how well I reported. And however that turns out, I'll be O.K. with it."
Additional information? Mr. Rather declined to say whether he himself hoped to pursue the mysterious National Guard documents that formed the basis of the report. Instead, he outlined three areas of coverage that he plans to focus on at HDNet: the lives of soldiers and their families; the shrinking of the middle class ("although I don't like to talk in terms of class; it's a European term"); and the relationship between money and political campaigns.
All three are topics that he believes are under-covered by the broadcast and cable news operations, the first to the most grievous consequences.
"So much of their war coverage has to do with what some bureaucrat in Washington has to say," Mr. Rather said. "I want to focus on what the people who actually fight the war and their families are going through. There are all kinds of mysteries to be solved, all kinds of questions to be answered."
Mr. Rather said he hopes the new show's viewers will be realistic, at least in the beginning.
"We can't be expected to come on the air with a fully formed, mature television news broadcast," he said. "I think it'll be good. I think it'll be very good. But this is a short time frame. We'll see whether we can pull it off. Your readers will think this is unconscionably sophomoric, but I told Mark that to try to get a quality program on the air of this sort in this short of time is the basketball equivalent of a shot from way out there in three-point land. But we're trying."
Mr. Rather, a lifelong basketball player and fan, had never met Mr. Cuban before this year, but had seen him on TV during Mavericks games. The two were introduced in February by a mutual friend, at a time when things were beginning to seem untenable for Mr. Rather at CBS. He was having a hard time getting pieces on 60 Minutes; his representatives were deep into tense negotiations with network executives.
Mr. Cuban and his business partner, Todd Wagner, met Mr. Rather at a respectable ("but not chichi") seafood restaurant in Dallas. Mr. Cuban asked Mr. Rather what he wanted to do with the rest of his career.
Mr. Rather said that he hoped to stay at CBS. Barring that, he liked doing interviews. Maybe an interview program somewhere?
"We can do that," Mr. Cuban said, according to Mr. Rather.
"This was in the first 300 seconds of meeting him," said Mr. Rather. "And so I said, 'Well, I'm glad to hear that."
"He's as blunt as a punch in the nose," Mr. Rather said, with admiration.
By e-mail, Mr. Cuban described himself as "fired up about" Dan Rather Reports.
At that first meeting, Mr. Cuban asked Mr. Rather to draft a proposal for what he'd like to do in the event that negotiations with CBS didn't work out. Mr. Wagner added that he thought Mr. Rather could help with a few film projects the two wanted to develop, including one called Silver Star about the Korean War, in which Mr. Rather served without seeing combat.
Mr. Rather told Mr. Wagner that he'd be happy to try, though "I remember telling him that what I know about the movie business could be written on the stomach of a germ."
On the flight home, Mr. Rather listened on his iPod to a song by the country singer Jimmy Dale Gilmore. "Have you ever seen Dallas from a DC-9 at night?" Mr. Gilmore sang.
"I found myself thinking: It may be my fate," Mr. Rather said.
Mr. Cuban and Mr. Wagner continued their courtship of him with a second dinner, this one in New York, at the Palm. Though Mr. Rather still believed ("perhaps foolishly") that he might be able to stay with CBS, "things had progressed to the point that the realist in me said, 'You better start thinking seriously about what you're gonna do next.'"
Mr. Rather considered spending more time with his grandchildren or pursuing teaching opportunities, but the idea of working for Mr. Cuban appealed to him.
"Mind you, I've been working since I was 14 years old," Mr. Rather said. "And I've been working in journalism most of my life. I worked in the oil fields when I was very young, but I've always worked for a company. For 40 years, I worked for a corporation. The idea that I'm dealing with the people who own the company … I can't say it's just now sinking into me, but it took a while for it to permeate my professional being."
Mr. Cuban promised him complete editorial control of the program. "I think it's unprecedented," Mr. Rather said. "I remember giving him a long look, my best Gary Cooper out of High Noon look"—Mr. Rather was quoting The Observer here, and he winked—"and I said, 'Are you serious about that?'"
He was. And he has since put the vow in writing, Mr. Rather said. "When I heard that, I remember saying immediately—like the bubble they have on the cartoon strips, you know? Sort of—'Whew!' W-H-E-W."
The bruising endgame with CBS followed, leaving a mournful Mr. Rather telling a New York Times reporter he'd watched Good Night, and Good Luck, the Edward R. Murrow biopic, five times, once alone.
All of that "is in my rearview mirror now," Mr. Rather said. He has seen Good Night, and Good Luck twice more since, for a total of seven.
"I've always been somebody for whom yesterday is dead and gone and tomorrow's out of sight," Mr. Rather said, quoting Willie Nelson.
Something about Willie Nelson triggered a big idea about Mr. Rather's life's work. He began talking quickly.
"I've dreamed of being a reporter since as far back as I can remember, since I was 5 or 6 years old," he said. "I'm not quite sure why that is. Maybe because my father and mother were voracious newspaper readers.
"All I know is that American journalism at or anywhere near its best is really important. I'm not important. My work, per se, is not important. But the work of quality and integrity is very important to the country. And rare, if never more so than right now.
"And at the very time we need it the most, we haven't been and aren't getting it in the quantity, nor in the depth, that the country deserves, and I think needs. I don't want to be preachy about it. And certainly there are a lot of journalists out there trying to do the kind of work that matters. If there's any criticism inherent in this, which there is, then I accept my own full share of responsibility and accountability for it."
Mr. Rather stood to go, then remembered something he wanted to say and sat down again. He began searching through his pants and jacket pockets. He produced a black leather billfold with a $100 bill sticking out. From somewhere within the wallet, he retrieved a 15-year-old Post-It note that was folded in half. On it, his children had written the lyrics to "Paths of Victory," by Bob Dylan. For the second time in as many hours, Mr. Rather began to sing again.
"Trails of troubles," he spoke-sung, "roads of battle, paths of victory I shall walk." A pause while he recalled the words. "The evening dust is rolling. I'm walking down the track. There's a one-way wind a-blowing, and it's blowing at my back."
Mr. Rather left for his next HDNet assignment the following afternoon. Preliminary ratings numbers were out that morning for the Friday before Labor Day. Even without New York and Los Angeles, the Dan Rather tribute special won its time period handily.