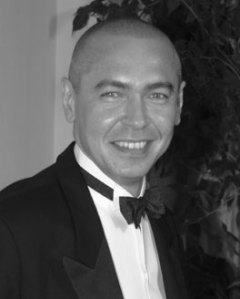 Strictly speaking, the classical-music season began Sept. 13 at the New York City Opera with Handel's delicious Semele, with a superlative young cast led by the soprano Elizabeth Futral and the mezzo-soprano Vivica Genaux. On Sept. 20, the city's newest concert hall—the Renzo Piano–designed jewel box of an auditorium at the Morgan Library—opened with "Baroque Blast," an appropriately titled program of Bach, Handel and Vivaldi performed by the St. Luke's Chamber Ensemble.
But for many, the real kickoff comes when the Metropolitan Opera opens on Sept. 25 with Madama Butterfly, directed by Anthony Minghella (of English Patient fame). The production, which employs Japanese puppets, was a smash hit at the English National Opera, and Met watchers are eager to see whether it heralds the sort of theatrical razzle-dazzle promised by the Met's new general manager, Peter Gelb.
The other highlights of the Met's season, which were put in place by Mr. Gelb's predecessor, Joseph Volpe, include a new production of The Barber of Seville starring the heartthrob Rossini tenor Juan Diego Flórez (opening Nov. 10), and the world premiere of Tan Dun's The First Emperor, with Plácido Domingo adding an Oriental potentate to his list-without-end of operatic heroes (Dec. 21).
The mighty Cleveland Orchestra, conducted by Franz Welser-Möst, opens Carnegie Hall on Oct. 4 with a helter-skelter program of Mahler songs (with the German baritone Thomas Quasthoff), a Mozart piano concerto (with the Norwegian pianist Lief Ove Andsnes), and bonbons by waltz king Johann Strauss. The orchestra's three-concert engagement also includes the New York premiere of touché, a new work by Hanspeter Kyburz; Mr. Quasthoff in Mozart concert arias; and the massive Bruckner Fifth Symphony.
Leading Carnegie's usual parade of superstars is Daniel Barenboim, who's appearing both as conductor (with the Vienna Philharmonic next spring) and as one of the world's most probing pianists. On Oct. 9, he joins James Levine and the Boston Symphony Orchestra in Schoenberg's dizzying Piano Concerto and Beethoven's rapturous Fourth Concerto. On Jan. 20 and 21, he returns to peruse the two books of preludes and fugues that constitute Bach's Well-Tempered Clavier.
Only Carnegie could bring together the Olympian likes of Gidon Kremer and Krystian Zimerman, who will combine forces in Brahms' sonatas for violin and piano (Nov. 1). Two nights later, the electrifying Latvian conductor Mariss Jansons arrives with the Bavarian Radio Symphony Orchestra for three programs of Strauss, Shostakovich, Wagner, Bartók and Beethoven.
If Carnegie has a house pianist, it's the elegantly cerebral Pierre-Laurent Aimard. On Dec. 10, the French virtuoso appears with Pierre Boulez and the Chicago Symphony Orchestra in the piano concerto of György Ligeti, in whose mischievous pyrotechnics Mr. Aimard is unexcelled. The following night, he will outdo himself in a program of 20 knuckle-busting études by everyone from Ligeti to Liszt.
A few blocks north at Lincoln Center, the New York Philharmonic is offering perhaps the greatest diversity of programs in its 165-year history. They range from a somber celebration of the 100th anniversary of Shostakovich's birthday, conducted by music director Lorin Maazel, (Sept. 28 to Oct. 3), to a rambunctious collaboration with the Jazz at Lincoln Center Orchestra that includes Duke Ellington's Harlem transfer of Tchaikovsky's Nutcracker music (Dec. 6 to 9).
At Christmastime, the Messiah to beat is likely to be the Philharmonic's version of Handel's evergreen, with a stellar group of soloists that includes the great American mezzo Stephanie Blythe. The British conductor is that nimblest of Handelians, Harry Bicket. He's part of an invasion of formidable guest conductors, including Esa-Pekka Salonen, who in the new year will lead the world premiere of his new piano concerto with Yefim Bronfman (Feb. 7, 2007).
On Oct. 7, Lincoln Center's Great Performers Series opens with a bang: Bernard Haitink leading the London Symphony Orchestra in all nine Beethoven symphonies (it goes out without a whimper seven months later, when Avery Fisher Hall becomes the setting for the Los Angeles Philharmonic's multimedia staging of Wagner's Tristan and Isolde, trendily retitled The Tristan Project by director Peter Sellars). The series is chockablock with living luminaries, but they may all be upstaged by a pianist who lives only on recordings and film—the late Glenn Gould, whose idiosyncratic brilliance can be sampled in a 10-film series at the Walter Reade Theater (Oct. 20 to Nov. 18).
On Nov. 2, 3 and 4 at the auditorium in John Jay College, Great Performers is celebrating Steve Reich's 70th birthday with the composer's politically tendentious extravaganza, The Cave. (In the new year, the enterprising Miller Theater will pay tribute to Mr. Reich with an all-percussion program that shows the minimalist master in a more congenial light.)
The dynamic new artistic directors of the Chamber Music Society of Lincoln Center, David Finckel and Wu Han, are offering meaty musical conversations at the refurbished Alice Tully Hall, roaming around a single composer like Brahms (Oct. 20 to Nov. 7).
The Frick Collection has a long history of introducing musical titans-in-the-making to New York audiences, and insiders are already touting a young Russian Romantic pianist, Yevgeny Sudbin—who performs at the museum on Dec. 3—as the next Rubinstein.
When it comes to picking great pianists, however, no presenter has a better record than the Metropolitan Museum's series of Concerts and Lectures. This season, the Met's Grace Rainey Rogers Auditorium plays host to a dazzling assortment of keyboard artists, ranging from the Austrian protégé of Alfred Brendel, Till Fellner, to the venerable Czech poet, Ivan Moravec. The Met evening that every piano freak is salivating over is Oct. 26, when Ivo Pogorelich is scheduled to make his first New York appearance in a decade. Justly celebrated for musical unpredictability, the Yugoslav phenomenon is also renowned for his tendency not to show up at the appointed hour. We'll see.