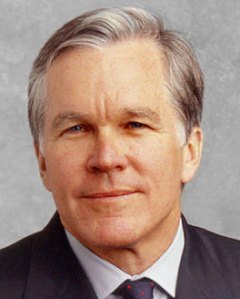 Prosecutor Patrick Fitzgerald has taken his place among the spirits permanently haunting West 43rd Street. "The basic goal," New York Times reporter David Barstow said, "is to make it more difficult for a future Fitzgerald to follow the breadcrumbs of phone records and notes and expense slips from reporter to source."
Mr. Barstow, the Pulitzer- and Peabody-winning investigative reporter, was on the phone Sept. 12, shortly before The Times began this year's round of legal seminars for the staff.
The sessions, led by Times lawyers George Freeman and David McCraw, have traditionally offered a brush-up on privacy, sourcing and general newsgathering. But executive editor Bill Keller announced in a staff memo that the 2006 version would address "the persistent legal perils that confront us."
"The main worry these days is not libel, or proving that you actually quoted something accurately," said Craig Whitney, the paper's standards editor. "It is being subpoenaed."
The new legal curriculum dates back to August 2005, when reporter Judith Miller was sitting in the Alexandria Detention Center for refusing to identify a confidential source for Mr. Fitzgerald's grand jury. Mr. Barstow said that Mr. Keller asked him then "to write him a memo about how to protect sources."
Since that initial memo, Mr. Barstow has been working alongside Mr. Freeman and Mr. McCraw to give training sessions on how reporters can practice their craft while keeping the threat of prosecution in mind.
"With this crazy environment, with subpoenas and so on, there is this feeling that you have to act like a drug dealer or a Mafioso," Mr. Barstow said. "We don't have any reason to think right now that there aren't going to be more of these cases. So we should take precautions. It's just no longer an abstract threat."
The first of the new legal seminars was held at lunchtime on Sept. 12 in the paper's executive dining room. Afterward, Mr. McCraw declined to specify how many reporters had attended, but said that Mr. Keller and managing editor Jill Abramson had not been there.
Last month, in another case involving Ms. Miller and Mr. Fitzgerald, a New York appeals court ruled that the prosecutor could seize her and reporter Philip Shenon's phone records in connection with their reporting on Islamic charities. There have been rumblings about leak investigations into The Times' much-publicized stories about N.S.A. wiretapping and the monitoring of banking records.
And in a case not involving The Times, this month San Francisco Chronicle reporters Mark Fainaru-Wada and Lance Williams appealed a decision that could put them behind bars for withholding confidential sources from their reporting on the BALCO sports-steroids case.
"I think people are more concerned because of the fallout from all the high-profile cases—BALCO, Judy Miller and others," Mr. McCraw said. "You have decisions that have cast doubt on reporters' rights to hold confidential sources. There is a lot of uncertainty."
Some of Mr. Barstow's recommendations have the sound of advice for reporting behind the Iron Curtain before the fall—recalling A.M. Rosenthal burning his notes as a reporter in Communist Poland.
Mr. Barstow said he suggests disposing of story drafts and cutting back on telephone and e-mail contact with sources—or using disposable cell phones for important calls. Reporters should be wary of meeting sources at their offices, Mr. Barstow said, so as to avoid sign-in sheets and security cameras.
In another point of conflict between bureaucracy and confidentiality, Mr. Barstow said he has recommended altering Times expense-sheet forms so that a reporter does not have to list the names of sources who have been taken out for lunch or dinner.
And what about the original paper trail that reporters create for themselves? The very first discussion question on Mr. Keller's memo promoting the seminar was "Should a reporter keep his notes?"
Last year's Miller-Fitzgerald showdown was dragged into overtime—even after Ms. Miller had collected a source waiver to discuss her conversations with Vice Presidential chief of staff I. Lewis "Scooter" Libby—by a dispute over the provenance of the words "Valerie Flame" in one of her notebooks.
"It has been the subject of a lot of legal discussions since Judy Miller," Mr. Whitney said. "Reporters have been encouraged not to keep their notes longer than necessary."
"We have had a lot of discussion about getting rid of notes some period of time after publication," Mr. Barstow said. He said it could prove unwise to leave notebooks "gathering dust for months and months."
And the modern trail is as likely to be digital. "Actually, it's gotten a lot easier to keep notes," said Times deputy national editor David Firestone. Reporters, he said, now can type on a computer during a phone call, or transfer files from a digital audio recording to their hard drives.
Whatever the format, The Times has no particular rule about preservation or destruction.
"There's no formal policy," Mr. Freeman said. "Each reporter is fully entitled to make decisions about which of his notes he keeps on his own. I just know that all of the various permutations—what the needs of a journalist might be—it would be very difficult to write a policy that would take into account those needs and not undercut the journalism."
E-mail, Mr. Barstow said, might be easier to tidy up than note-keeping. "There has been a conversation about changing our e-mail system so that e-mail is automatically deleted after 30 days unless you mark the e-mail for preservation," Mr. Barstow said.
At Time Inc., which was caught up in Mr. Fitzgerald's leak investigation by way of former Time reporter Matt Cooper, editor in chief John Huey sent out new reporting and writing guidelines in February, including a section about the keeping of electronic records.
"Reporters and editors should be extremely careful about how and where they store information that might identify an unnamed source," it read. "Most electronic records, including email, can be subpoenaed and retrieved in litigation."
"One lesson we've learned over the past year or two is that you don't have confidential information in e-mail unless it is sent to a lawyer, too," said Time Inc. managing editor Jim Kelly, who was managing editor of Time magazine when Mr. Cooper was there.
In his new position with Time Inc., Mr. Kelly said, he hopes to "soon start up a series of sessions about legal and ethical issues."
Mr. Kelly said he does not plan any blanket policy about eliminating notes or tape recordings. "How many times have we seen a sports figure, a celebrity or a politician that denies saying something?" Mr. Kelly said. "These things are a reporter's friend."
Mr. Barstow said he has taken part in six or seven training sessions already with various departments, including the metro desk.
"We still have to put out a newspaper," said Mr. Barstow. "We're on deadlines. You can't take this to the point of absurdity. It's like weatherproofing your house. It's about taking the steps that at least make it more difficult for prosecutors."
—Michael Calderone
Big-Town Reporter Spurs Small-Paper Feud
Last month, New York Times Sunday Styles columnist Bob Morris aimed a finicky gaze at the upstate town where he and his partner, literary agent Ira Silverberg, keep a second home.
Mr. Morris, 48, meant to poke fun at the clash between his own metropolitan snootiness and small-town reality. "When I'm there," he wrote, "I see a new gas station with a sign so big I'm convinced it's illegal, a market that would be adequate only if you could eat lottery tickets, fishing camps that resemble trailer parks, a river that shouldn't be so brown, and an unpainted gazebo off Main Street that makes a tiny park look like a cluttered lawn furniture outlet."
"I didn't think anyone would notice," Mr. Morris said. "I didn't even name the town."
But Phoenicia, a hamlet in the larger Ulster County town of Shandaken, total population 3,225, did notice. And Mr. Morris' "Age of Dissonance" column has become fodder for a local newspaper war.
"Why do people coming into our town believe that everything has to conform with their idea of paradise and should be painted white?" wrote Blake Killen in an editorial in the Ulster County Townsman.
The Townsman, a weekly with a cover price of 75 cents, is the conservative newspaper of record for Phoenicia and Shandaken. Mr. Killen is its editor, as well as its sole writer, reporter and photographer.
Mr. Killen said he had circulated a few photocopies of The Times column when it came out, and that people made copies of the copies and it "skyrocketed from there." Besides the editorial, the paper has run four letters to the editor more or less telling Mr. Morris and "his partner Ira" to shut up or clear out. Mr. Killen said he elected not to run 10 other letters, which had "either made an issue of Mr. Morris' sexuality or were just downright nasty."
And the Townsman's readers weren't only upset with the representative of The New York Times. They also vented anger about another, closer Times: The Phoenicia Times, the town's free liberal weekly.
The Townsman and The Phoenicia Times are at odds on local issues, particularly the new Bel Air Resort development (the Townsman is pro, The Times con).
Phoenicia Times editor Brian Powers had been quoted in Mr. Morris' column as urging unhappy newcomers to work on changing the things they didn't like. He also endorsed Mr. Morris' complaint about the stained wood gazebo. Mr. Morris described Mr. Powers as "a transplanted New Yorker who started our upstate town's newspaper five years ago."
"Mr. Brian Powers did make change when he came to town and started his newspaper—he is the author of the age of 'dissonance' in our town," wrote resident Elizabeth Holland Kern on the Townsman letters page. "By the way, Mr. Morris, Mr. Power's newspaper is not our town newspaper, thank heavens. I refer to it as the 'enquirer' of Phoenicia, since it contains a similar amount of truth."
In the last five years, there has been an influx of New York City dwellers moving to the Catskills, spawning a certain tension between wealthier newcomers and locals who felt they were being priced out of their own town. "Property values have quadrupled," said Rick Ricciardella, of Ricciardella Realty. "They just sold a place in the middle of town for $259,000, which to my mind wasn't worth $159,000."
The Townsman, which dates back to 1953, caters more to the established residents, Mr. Killen said.
"I think there might have been an attempt to feed the antagonism between sentiments of some of the older residents and some of the newer residents," said Mr. Powers. "Though I would not want to speculate on Mr. Killen's motives," he hastened to add.
Mr. Morris has encountered fallout from the column more directly, as well. The weekend after his column appeared, he said, he went to get his morning paper at the country store on the four-block-long Main Street. The friendly old woman behind the counter presented him with a printout of the piece. "She had circled my little slam on people with gnomes in their front yard," Mr. Morris said. "Then she said, 'You know I sell these things.' I was so fucking busted, it was unbelievable."
Mr. Morris had also lamented the unavailability of arugula in town. Jacqueline Guglielmetti, the deputy clerk at the town hall and a friend and neighbor of Mr. Morris, left some potted arugula from her garden on his doorstep.
"I was sort of teasing him," Ms. Guglielmetti said. "We do know what arugula is."
Mr. Ricciardella, 60, who sold Mr. Morris and Mr. Silverberg their home two years ago, said there was still hope for the couple. "This will blow over, people will forget," he said. "But before you write things like that, you got to research it a little bit. This was a hunting town 40 years ago.
"Phoenicia is unique," he continued. "It's a quaint little town. We like it the way it is. We're not like Woodstock. We don't want to be like Woodstock …. Everyone in Woodstock thinks they're Burt Reynolds."
Mr. Silverberg knows all too well that Phoenicia is not Woodstock. He used to have a house there, but Mr. Morris, his partner of three years, did not approve. Mr. Morris had deemed the interior chic enough—it was decked out in Herman Miller chairs and George Nelson sofas, he recalled—but there was no view.
"I'm sorry this whole thing blew up," said Mr. Silverberg. "Because he already had us move out of one town. I hope he makes amends to the community, because we really like it in Phoenicia. The wonder of living with Bob Morris is that [the column] really could have been about any town. He's definitely the person that will walk down the street and pick out the house that hasn't been painted in 10 years. But, you know, we need to love our curmudgeons, too."
Last week, the Townsman published a letter from Mr. Morris begging Phoenicia's forgiveness. It concluded, "Next time I criticize a beautiful place it'll be the Hamptons, OK?"
—Spencer Morgan