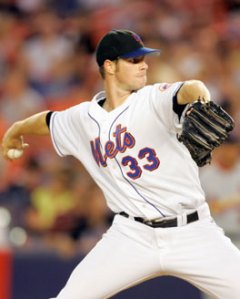 John Maine, the young pitcher for the New York Mets, lives in a Ramada Inn off Grand Central Parkway.
He makes no distinction, based on his limited sense of adventure, between New York and his hometown of Fredericksburg, Va. "It's all the same to me," he said after a recent start.
When he walks around the locker room at Shea Stadium, he has about as much presence as the guy who picks up the towels and jocks.
"You can't really tell when he's here or when he's not," said Pedro Martinez, in the Mets clubhouse. Maine was sitting a few feet away, within earshot. Martinez didn't seem to notice.
Yet for all of that, Maine—a shy 25 year-old—is not an inconsequential nobody.
"He's given us a lot more than we expected," said Martinez. "I'm just praying to God he stays healthy."
With a freakishly powerful right arm and a recent knack for winning games, Maine embodies everything that's gone right for the team this season. Weirder still—considering that he has never been expected to make the 25-man roster that the Mets will bring to the playoffs—Maine has become a crucial part of the winningest team in baseball.
After all, the Mets' star-studded but aging starting rotation has shown signs of buckling. Since the All-Star break, Pedro Martinez has thrown all of 20 innings. Thirty-six-year-old Orlando Hernandez has an E.R.A. near 5.00, while 40-year-old Tom Glavine and 36-year-old Steve Trachsel have been even worse.
Maine is 5-1 since the All-Star break and has been, unquestionably, the Mets' ace in the second half of the season. In his last nine starts, the team is 8-1. He may just wind up being the Mets' odd man in.
"I like being under the radar, and I want to stay there," he said outside the Mets weight room, a place where he looks like he hasn't spent much time. He was wearing a Mets-orange Lacoste polo that was draping his pale frame, which has two tattoos, including a skull on his pitching arm. He is listed at 6-foot-4 and 200 pounds, but the Mets probably gave him a few. "I'm not one of those guys that comes out and likes to be the center of attention."
Still, Maine—an apparent throw-in in a trade with the Orioles for Kris Benson last year—doesn't exactly blend in.
For one thing, he is a statistical freak.
He relies on one pitch: a four-seam fastball that averages 91 to 93 miles per hour, resulting in lots of home runs. (At the current pace, if John Maine pitched 220 innings, a typical amount for a starter, he would surrender 42 homers—close to the all-time National League record.)
And despite being a power pitcher, he doesn't strike a ton of people out, but rather induces the sorts of lazy fly balls and weak grounders that are a tell-tale sign that hitters are swinging too late.
"He's got a fastball you can't teach," said Ron Darling, the broadcaster and former Met. "A lot of guys throw 95, but not a lot guys have that good life off of their fastball."
So with the Mets just a few days away from clinching their first division title, the question now is: Will Maine make it?
Martinez, Glavine and Hernandez are assured spots, but the fourth spot has been left wide open after Trachsel had a disastrous start against the Dodgers this weekend.
Trachsel is competing against himself, but if Maine continues to impress, he could secure himself not only a spot on the roster, but the most unlikely thing that anyone could have predicted in April: a start in the playoffs.
Even though Maine denies that he thinks about that possibility, the pressure is mounting.
Forty minutes before his start last week against the Dodgers, he couldn't sit still. First, he sat at his locker listening to Metallica on his iPod. He shifted his weight and started staring at a baseball. He fingered the seams. He tossed the ball into the locker, sat up in his chair and started staring at a crossword puzzle. (A graduate of the University of North Carolina at Charlotte, he is regarded by several Mets as the brainiac on the team. He does the USA Today, Post and Daily News crosswords and had just finished Dean Koontz's The Husband. "It was all right," he said. "He tells good stories.")
Within seconds, bored by that, he started staring at other things in the clubhouse, which is a surprisingly small space—about the size of a tennis court. At first his eyes were drawn to Dana Tyler on a wide-screen TV near his locker.
Then his eyes drifted to the rest of the clubhouse. The Mets, as you've heard, are a diverse team, but even this clubhouse has its traditional division lines: the rednecks and white boys—Steve Trachsel, Billy Wagner, Tom Glavine, Aaron Heilman, Paul Lo Duca and David Wright—on one side, and Spanish speakers like Jose Reyes, Carlos Beltran and Carlos Delgado on the other.
In the white corner, David Wright complained that he didn't start Heath Miller on his fantasy football team last night; in the other, Pedro Martinez, Jose Reyes and Ricky Ledee yapped away and laughed hysterically.
Maine looked at all of them quizzically. It is vintage baseball etiquette that a pitcher be left alone before he starts a game, but you get the feeling this is how it goes down every day—Maine alone, the other players cavorting.
In many ways, he looks like a stock baseball character: the country boy who has just made the big city. Tom Glavine calls him a "throwback."
"He's pitched well, he's making a name for himself, and he still quietly goes about his business," said Glavine. "I think you have more respect for someone when you have some humility to you and quietly go about business, versus the guys who have some success up here and think they have the world figured out. That turns a lot of people off."
"He's a really bad piece of shit," said Steve Trachsel—presumably as a compliment. "He's improved every time he's gone out there.
At 1 p.m., Maine plopped onto a leather couch and put on the Amelie Mauresmo and Maria Sharapova women's semifinal. A group of beat reporters gathered around the television and watched too, offering their own enlightened commentary on the muscular French player: She's a man! I wish I had shoulders like that!
Maine sat there silently and then quietly pumped his fist, saying, "Come on, Mauresmo," trying not to get their attention. He said he was rooting for Mauresmo because Sharapova didn't sign a poster for the team.
"Even though we're the Mets!" he said, without a hint of irony.
Mauresmo lost that evening, and so did Maine. Even though he described his performance against the Dodgers as "terrible, just terrible," it really wasn't that bad at all. In the first inning, the only hits came off a bloop single and a 25-hopper. His only real mistake was allowing a weak roller to the left side that David Wright poorly handled and threw away—two runs came in, both unearned.
In the next three innings, he located his fastball beautifully and threw just 28 pitches, allowing only one hit. In the fifth inning, he came undone. By then, his fastball was coming in at a tired 88, which means he was left with no other options. The Dodgers pounced, knocking in two home runs and nearly a third.
Rick Peterson, the Mets pitching coach, approached Maine after the game. He took a ball from Maine's locker and stuffed it in between his index and middle finger. He kept invoking the name Bruce Sutter. Peterson was introducing a split-finger fastball to Maine—a pitch that is baseball's most Faustian offer. The results are devastating, but so are the consequences. The pitch takes a heavy toll on a pitcher's elbow, and generally it is the pitch of last resort for veterans—a pitcher like Mike Scott of the Astros used it in the 1980's to enormous effect, but his career faded soon after throwing it.
But teaching it to a rookie? Perhaps Peterson senses that big leaguers are going to get around on that Maine fastball and he needs a second pitch in a hurry. Like, by October.
With only one pitch—and a pitch that is good, not excellent—Maine seems an unlikely candidate to be a hero this postseason. Every player who was asked to comment on Maine in the Mets locker room had a sort of confused look on his face. ("Are you sure you have the right person?" Pedro Martinez asked when he was first approached.)
On the other hand, the Mets have few options for a long-relief man—Darren Oliver?—and even in his start against the Dodgers, Maine was effective for two or three innings. And in the postseason, that's sometimes all you need.
Think Octavio Dotel—the John Maine of 1999—or Glendon Rusch. Or even Sid Fernandez.
As it now stands, Maine will have about four more chances to start and prove himself.
After showering and getting dressed at the end of the night on Friday, he grabbed a Gatorade from the cooler and put it in a plastic bag so he could save himself a trip to the soda and ice machine back at the Ramada Inn. He said he wouldn't think about how he could have let a playoff spot slip away ("I never think about that stuff"), but planned to get his room key and go straight to sleep.
As his teammates climbed into their Range Rovers and BMW's to drive home, Maine walked along Roosevelt Avenue directly below the screeching No. 7 train and then through the underpass of Grand Central Parkway.