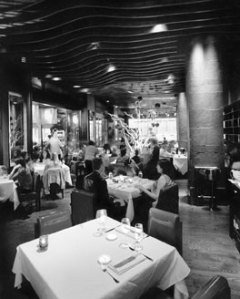 The invasion of Asian mega-restaurants, with their Raiders of the Lost Ark décor and fusion cuisine, has not abated. Hot on the heels of Buddakan, Megu, Morimoto and Matsuri (to name a few) comes Japonais, a Chicago import that has opened in a former bank just north of Union Square. The restaurant, which opened in July, is huge, with two lounges, a sushi bar and a glass-enclosed verandah for outdoor dining that will open in October. And, like its predecessors, it's mobbed.
As the hostess checked my reservation one evening, I noticed a sign by the desk: "Proper attire required." It's a long time since I saw this in a New York restaurant (and even longer since Jackie Kennedy was refused a drink at the Pierre because she was wearing a pants suit). What constitutes "proper attire" now, I wondered, as a model in Bermuda shorts, a tank top and six-inch stilettos strolled by. My teenage son, uncertain of the protocol, whipped off his zippered hooded sweatshirt and rolled it in a ball under his arm. He needn't have bothered.
We walked into a large red, black and gold dining room, designed by Jeffrey Beers. In the center stands a large leafless tree, set in a square tub flanked by gold banquettes. It looks as though it had been dug up in the Petrified Forest. Its bare branches are hung with mossy green balls; I imagined them suddenly bursting open and releasing a herd of little green creatures. Red blown-glass pods the size of melons are strewn at the foot of the tree like miniature spaceships. The ceiling is made of narrow, undulating wooden beams; the walls are lacquered red brick, and the tables are set with red patent-leather chairs. Glowing yellow bottles decorate the shelves behind the sushi bar, and picture windows along one wall give onto the beautiful wooden verandah (with a nice view of the CVS across the street). The overall effect was oddly appealing; the room was comfortable and, for a change, not excruciatingly noisy.
The restaurant has two chefs, both from Japonais in Chicago. Jun Ichikawa prepares sushi and cold dishes; Gene Kato does the hot ones. The food, you are told, is designed for sharing and served family-style (although this doesn't work so well when the sashimi arrives halfway through dinner, or when three of you try to divide a small bowl of consommé).
The sushi is first-rate, original and beautifully presented. The chef's "Special Tasting" consists of tuna tartare (topped with a raw quail yolk that "the chef recommends" you mix with chopsticks), squid in a heavenly sea-urchin sauce and monkfish foie gras, wrapped in slivers of octopus and halibut ($26). Also excellent is the "Eight Samurai Tartare," a selection that includes lobster, botan ebi (a large sweet prawn), Dungeness crab, bonito and octopus served with fried taro and lotus chips. "Eat it starting with the lightest first," the waiter instructed. We did, and we could easily have finished a second round of both that and the spicy monoroll, which is filled with diced octopus topped with tuna tartare and glazed with eel sauce.
The menu is huge, befitting the size of the restaurant, but I was lucky that almost all the dishes I chose were winners. One loser was the Wagyu beef-brisket ravioli served in a too-sweet Hitachino beer broth. Another was the toban yaki of green and white asparagus (cooked in a ceramic dish)—the vegetables were a step away from raw.
But the consommé—dumplings made with diced shrimp and scallops afloat in a clear madai (sea bream) broth—was lovely, delivering a subtle, spicy kick. The lobster spring rolls were greaseless and light, served with mango relish and blood-orange vinaigrette instead of the usual dim sum sauces. Seared mustard and peppercorn lamb carpaccio was arranged in paper-thin, dollar-sized slices around a heap of lamb's lettuce and sprinkled with sea salt and a ginger-honey dressing.
The three hot fish dishes I tried were outstanding. They included a rare salmon in a nori crust, served with a horseradish, oyster and leek stew and curry oil; broiled, miso-marinated bass in a glaze made of peaches and sansho pepper; and grilled hamachi with dumplings (similar to those in the consommé) afloat in a seafood broth laced with wild mushrooms.
"Le Quack Japonais" is the restaurant's take on Chinese Peking duck, and it's sure to be one of the most popular dishes for this crowd. The duck is smoked over maple leaves and roasted, served in thick slices with diced leg meat, hoisin sauce, slivered scallions, baby bok choy and mango chutney, to be wrapped in moo shu pancakes. Also good is that old stand-by, sizzling beef on a stone. Here it's called "The Rock": You toss thin slices of strip steak on the hot pebbles piled in a bamboo steamer and dip them in the lemon sauce provided. Fun.
My favorite dessert was hot apple toban yaki, which had a crumbly oatmeal-ginger crust. "I'm going to put this right in the middle!" said the waiter as he lifted the lid and plopped down a spoonful of vanilla-honey ice cream. I also liked the creamy passion-fruit tart with Thai basil ice cream, blackberries and lychees, a better choice than the wan offerings that make up the "chocolate indulgence."
Japonais is a welcome addition to the Union Square neighborhood. Just thank God it's not in the meatpacking district.