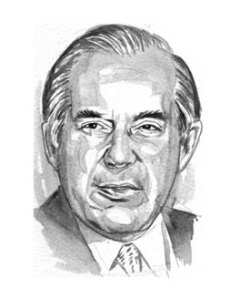 New Jersey's Democratic elite has developed a well-worn reputation for cockiness.
And for good reason: Since 1972, only two Republicans—Tom Kean Sr. and Christine Todd Whitman, each elected and re-elected governor—have won statewide elections in New Jersey, and only once did their victory margin exceed one percentage point.
But cockiness also explains the predicament that Garden State Democrats now face: Six weeks before what figures to be the most Democrat-friendly midterm election in a generation, it is very possible—if not probable—that they will squander what should have been one of their party's safest Senate seats.
Through scandals that would have killed off an ordinary state party, New Jersey's Democrats thrived this decade, growing more confident with each win that they'd found a recipe for immunity. But now there is fear that they overreached and, in 2006, nominated the one man to whom their misdeeds will actually stick.
The national implications couldn't be more dire: If Robert Menendez, New Jersey's appointed Democratic incumbent, fails to hold off Republican Tom Kean Jr., Euclid himself couldn't devise a majority-producing formula for the Democrats.
For now, the Menendez-Kean race is essentially a tie, something of an achievement in its own right for New Jersey's G.O.P., which typically enjoys all the September success of the Tampa Bay Devil Rays. What's more, the most recent polls haven't even measured the impact of a recently revealed federal criminal investigation of Mr. Menendez, the consequences of which Democrats privately describe with words ranging from "pretty bad" to "fatal."
That quiet angst, though, isn't entirely owed to the investigation itself, which was launched by U.S. Attorney Christopher J. Christie two weeks ago. It has more to do with context. Just consider what else is in the news in New Jersey these days.
There's Jim McGreevey, some 22 months after skipping town with federal investigations into his gubernatorial administration swirling, who barged back into our lives last week to let us know that the sexual affair with the unqualified Israeli sailor he appointed as his state's homeland-security advisor actually began while Mrs. McGreevey lay in a hospital bed clutching the couple's newborn daughter. If that's not enough, Golan Cipel, Mr. McGreevey's supposed romantic partner, has himself re-emerged—to declare that the governor had actually liquored him up with Jägermeister and tried to rape him.
There's also John Lynch, the onetime New Jersey Senate president (and Mr. McGreevey's political godfather), whose plea agreement on federal corruption charges landed on the front page of last Friday's Star-Ledger—right next to the news that Mr. McGreevey had been smitten with Mr. Cipel "from the first kiss."
And then there's this week's report from a federal monitor essentially charging Wayne Bryant, a powerful state senator and loyal cog in the feared Camden County Democratic Committee, with shaking down administrators at the University of Medicine and Dentistry of New Jersey to secure a no-show job for himself.
And those are just the biggies.
It may be hard for someone in, say, Kansas to understand this, but this is far from the first time that New Jersey Democrats have handed Republicans political ammunition this potent. But it has never mattered—until now.
In last year's governor's race, Republicans tied Jon Corzine, through his obscene personal campaign contributions and politically reckless business dealings, to a host of unseemly—and even indicted—characters. But Mr. Corzine won by 10 points: Few voters believed that the former Goldman Sachs C.E.O. would dirty himself doing business with ward-heelers.
The same goes for 2002, when Democrats switched a wheezing, wounded Robert Torricelli out of a Senate re-election race that he was about to lose, instead coasting home with the innocuous Frank Lautenberg.
Mr. Menendez may not be so lucky.
The public, even before word surfaced that U.S. Attorney Christopher J. Christie was probing his past role as a Union City landlord, already seemed inclined to tie Mr. Menendez to the sins of his party. The Senator has since intimated that Mr. Christie, a G.O.P.-appointed prosecutor, is motivated by politics and swears that the matter is overblown. It may well be.
But Mr. Menendez was always playing a risky game, betting that he—and, more importantly, New Jersey's voters—had heard the last of some of the uglier chapters from his days as Hudson County's Democratic boss.
Like earlier this decade, when he used his fierce and unforgiving muscle to paralyze the government of Jersey City. And why? To teach a lesson to the mayor, a man named Glenn Cunningham, who had run afoul of Mr. Menendez.
Tragically, Mr. Cunningham died two years ago. The city shut down for his funeral, and some 4,000 residents made their way to the armory for the ceremony. Mr. Menendez was barred from coming anywhere near it. But who delivered a eulogy? Why, Chris Christie. Of course.
Maybe, for both New Jersey Democrats and Mr. Menendez, the old saw is true: What goes around, comes around.