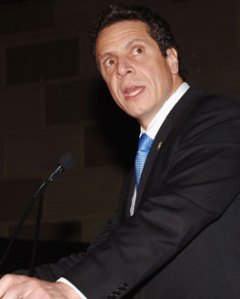 After a primary election almost entirely devoid of suspense, Eliot Spitzer crushed Nassau County Executive Tom Suozzi in the Democratic primary for Governor by a four-to-one margin, setting the stage for an unequal general-election battle with Republican John Faso in November.
Hillary Clinton won her primary contest against anti-war protest challenger Jonathan Tasini by a similarly large margin, while Republican John Spencer—a former mayor of Yonkers—won the dubious right to oppose her in the fall.
The most excitement, by far, was generated in an Attorney General's race in which Andrew Cuomo led over Mark Green, as of press time, by a margin of around 20 percent. It was Mr. Cuomo's first-ever electoral victory.
In the end, Andrew Cuomo won the Democratic primary for State Attorney General because he didn't act like Andrew Cuomo.
When Mark Green attacked his record and experience, the normally petulant and combative Mr. Cuomo expressed only haughty disapproval. When editorials called him woefully unqualified for the job, he responded that everyone is entitled to their own opinion. When reporters asked pointed questions, he merely glared as surrogates stepped in to respond.
"We saw a whole new Andrew Cuomo," said former Mayor Ed Koch, who supported Mr. Cuomo in the primary. "The old Andrew was impetuous and tended to shoot from the hip without thought, and this time he didn't do that. He held his tongue."
Mr. Cuomo's attitude adjustment paid off Tuesday night with his comfortable victory over Mr. Green, a capable and determined candidate whose political future is now in doubt.
For the most fervent supporters of the 48-year-old Mr. Cuomo, who himself seemed out of prospects four years ago after a humiliating result in the 2002 Democratic primary for Governor, the victory represented a return to the ambitious career path they'd long envisioned for him. His upcoming general election against Republican Jeanine Pirro, in their eyes, is merely a first step.
"Can he go beyond where once Tom Dewey and Louis Lefkowitz and Eliot Spitzer himself once sat? I think the future is very bright for Andrew," said William O'Shaughnessy, a longtime friend of the Cuomo family. "He can go as far as he wants in this country, if he grows in the next five years the way he's grown in the last two or three years—you bet your life he can go."
Well, maybe. After all, we are talking about Andrew Cuomo, the man who in 2002 belittled Governor George Pataki as a coat-holder to Rudolph Giuliani during the Sept. 11 terrorist attacks. It was a remark that damaged Mr. Cuomo precisely because it showed him playing so perfectly to type as the brash, arrogant and malicious embodiment of boundless ambition that his opponents said he was.
Assuming he goes on to win in November, one of Mr. Cuomo's first political tests will be to temper the notion that the attorney general's office is merely a stop on the way to something more powerful and glamorous.
"There is no question that Cuomo is ambitious beyond the attorney general's race," said Gerald Benjamin, a political-science professor and a dean at the State University of New York at New Paltz. "He ran for Governor—this is not his first choice. It's a matter of positioning for some future opportunity."
Mr. Cuomo, newly disciplined by an expensive team of campaign consultants, has shown considerable aplomb in sidestepping the question. After he cast a vote for himself at the High School for Leadership on Trinity Place, reporters once again hounded him about whether his sights were actually set on the Governor's Mansion. Mr. Cuomo came up with a perfectly on-message reply: "We're running for attorney general. And we're focused for attorney general."
Mr. Cuomo's change in temperament is only one of the differences between this campaign and his previous run for public office in 2002. Back then, his candidacy was a self-styled insurgency in which he and his inner circle conspicuously spurned traditional party support on the notion that public relations and personal persuasiveness could more than make up for it. It didn't work.
This time, Mr. Cuomo has the backing not only of his party, but of the most politically powerful unions in the state.
Throughout the course of his successful primary campaign against Mr. Green—two other candidates, Sean Patrick Maloney and Charlie King, also appeared on the ballot—Mr. Cuomo adhered to a classic front-runner strategy, coasting on an early lead afforded him by his famous last name and avoiding direct confrontation with his opponents. He agreed to only a bare minimum of debates and personal interaction with his opponents, and he rarely responded directly to Mr. Green's accusations, opting instead to dispatch surrogates to do his dirty work.
On Wednesday morning at the Iroquois Hotel, both Al Sharpton and Charlie King—a former Cuomo ally who ran against him in the primary but dropped out a week ago—spoke in harsh and derisive terms about Mr. Green, while Mr. Cuomo stood stony-faced at their side.
When the two candidates met later that morning at a debate at the New York City Bar Association, Mr. Cuomo kept his temper in check even as Mr. Green did almost everything possible to provoke him. Mr. Green posed questions about Mr. Cuomo's handling of a housing debacle that hurt poor New Yorkers, cited a scathing New York Times editorial that suggested Mr. Cuomo's "chief concern was burnishing a political résumé," and demanded a response to a Village Voice exposé that impugned Mr. Cuomo's business ethics.
While Mr. Green spoke, smirking at the audience and wagging his head, Mr. Cuomo's face went white. If he had bitten his lip, blood would have trickled. After some pointed rebuttals and vigorous shushing, Mr. Cuomo found a way to needle Mr. Green while appearing to retreat to the high ground.
"It's the story of the wasp and the bullfrog," said Mr. Cuomo finally. "My opponent has been running for office for many, many, many, many years. And the one consistent thing is that he is—he will go down in the history books for the most negative campaigns."
And as Mr. Cuomo managed to avoid being dragged into public battle with Mr. Green, his allies were doing the unpleasant but crucial spadework behind the scenes.
It was thanks to the efforts of certain influential supporters—notably Jennifer Cunningham, the de facto architect of Mr. Cuomo's makeover and the political leader of 1199 SEIU, the powerful health-care workers' union—that Mr. Green was left without access to many party donors and insiders. As a result, Mr. Green was forced to squander campaign funds on an expensive petitioning effort to get himself on the ballot.
"One of the real assets Cuomo has is the services of the people at 1199," said Mr. Koch. "Jennifer Cunningham is one of the campaign people."
That asset—a mark of Mr. Cuomo's establishment backing—was clearly in evidence right until the end of the campaign.
At City Hall on Thursday, it was Ms. Cunningham who handed the press releases to Mr. Cuomo's spokespeople for distribution to reporters, and it was she who carried around for days the metal foot-measuring prop that Mr. Cuomo employed in press conferences and campaign fliers to demonstrate that only he could fill Eliot Spitzer's shoes.
Technically on vacation from her job at 1199 and only volunteering her services to the campaign, the tall, pearl-clad Ms. Cunningham tried to keep as low a profile as possible.
On Sunday, again outside of City Hall, she was accidentally caught on camera when she walked behind Mr. Cuomo during an interview. She immediately stepped back and rolled her eyes in dismay at her own carelessness. When the cameraman ran out of batteries and asked Mr. Cuomo to start over, Ms. Cunningham visibly sighed with relief.
The moment was a revealing one, if only because it demonstrated the extent to which Mr. Cuomo and his supporters have gone to demonstrate a sort of political humility that was absent in 2002, when his campaign events were often on the scale of a Presidential nominee's. Mr. Cuomo, his new campaign team wanted to show, knows his place: He only wants to be State Attorney General; he certainly isn't the sort of person to go in for gratuitous displays of political muscle.
Aides to Mrs. Pirro, the former Westchester D.A. who announced her bid for attorney general late last year after aborting a disastrous challenge to Hillary Clinton, say they are determined to show that Mr. Cuomo has not, in fact, changed. They feel Mr. Cuomo is still vulnerable on many of the points that Mr. Green brought up, and that he will have a tougher time shooing off a female candidate or attacking her through surrogates. The campaign is also confident that Ms. Pirro will attract enough money to amplify their criticisms with an onslaught of television ads. (Mr. Giuliani, the party's best fund-raiser, has already signed up for an event on Oct. 3.)
On Friday afternoon, after speaking in front of a police precinct on Varick Street, Mr. Cuomo made it clear that he plans to stick to his new template against Ms. Pirro.
"They're going to do what they are going to do—you have no control over it," Mr. Cuomo told The Observer. When asked if he felt his campaign managers had kept him on too short a leash during the race against Mr. Green, he jokingly reached out and choked the air. Then, very calmly, he stated, "I'm proud of the campaign we ran. It was a smart campaign."
By that point, however, there was little that could have soured Mr. Cuomo's mood. Polls showed him with a 20-point lead, and he began surrounding himself with firefighters and police as the news coverage started shifting away from Mr. Green's attacks and to the fifth anniversary of Sept. 11.
With such a healthy margin in the last few days of the race, Mr. Cuomo even managed to catch up with the one man both candidates desperately chased throughout the race: Eliot Spitzer.
Seemingly abandoning his studied neutrality, Mr. Spitzer—perhaps this year's most-sought-after endorsement—marched with Mr. Cuomo for nearly 15 minutes in the Labor Day Parade and managed not to wince when Mr. Cuomo referred to the two men as part of "a team."
After exiting the voting booth on Tuesday, Mr. Cuomo reflected that he had evolved as a candidate since 2002.
"Look, it was a much different time, it was a different office, but I learned a lot," Mr. Cuomo said before hopping into a black Ford Explorer. "We have to get older in life; we don't necessarily have to learn. And that's the trick: to go through life but to learn from the experiences. And I think I learned from the last experience."