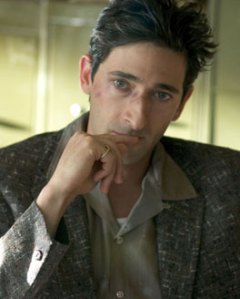 It's a bird! It's a plane! No, it's just Ben Affleck in a lumpy blue Superman costume from studio wardrobe. O.K., the image is silly and appetite-curbing, even in color, but in Hollywoodland, a fascinating, intelligent and probing new film noir about the unsolved Tinseltown mystery surrounding the death of actor George Reeves, it's supposed to be. And damn if the almost-always-ineffectual poster boy for stardom without craft doesn't work so hard that he makes the embarrassment and humiliation of a Hollywood failure doubly tragic. For cynics like me, his shadowboxing, overweight, sad-eyed, zits-and-all performance as the doomed George Reeves is nothing less than astonishingly real.
Like Macbeth, Superman may be a role that is always jinxed. (See Christopher Reeve.) But the downfall and lurid death of George Reeves, who to millions of kids growing up in the 1950's was an action-hero comic-book icon, was creepy even by Hollywood standards, forever tainted by a special kind of tabloid poison. After playing one of Scarlett O'Hara's suitors in Gone with the Wind, the promising career he banked on never ignited. And after changing from mild-mannered reporter Clark Kent into the corny caped crusader from Krypton in thousands of convenient phone booths in 104 cheesy episodes of the Superman TV show, Reeves was depressed, disillusioned and down for the count. One June night in 1959, his naked body was found dead of a single gunshot wound in the upstairs bedroom of his Hollywood home, a Hollywood has-been at 45. It went down as an apparent suicide, but many criminal theories have been floating around for nearly 50 years, and this impressively researched movie explores them all.
Like parallel lines, director Allen Coulter (The Sopranos) and writer Paul Bernbaum blend the facts of Reeves' life with the investigation of a fictional gumshoe named Louis Simo (Adrien Brody) and find enough illuminating similarities to make a film that sizzles like bacon in a hot skillet. On the TV screen, Reeves was a big, overgrown Boy Scout, coming out of his bulging tights in all the wrong places, working for truth, justice and the American Way in black and white. In reality, he was not loyal, trustworthy, brave, helpful, courteous, kind, obedient, thrifty or a straight shooter. He was broken, troubled, sleazy and desperate—not a player, not even close enough to the Hollywood action to be an observer.
Simo, as tough as Bogart, is a deadbeat dad working out of a seedy motel room, feeding off the scraps that respectable cops wouldn't touch. When Reeves' mother (Lois Smith) refuses to believe her son was a suicide, Simo smells a murder case that will make him a star. And there is evidence that he might be onto something. The real detective, Jerry Geisler, died before he could prove anything, but the movie doesn't hide from name-dropping. Among the suspects: Reeves' jealous longtime lover, Toni Mannix (Diane Lane, luscious even with bags and dewlaps); her dangerous husband, Eddie Mannix (Bob Hoskins), ex-mobster and MGM executive; Reeves' fiancée, Lenore Lemmon (Robin Tunney), who was inside the house when the gun went off; and tough MGM publicist Howard Strickling (Joe Spano), who "fixed" every scandal in town for a price. With so many colorful suspects, variable motives, contradictory clues, and period sets and costumes dripping with florid 50's details, the setup for a perfect crime thriller is guaranteed. With Rita Hayworth dancing at Ciro's and the Saturday-afternoon cowboy serials so cheap that everyone on the set rode the same horse, Hollywoodland evokes some of the same scuzzy glamour as L.A. Confidential.
In the end, the struggling actor, flying through the air in his Superman tights but getting nowhere, and the seedy investigator, hungry for publicity, money and self-respect while digging his own grave, merge into one hopeless footnote to Hollywood infamy. A terrific cast pumps suspense into the nervous system of this movie like adrenalin. No one is what he seems. Even the mother has a hidden agenda, pretending to preserve George's integrity but driven by greed to hold onto the spillover from his klieg light as long as she can. The whole movie is a dour comment on the dark side of make-believe.
Who killed Superman? If it was suicide, why was one fatal shot fired from his revolver, with three bullets found near the body and no fingerprints on the gun? The mystery continues. Regardless of my own theory, I will always be left with the final wrenching shot of George Reeves himself, played with pain and sympathy by Ben Affleck—leaving his guests and wearily climbing the stairs alone to his death in a bathrobe, wearing the encroaching ravages of the aging process like scars.
Big Bust
If Bill Paxton had already charged his battery with the career-making leap to stardom he's now enjoying as the hunky, harassed, overextended and Viagra-chomping polygamist in the HBO series Big Love, I bet he would never have said "yes" to an empty and moribund little item called Haven. But to be fair, this forgettable indie-prod—from the Cayman Islands, of all places, and directed by a native Caymanian named Frank Flowers—was in the can long before the versatile and underrated Mr. Paxton ever read the first script for Big Love. Introduced (to no applause) at the 2004 Toronto Film Festival, it was given up for dead. But here it is, riding in on the crest of Mr. Paxton's fresh popularity as television's most oversexed new leading man. In Haven, he doesn't do anything wrong; he's just wasted.
A meandering crime drama about murder and money-laundering in the tax-free Caymans, the film is woven from the interconnected stories of Americans, British expatriates and local island inhabitants, told at a snail's pace through a confusing snarl of flashbacks and flash-forwards that keep you wondering where you are and why. Mr. Paxton plays an unscrupulous Miami businessman who flees to the palm-fringed paradise to avoid federal prosecution, with his precocious 18-year-old daughter Pippa (Agnes Bruckner) and a million dollars in tow. While she's getting sick from sampling the local drugs, her path crosses those of a shady lawyer (Stephen Dillane) and a local junior G-man (Victor Rasuk) who are both planning to steal the undeclared fortune her father is hiding illegally. The film's muddled emotional center, however, is the passionate and forbidden sex between a vicious thug's beautiful daughter (Zoe Saldana) and a pouting fisherman, played by the mystifyingly overexposed and undeniably untalented Orlando Bloom. Their ill-fated secret affair leads to anger, vengeance, revenge, betrayals and a crime so violent that the parrots fly screaming into the banana trees while the audience heads for the exit doors.
In a tiresome attempt to emulate Traffic and Crash, the film jumps around in time, with some scenes repeated for no reason, but even when a lot seems to be going on at once, there's no serious stab at characterization or plot development. Not that it matters: Most of the characters speak in such a bland patois that you can't decipher what they're saying anyway. Employing a docudrama style, writer-director Flowers tries to show the evil lurking beneath the surface tranquility of beautiful beaches, exotic cocktails and vacation villas with ocean views. According to Haven, the Caymans are bouncing off the coral reefs with drug problems, racial hypocrisy, domestic beatings and vehicular homicides, and everyone comes to a bad end there. For protection, you obviously need more than coconut-oil suntan lotion. I don't think you'd want a timeshare.
Some of the performances are vivid—especially Bill Paxton, who convincingly balances the roles of white-collar criminal and doting, clueless father, and Stephen Dillane, whose calm and genial attorney demeanor masks a savage cruelty. Appearing in one flop after another, the allure of Orlando Bloom is wearing out fast. With the Pirates of the Caribbean franchise to keep him alive, his teenage glam appeal seems incurable, but with any luck, his work in Haven as a brooding beachcomber Heathcliff could finally provide the antidote.