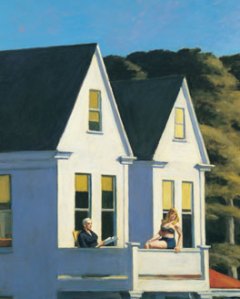 Who's responsible for mounting the superb exhibition devoted to the paintings, drawings, prints and notebooks of Edward Hopper (1882-1967) at the Whitney? The accompanying press materials don't say. The show, part of the museum's ongoing anniversary celebration, is a world apart from the rest of Full House: Views of the Whitney's Collection at 75, an otherwise desultory and predictable mix that betrays a stunning lack of curatorial initiative: too few hits and too many has-beens. Are there really people who still think Sherrie Levine's pedantic nihilism is anything other than a symptom of 1980's theoretical excess?
The considerably less predictable Holiday in Reality: Edward Hopper (the title lifts from Wallace Stevens) provides sterling proof that Hopper's art continues, almost in spite of itself, to gain in stature. However much we think we grasp Hopper's achievement—only Andy Warhol among American artists is as ubiquitous and, as it is said, iconic—his paintings have yet to be exhausted by their popularity or, for that matter, their own recalcitrance. The proverbial tough nut to crack, Hopper isn't an expansive artist, yet the work's narrow mysteries are deeper than anyone could have expected. In his own laconic way, he's as monolithic and imponderable as Johnny Cash.
The exhibition occupies the entirety of the museum's fifth floor. An appreciative eye with a scalpel-sharp discernment has culled works largely from the Whitney's more than 2,500 Hoppers—plus some loans from the Art Institute of Chicago, the National Gallery of Art, MoMA and others.
Hopper paintings guarantee a steady flow of traffic, but the Whitney isn't merely airing them for the sake of box-office receipts. Old favorites are on display: Who wouldn't claim bragging rights for an image as indelible as Second Story Sunlight (1960)? Nighthawks (1942) will make a walk-on appearance come October. Many visitors will be reassured by their presence.
But the scholarly scrupulousness with which Holiday in Reality has been executed is surprising. That's a radical departure from the Whitney's blasé and often-contemptuous attitude toward art. Properly speaking, the exhibition isn't a retrospective. But it explores nearly every aspect of the oeuvre, including Hopper's forays in illustration, using aesthetic continuity and painterly process as guides rather than strict chronology.
The show confirms Hopper's obdurate Americanness. Old saws about the particularities of place and light, as well as the alienation engendered by a too-insistent individuality, are as true as ever. No more so than the Post-Impressionist canvases that Hopper painted while in Europe: They are the flirtations of a man unconvinced by his paramour's attractions. Looking at them, you can feel Hopper bristle at what was expected of a serious young painter in Paris.
Hopper's idiosyncrasies are put into sharp relief in a perceptive essay by Guy Pène du Bois, no mean painter himself. Hopper's "honesties," we read, "carry considerable brutality with them. His cannot be called a social spirit. In both person and work his statements are apt to have a too unadulterated boldness, a shocking want of pliability, of ease." Pène du Bois wrote those words in 1931, but they would stay accurate for almost 40 more years—the remainder of Hopper's working life.
In an apt and unforgettable flourish, Pène du Bois described the engine of Hopper's vision as "positive hatred." This is particularly true in regard to his vexed relationship with modernism. Hopper can't be considered a modern painter in the manner of Marsden Hartley or Fairfield Porter: His art evinces a deep-seated suspicion of modernism's innovations. Hopper's skepticism, part and parcel of a dour conservatism, found modern painting too frivolous and maybe even dangerous.
He did not find modernist painting entirely uninteresting, however—Hopper's art is, in fact, unimaginable without it. The relentless anomie pervading his paintings marks them as peculiar to the 20th century. The people punctuating his desolate vistas are as robotic as those found in the more abstracted paintings of Fernand Léger and Oskar Schlemmer. A niggling strain of Surrealism filters through Hopper's art as well: How else does one explain houses and rooms that have more personality than the people who occupy them?
It's in the spare structure of the paintings—"straight lines bare of fuzz," in Pène du Bois' words—that Hopper is most plainly a modernist. The geometry underpinning the compositions can be almost shockingly blunt. Such pictorial foundations are not unknown in history—you can find them in early Renaissance painting, and in the enigmatic domestic interiors of Vermeer. Yet it's the unapologetic nature of Hopper's compositions, along with the emotional vacancy it helps to cement, that makes him a creature of the 20th century. However much a loner, Hopper remains tethered, if just barely, to the tenets of modernism.
One of the great strengths of Holiday in Reality is how it illuminates Hopper's working process. The Whitney's many drawings reveal a deliberate and painstaking artist. A single gallery is devoted to the genesis of MoMA's New York Movie (1939), wherein a flashlight-wielding usherette stands isolated with her thoughts as an older couple sits in the theater.
A display case nearby contains close to 30 sketchbook pages of pencil studies for New York Movie. Exacting in detail if not necessarily in means, some are mere scribbles: We see Hopper mull over the fall of a dress, a decorative plaster molding, an archway—that is to say, everything. Once brush is put to canvas, not a moment is to be wasted or improvised.
Additional drawings reveal abandoned variations on the composition. In one, the theater is empty of people; in others, the usherette bends over or is nude. In the most beguiling drawing, she has the slightest wisp of a smile. Who smiles in an Edward Hopper painting? That Hopper entertained the possibility makes for a tantalizing, stop-in-your-tracks moment.
In such instances, the exhibition is revelatory; the intricacies highlighted are inseparable from the pleasures. There are also mundane, if no less fascinating, moments. In the artist's notebooks, you can read persnickety notes on specific colors and brands of paint (Grumbacher here, Winsor & Newton there), as well as a sales tally, parts of which may have been the handiwork of Hopper's wife, Jo.
We learn, for example, that the Whitney's Early Sunday Morning (1930) was sold (in the evening, actually) for $2,000, after a one-third discount. Few details escaped the Hoppers, just as few details escaped whoever organized Holiday in Reality. The Whitney's higher-ups are hereby encouraged to grace that insightful man or woman with a well-deserved raise.
Holiday in Reality: Edward Hopper is at the Whitney Museum of American Art, 945 Madison Avenue at 75th Street, until Dec. 3.