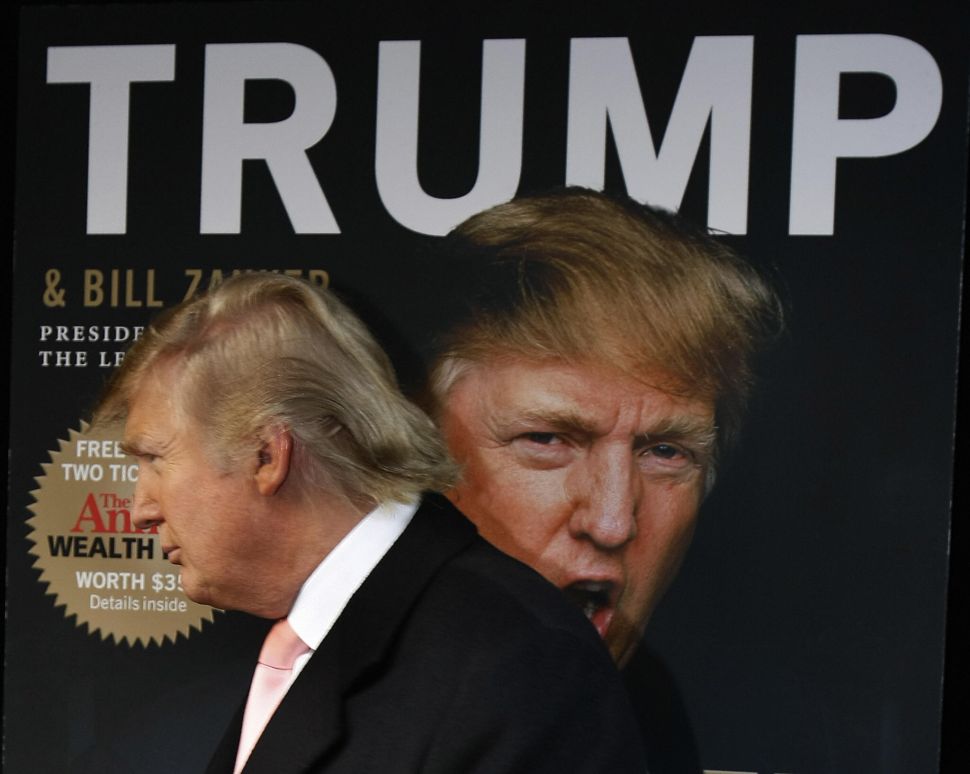 Last winter, my best friend Kate Bohner and I decided to do things backward and rent a house in the Hamptons. We got a house in November, the car (black Volkswagen Jetta) in December, and the job in January. Actually, Kate got the job: ghostwriter for Donald Trump's upcoming book. It was her job, but we both had to deal with the bumper sticker.
At first, I didn't know if the bumper sticker was good or bad. But Kate had secured the bumper sticker through some kind of covert action, she was my best friend, and the bumper sticker was so "f-ck you, don't f-ck with us" that I agreed, yes, it was amazingly cool, and we must put it on the back of the car, immediately.
The bumper sticker read, "I Love Donald Trump."
We slapped it on the back of the car and forgot about it. Strange and exciting road incidents began to happen. We noticed that everyone we passed was staring at us. We were followed by a police car for 14 exits. Two guys passed us and held up $3,000 in $100 bills. A car full of women waved frantically. Some guy started screaming at us and pounding on his dashboard. (Kate had to pour hot coffee out the window to get rid of him.) Then we were chased off the Indian reservation in Southampton, and then, after all that, we were asked to leave Alison's by the Beach for allegedly "talking too loudly."
O.K., we were talking loudly, but it wasn't really us. It was the bumper sticker.
Like it or not, things happen around Donald Trump, even when he isn't actually there. If you're a New Yorker, he's in your head, like a large golden "T." Rudy Giuliani may be mayor, but Mr. Trump is a New York phenomenon, a sort of super-id of Manhattan, a barometer, if we are honest with ourselves, of our instincts and desires. And, when Random House publishes his third book, The Art of the Comeback, on Oct. 31, he will be even more ubiquitous. There he is on the book's cover, in a snappy dark suit against a gold background, holding a crystal ball that turns out to be a snow shaker with a New York skyline. And while the bumper sticker had started as somewhat of a lark, now, nine months later, after having seen my best friend inhabit the mind of Donald Trump, I have to say that I love Donald Trump. I really do.
The other day I went up to Mr. Trump's office. Mr. Trump's office is close to the top of Trump Tower. (It's not at the very top—his apartment is up there, three floors and thousands of square feet, supposedly the best in the city.) In his book, he calls Trump Tower "a good friend" because it was there "when I needed it." Mr. Trump's book is all about buildings and women, and I found myself falling into that spell. There's something about Mr. Trump—when you know you're going to see him, you always want to dress nicely, as befitting the occasion. I was wearing a gray Dolce & Gabbana suit with a cranberry fur collar. I entered the elevator and in a sort of loud voice said, "Donald Trump's office."
I went through the outer waiting room, past the two assistants (Rhona and Anita) and then into his office. It occupies the northwestern corner of Trump Tower, overlooking the park and the Plaza hotel, and beyond that, on Central Park South, Trump Parc, and then beyond that, to the west, Trump International and, further down on the west, the rail yards, site of Riverside South. From here, all of New York was Trump city.
Mr. Trump always has something in his office. That day, he had black paper coffee cups from CNBC with his picture on them. I was a little bit jealous. I wanted some cups with my picture on them, too. Then Mr. Trump said what he always says to me: "Can-dace, you've got the best hair in New York" and then he told some funny stories, the kind that make his handlers a bit nervous but make me laugh. The thing about Mr. Trump is that he's mischievous and will say whatever he feels like, so that going to his office for half an hour feels like an adventure.
We called "Kateso," Mr. Trump's nickname for Kate (it was "Katesy-Waitsy" but got shortened along the way), on the speakerphone. Kate was working on her new financial show on CNBC.
"Kateso," Mr. Trump shouted into the phone, "Kateso, I'm here with Can-dace. Kateso, what are you doing, honey?"
"I'm working, Donald," Kateso said.
"The thing about you, Kateso, is that you're a horse. You work like a horse, " Mr. Trump said.
Mr. Trump liked that Kate worked so hard because so did he. It left him little time to do the sort of stuff the press was constantly reporting he was supposedly doing. As he writes in his book: "The press had me linked to dozens of other women. But… I couldn't have built my empire if I was having that kind of action. It was incredible, being intimately associated with women I had never heard of. Women themselves—some very famous—were linking themselves to me. I guess they wanted some of the publicity. They were calling. Their agents were calling. It was a circus! It was sick!"
The Plot Against Kateso
Now, if Kate, a.k.a. "The Leggy Stunner" in the New York Post's Page Six, hadn't snagged the job of ghostwriter (with no previous experience but a helluva lotta balls), Mr. Trump would have been just another billionaire whose limo I was never going see the interior of. (Kid gray, by the way.) Until then, I just thought that Mr. Trump was a pretty nice guy who remembered my name at parties and went out of his way to compliment me on some story or other I'd written. Marla was always sweet, too: She rescued me from an embarrassing situation at one of those Peggy Siegal movie shindigs by asking me to sit at her table.
But Kate did get the job, and, at first, it all went smoothly. She came up with an outline. The book was sold to Random House, which wanted to publish in time for Father's Day 1998. Mr. Trump and Kate thought they could get the book done in time for Christmas 1997, and said so to Random House's publicity department. They were all sitting in a human semicircle in Mr. Trump's office, everyone slightly uncomfortable, and Mr. Trump and Kate insisted they could hand in a complete manuscript by Aug. 1. This caused, said Kate, "some smug little Random House tittering." Mr. Trump looked incredulous. There was a pregnant pause, and then he looked at the Random House people and said, "If you could sell like Donald Trump can sell, then you'd be Donald Trump and I'd be in the sales and publicity department at Random House." He looked over at Kate. "Kateso! Who's Donald Trump?"
"You can sell anything, Donald," Kate said.
Little did Kate know that at that point, Random House was plotting to trade her, sell her, anything to get her off the project and get in a "real" ghostwriter. There were whispers of Bill Novak. He wrote Lee Iacocca's book. There were whispers of anybody but Kate.
The following Saturday, Kate and I were at our house in East Hampton, parked across from each other at the dining room table, manning our laptops. I was writing a story about our adventures in Aspen, and Kate was writing the first chapter. She looked up. It was snowing outside. "I don't know, sweetie. I don't know if I can do this."
"Sweetie," I said, "You can do it. Just keep writing."
She delivered the first chapter. Mr. Trump loved it, and Random House supposedly loved it. Um… They didn't. Mr. Trump told her, in no uncertain terms, they hated it.
"Whaaaat?" Kate said. "They didn't tell me that. Why did they tell you and not me?" (Kate had yet to get to the part in Mr. Trump's notes that would appear as "Comeback Tip No. 3" in his book: "Be paranoid.… Let some paranoia reign! You've got to realize you have something other people want. Don't let them take it away.")
They sat in silence in Mr. Trump's office on the 26th floor. Mr. Trump was signing checks. He looked up. "Kate," he said, "welcome to life."
He pounded on his desk for emphasis. "Where's my book?" he said. "Look, I either write the book with you, or I write the book with no one. Work! Put the blinders on and work! Write the book. By the time anyone notices, you'll be halfway done. Do the work, and the work will teach you."
Kate called me. "Sweetie," I said, "you're going to have to make a comeback."
Kate walked out of Mr. Trump's office feeling dumbfounded. It was the first time she'd ever come close to getting fired. She'd always done good work, always delivered. Three years at Lazard Frères. Columbia Journalism School. Forbes. Editor. Columnist. Before that, World Cup lacrosse player. Known for scoring the goals.
But Mr. Trump was behind her. "Loyalty," Kate told me. "That's what people don't understand about Donald Trump."
For the next four months, the Leggy Stunner had to battle it out. She had to live, breathe and even be Donald Trump, which meant that I had to live and breathe him in a secondary sort of way. The day began at 6 A.M., when Mr. Trump would call Kate (they both got up at 5:30 A.M.) and purr into the phone, "How's my little horse?"
Then, around 8 A.M., she'd look out the French windows of her apartment overlooking Sheridan Square, a four-story semi-shithole brownstone, and see Mr. Trump's stretch limo parked in front. A bodyguard, dressed in a black suit and shades, would huff and puff up the four flights to her apartment, and hand her a microcassette tape, containing notes and instructions from Mr. Trump. It was like a bad C.I.A. deal; Kate was usually wearing a terry cloth bathrobe she had stolen from the Ritz. One day, when Mr. Trump wondered what kind of apartment Kateso lived in, the bodyguard reported back that she had dead Earl Grey tea bags all over the counter. Mr. Trump began to be afraid she lived in squalor.
Sometimes, however, the microcassette tape wouldn't arrive until 8 P.M. Then Kateso would stay up all night writing the chapter and deliver it the next morning. "She'd be here at 8 A.M.," Mr. Trump sighed. "The poor thing would be so tired, she wouldn't know where she was. But she'd have it done!"
Around 10 A.M., I'd roll out of bed and call the poor thing. "How's it going? How's Donald?" I'd ask. It was like Mr. Trump was getting to be some kind of weird phantom boyfriend.
"Donald is too funny," Kate would say. "Last night, he watched one of those nature shows about the difference between cheetahs and leopards. This morning he said, 'Kateso, Kateso, am I a cheetah or a leopard? One moves laterally, and the other is the fastest animal on earth.' I thought, I can't win this one. Then, luckily, some poor reporter came in from out of town and he only had half an hour and Donald spent the whole time talking about cheetahs and leopards."
"Sweetie, that is soooo funny," I'd say. Then Kate's cell phone would ring. Mr. Trump. "Sweetie, I gotta go. It's Donald. He says hi."
"Hi, Donald."
Sweetie Panics
August. Kate and I didn't take a house in the Hamptons because she had to finish the book. I, on the other hand, had to hoof around Europe and Malibu. On Aug. 1, Kate turned in her final draft. Eight hours before the deadline. She called me in Malibu, ecstatic.
"That's great, sweetie," I said. I'd just come up from the beach where I was chatting up a 27-year-old Baywatch wannabe. The conversation was a little disjointed.
Soon I was back in New York. Kate and Mr. Trump had one week of revisions. Hell. The book had to be transmitted Aug. 11. One afternoon, I got a call from Kate. She was in Mr. Trump's office, going over the final galleys. "Sweetie. Come over now." Kate sounded tense. She felt, she said, like, "a kidnap victim. Gun to the head." Mr. Trump got on the speaker box. "Can-dace. We want to see you. Get down here now. Can you be here in 15 minutes?"
Kate chimed in. "Sweetie, 15."
"O.K.," I said. I was on 79th Street. It would take at least 15 minutes to get to midtown, and I had to change. But I was going to try. The kidnap victim needed help. Plus it was a good excuse to see Mr. Trump.
"Sure, Donald," I said. "But there's just one thing: What's the address?"
Mr. Trump turned to Kate. "How long has she lived in New York?"
The scene in his office was like something out of a modern-day Desk Set. Kate in a white Dolce shirt and black toreador pants, looking like Diana Rigg in The Avengers. The editor from Random House, skittering around like Mr. Trump's boy Friday. Mr. Trump calling the shots. And me. Suddenly Mr. Trump turned to me. "Can-dace , I've figured out what it is about you: You've got the best hair in New York." I thought about what he had told Kate for the book: that after his marriages to Ivana ("a very kind and good woman") and Marla ("beautiful and talented"), he had learned "one thing": "There is high maintenance. There is low maintenance. I want no maintenance."
Why was I there? Why had I come? Maybe it's because there's something about Donald Trump. Maybe it's about salesmanship. He convinces you: Kate did it. Now, I was doing it. And I wasn't unhappy.
Candace Bushnell began Sex and the City as a column in The New York Observer in 1994; it subsequently became a book and a series on HBO.