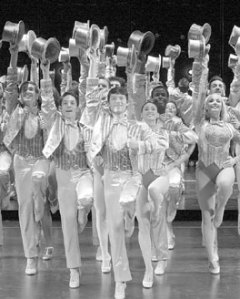 Do you know what I think are the most beautiful words in the English language—certainly in the language of that great, lost invention, the all-American musical?
Right! Let's do the whole combination, facing away from the mirror.
From the top,
A five, six, seven, eight!
I have only to hear that "a five, six, seven, eight!" heralding the scintillating first number of A Chorus Line, and I'm happy; I'm exactly where I want to be. In some way that I can't explain, I'm home.
Michael Bennett's A Chorus Line (1975), now happily back with us on Broadway in a loving revival directed by Bob Avian (Bennett's original co-choreographer), was the formative musical of my theatergoing life. When I saw the original production in London, I thought then—and still do—that it was the most innovative modern American musical I'd ever seen.
The seven-minute opener is one of the greatest ever choreographed. For one singular sensation, it introduces us to every character and the world of a dance audition—"God, I hope I get it / I hope I get it"—in the same masterly way that the wordless overture to Carousel conveys an entire world in music.
The surprise for me about the revival is that A Chorus Line still moved me after all this time. Perhaps I was nostalgic for my younger self, for what was once contemporary and has now become a period piece. Yet that isn't quite it. A Chorus Line is still smashing and very much alive because it remains a great, irreplaceable, timeless show.
It continues America's long love affair with backstage stories and showbiz as a metaphor, from Gypsy to 42nd Street to Follies. (Bob Fosse's Chicago, which also premiered in 1975, is A Chorus Line's cynical showbiz underbelly). The book of A Chorus Line, by James Kirkwood and Nicholas Dante, rings truer than most because it's largely based on the life stories of the original cast members. To be sure, the show has a dollop of honest sentimentality, as backstage musicals must ("What I Did for Love"). In that sense, A Chorus Line is the showbiz heir to Michael Powell and Emeric Pressburger's classic ballet film, The Red Shoes (1948).
Marvin Hamlisch's richly evocative score—the best that Mr. Hamlisch has written—and particularly Edward Kleban's edgy lyrics are a perfect expression of a dancer's hard, short-lived life ("Play me the music / Give me the chance to come through"), with bodies that are possibly fixable ("Tits and ass / Bought myself a fancy pair") and an inescapable fate. "I'm a dancer," protests Cassie, the show's nearly star, begging to return to the chorus line. "A dancer dances."
Has there ever been a major musical sequence that can top the sustained brilliance of A Chorus Line's "At the Ballet"? The excellent Baayork Lee (who played Connie in the original A Chorus Line) has restaged Bennett's choreography wonderfully. "At the Ballet" touches greatness in a sublime synthesis of dance and music and light, as mirrors turn in space. We want to cry out at the wonder of it all: "How beautiful! How beautiful life can be."
It's quite an irony that "One," the show's now-famous finale, when everyone in the cast comes out to take their bow in their gold top hats and identical costumes, inevitably compels us to cheer them for surviving. But, in truth, it's no victory. Every individual has been reduced to characterless anonymity, a Rockette in a chorus line.
Theoni V. Aldredge has recreated her original costumes (thankfully resisting the temptation to update); Natasha Katz has adapted Tharon Musser's lighting; and set designer Robin Wagner has exactly recreated his empty space to represent the rehearsal studio. (There are only two props: a stool and the dancers' bags). Peter Brook built an entire aesthetic, and a renowned book, around theories of theater as an empty space. In its apparent simplicity, Mr. Wagner's set for A Chorus Line conjures up a miracle with mirrors.
The set is the reverse of a Broadway musical dominated and swamped by too much design and too many special effects. The mirrors have since been widely imitated, down to Anthony Minghella's production of Madama Butterfly currently at the Met. But in a musical where the dancer and the mirror are inseparable, I have yet to see mirrors used so well—or more naturally.
Bennett would go on to direct and choreograph Dreamgirls, but he topped A Chorus Line only once: On one of the most amazing nights in showbiz history (Sept. 29, 1983), Bennett celebrated A Chorus Line's record-breaking 3,389th performance by staging a gala production with a cast of 332 alumnae performers. As a concept director, he was never small. The Booth Theater, next-door to A Chorus Line's former home in the Shubert on Broadway, served as a dressing room.
Bennett staged the gala after just four days of marathon rehearsal. The one-night-only performance, with wave after wave of chorus liners from different companies over the years joining each scene, literally brought the audience to the point of delirium. I knew then, of course, that the performance would belong to memory and storytelling and that it could never be repeated onstage. Nor could the first time I saw the original cast of A Chorus Line all those years ago be captured again with wide eyes.
It's bound to be so, as time passes. The good old days never were as good as the good old days…. It was inevitable that in the current revival, two or three of the performances can't quite match up to the legendary originals. But not where it counts most, in their hearts. What more could the wonderful Charlotte d'Amboise do as Cassie (the role that Donna McKechnie made famous)? Ms. d'Amboise all but leaves her blood on the stage in the exceptionally demanding dance sequence, "The Music and the Mirror"—and she triumphs.
But yes, the world has changed a great deal in the three decades since the premiere of A Chorus Line. In 1987, Bennett himself, like so many gifted children of Broadway, died tragically of AIDS. (He was 44.) What the revival confirms marvelously for us is that A Chorus Line is now as much a classic piece of musical theater as Gypsy or West Side Story.
The young, unknown Bennett was coincidentally in the chorus of a touring production of West Side Story, and his god of dance was its director, Jerome Robbins. Bennett was born in Buffalo, N.Y. ("To commit suicide in Buffalo is redundant"), and he secretly studied all of Robbins' dances and ballets. He would become Robbins' heir on Broadway, and that's why Bennett's work—unlike Bob Fosse's—cannot be pastiched. Bennett took his choreography beyond the traps of a personal style into the higher realms of an artless art.
The chance to see his masterpiece again, or for the first time, shouldn't be missed. Bennett did not seek—as Mr. Brantley at The Times insists—"to paint in kinetic strokes a group portrait … like the inhabitants of densely peopled canvases by Velazquez or Rembrandt." Oh, my. If Michael Bennett had been as pretentious as that, we'd never have heard of him or A Chorus Line. In fact, he borrowed and adapted film technique—dissolves, fast cuts and close-ups. He was an instinctive street kid, not an intellectual—a gypsy-genius of Broadway who loved dance and dancers and lived for the American musical.
When I first saw A Chorus Line, I thought I was seeing the future. And now, seeing it again so lovingly restored, I feel the bittersweet sense of both loss and possibility. Loss, because the American musical has for a generation lost all confidence in itself; possibility, because A Chorus Line is not cynical, nor a pseudo-opera, a special effect, a puppet show, an infantile spelling bee or a jukebox.
Stop and look around you! Jersey Boys, Mamma Mia!, Hairspray, Avenue Q and the rest. For my money, A Chorus Line is still the best musical in town.