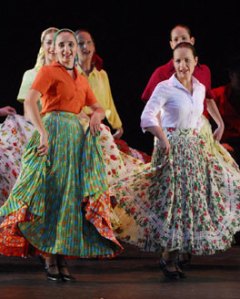 Remember the good old days of the dance boom? The excitement! Margot and Rudi! Misha! Suzanne! Here comes the Royal, here comes the Bolshoi, here comes the Kirov. The must-see hits: Dances at a Gathering, Jewels, Push Comes to Shove. The galas! And let's not forget Glamorama Martha! This was not just dance, it was Broadway, baby—and don't forget that Lincoln Center is on Broadway, too.
It all seems so long ago. Dance has retreated to being just plain dance. The big companies, worldwide, are in the doldrums—what's the last new piece that le tout New York had to go to? Who's a star as exalted as the Margots and the Mishas? The ground has leveled: We're reduced to the latest (exhausted) new wavelet at B.A.M., the smorgasbord at the Joyce, A.B.T.'s tired full-evening classics (except when they aren't), and City Ballet's 70th or 80th new piece by Peter Martins. And what about that scarily graying audience in those scarily unsold-out theaters?
None of the above seems relevant to the annual "Fall for Dance" season at the City Center—already in its third year a sacred tradition. The audience is young(ish)—at $10 a pop, it's practically a free ride. (Nearly 14,000 tickets were sold the day they were put on sale, and all 10 performances were sold out: That's 27,500 attendees.) What's more, the audience was wildly enthusiastic: Just about everything—good, bad and indifferent—was greeted with whoops of approval. These were people happy to be in this place, watching this dance at this price.
Ten performances of six different programs, each featuring five acts—that's 30 different dance companies on display, many of them exposed to a New York audience for the first time. Yes, a number of them were mediocre or worse, and how could it be otherwise? There probably aren't 30 first-rate companies in the world. But "Fall for Dance" gave us a healthy taste of what's out there.
In ballet, the pickings were lean—no major foreign companies, no San Francisco, Boston, Miami, Joffrey, etc.—and our own two major companies didn't cover themselves with glory. A.B.T. dropped in with less-than-thrilling performances of the White and Black Swan pas de deux. (Veronika Part—White—is very beautiful but very studied; in any case, this sublime adagio should never be wrenched out of context. Paloma Herrera—Black—with all the ill will she can muster, is simply not an Odile.) I kept fantasizing about the two pas de deux running simultaneously, but the audience was clearly grateful to be seeing tutus and pointe shoes. City Ballet brought in Jerome Robbins' In the Night (1970), which is at least a coherent work, even if it's essentially leftovers from Dances at a Gathering (1969). Three couples swoon to Chopin, while stars twinkle in the firmament. Outstanding was Wendy Whelan in a highly romantic, dramatic performance—this woman can do anything; Sofiane Sylve can do many things, but being lyrical isn't one of them.
The other two ballet troupes put their worst feet forward: Instead of bringing substantial repertory works, they decided to show off house choreographers. Pacific Northwest Ballet, in its first New York appearance since being taken over by Peter Boal, is an important company with superb dancers. Alas, it gave us Paul Gibson's The Piano Dance, a well-meaning collection of neoclassical Balanchine-isms punctuated by cute Robbins-isms, set to five composers and dressed in faux-"Rubies" red. From time to time, I wondered whether it might be subtle parody rather than pure pastiche, but no. The Pennsylvania Ballet presented excerpts from Matthew Neenan's 11:11, set to Rufus Wainwright. There was no excuse for this puerile exercise—it didn't even show off the dancers very well.
No surprise that first-rate choreographers gave us first-rate work: Paul Taylor's explosive Syzygy (1987) and Trisha Brown's Set and Reset (1983), a beautiful, fluent piece with perfectly calculated Rauschenberg décor. (I wish there had been a more compelling example than Tensile Involvement of Alwin Nikolais' achievement from the 50's and 60's.) Equally unsurprising is that second-rate choreographers produced second-rate stuff: David Parsons' Swing Shift is as empty and thin as everything he does; Bill T. Jones' Last Supper at Uncle Tom's Cabin is as overblown and pretentious as everything of his. (We count our blessings at having been exposed to only half an hour or so of this bombardment of agitprop instead of the full "groundbreaking three-hour work exploring history, spirituality, slavery, and identity.") Five of James Kudelka's Fifteen Heterosexual Duets (1991), performed by Coleman Lemieux & Compagnie, proved that early Kudelka is a lot more interesting than late Kudelka, but the dance fights the music—Beethoven's Kreutzer Sonata—and the dance loses.
The Stephen Petronio Company looked good in Lareigne: His dancers move spaciously and easily through this busy piece that opens inexplicably with a protracted male solo. I also enjoyed another busy group piece—Cause, by the San Francisco–based Robert Moses' Kin—even though urban violence, complete with angry voices, isn't usually my thing. And then there was Random Dance, yet another dynamic ensemble. They all tend to blur into one another, because they all lack a sharply defined personality. The sterilities of postmodernism are running out of gas, the vulgarities of Euro-conceptualism are sticking closer to home, and in their place we're getting sheer unadorned energy.
There were the conventional ethnic-inflected efforts, such as Farruco, two young male flamencoists whose brilliant tapping was upstaged by their brilliant shoulder-length hair. Excerpts from Alonzo King's The Moroccan Project left me out in the ethnic cold—all those plucked instruments and droning voices: Who knows what the droning is telling us? And who knows what the Yi-Jo Lim Sun company means with its Heaven and Earth, which opened the festival. It's Korean, it's colorful, it's folkish, it's ritualish. And its swirling girls revolve around artistic director/choreographer Yi-Jo Lim, he of the moon-round face and slightly nutty smile.
Worst were the solos—not the clever and joyous snatch of Martha Graham (Miki Orihara, in Satyric Festival Song of 1932), but all the rest. You know you're in trouble when you read that a piece is by the Robert Gottlieb Dance Company, choreographed by Robert Gottlieb, costume by Robert Gottlieb and danced by Robert Gottlieb. These solos are inevitably exhibitionistic, even if the dancer is talented. Funniest (unintentionally) was the Maureen Fleming Company, Maureen Fleming artistic director, in Maureen Fleming's The Stairs, in which Maureen Fleming is discovered, in the faux-nude, hanging upside down at the top of a staircase and very, very slowly unfolding herself down the steps. The high point was her curtain call, in which—arms reaching out to the audience—she accepted our homage to her art and to her self.
Now for the plums. First, a pair of young dancers from the Dutch National Ballet—Julie Gardette and François Rousseau—who performed a simple, touching duet (Before After) about parting. These kids were beautifully trained and deeply involved with their material, and I was happy to hear, later on, that far from parting, they're getting married. Then there was the duo Bridgman/Packer Dance, who actually took that old cliché of projecting photographs of themselves onto their real selves and made it into something original and absorbing. They're in social-dancing get-up, and as the two of them emerge from, and recede back into, black cloth panels, mingling and interacting with their projected images, you feel you're at a surreal thé dansant.
Another original group: the French Compagnie Franck II Louise, whose extravaganza began with most of the dancers (all men) in cumbersome sci-fi armor and headpieces, lumbering around the stage. As they shed their armor, they picked up the pace, ending in the most dazzling display of hip-hoppery I've seen since Rennie Harris, with one guy spinning wildly on his head—as exciting as any ballerina's 32 fouettés, and a lot more fun.
Best of all, maybe because least expected, was the Honvéd Dance Company, their roots in Carpathian gypsy folk dance. Who could have guessed how charming, how touching they would be—the women modest, gravely smiling, enjoying the elaborate attentions of the men; the guys strutting their macho yet unaggressive stuff, proud to be wooing their fair maidens. No gender-bending, apparently, in the Carpathians, and a feminist's nightmare. The Web reveals that the Honvéds have a large repertory of extended works, from Hot Szeg (a Carpathian Romeo and Juliet) to The Hammer of the Town. They may be terrific, they may be ludicrous, but on the basis of Black Pearls, this company—which has performed in 19 countries in the past five years—should make a more extended stop in ours. The City Center audience was enchanted.
MEANWHILE, B.A.M. WAS CELEBRATING Steve Reich's 70th birthday with a doubleheader, starting off with Anne Teresa De Keersmaeker's early signature work Fase (Phase, 1982). Two women dance for about an hour in this implacably austere work. The idea seems to be to use relentless repetition, with barely perceptible adjustments, to create an atmosphere or make a point. It's a little like early Tharp in its high-mindedness, and indeed De Keersmaeker in person has a distant resemblance to Tharp—you see it most clearly when she trots offstage after her curtain calls. But she doesn't have Tharp's range, and she certainly doesn't have Tharp's humor. Or, for that matter, any of her own.
Fase was followed by the young British choreographer Akram Khan, performing with two other dancers and the London Sinfonietta, beautifully deployed around the stage, the basses gleaming in the dark. His dance was set to Reich's Variations for Vibes, Pianos and Strings, a more forgiving piece of music than that used for Fase, and the choreography was far from austere—thrusting, showoffy, energetic. Khan is a big deal these days in London, and you can see why: He grabs your attention. But if his work is about anything other than its own drive, I missed it.
UNEXPECTEDLY, THE MOST SATISFYING DANCE event of this insanely busy week didn't take place at the City Center or at B.A.M. but at the Met, where Christopher Wheeldon provided a new 10-minute ballet for La Gioconda. It was delicate, elegant, exquisitely crafted—imagine a hybrid of Balanchine's Donizetti Variations and La Source. Yes, it's to that old chestnut "Dance of the Hours," which Walt Disney featured in Fantasia, but Fantasia was never like this. Two principals and two groups of four girls each, the short ones in pale coral, the tall ones in slate blue; the corals supporting Letizia Giuliani (the sun), the blues supporting Angel Corella (the moon). Everything so simple, so classical, so right. I've never seen an opera ballet on this level, but then I wasn't there in Monte Carlo in the mid-20's when Diaghilev had Balanchine turning them out by the handful. Corella was his superb self, Giuliani the happiest kind of surprise—quick, pretty, confident, precise and unfakey. Why isn't she filling the huge classical-ballerina gap at A.B.T. or City Ballet? And more important, why doesn't Wheeldon show us this side of his talent more frequently? There's not a step imitating Balanchine—no pastiche here—yet this is the best Balanchine ballet since Mr. B. stopped making them.