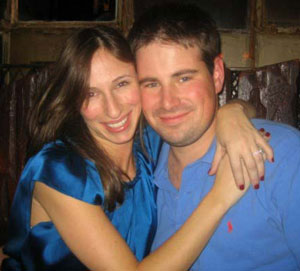 Benjamin Peikes and LeNell Smothers
Met: December 2000
Engaged: Dec. 25, 2005
Projected Wedding Date: T.B.A.
"Gay," LeNell Smothers thought, as Benjamin Peikes arrived at the Met Grotto's Caving Club Christmas party wearing a velvet leopard-printed shirt.
"Definitely gay," she decided a few months later, walking into Mr. Peikes' Forest Hills one-bedroom en route to the airport—the club was going on a spelunking trip near San Juan, Puerto Rico—and finding a man in boxer shorts on the living-room couch.
It was just a friend from college, but Ms. Smothers, a spunky brunette from Alabama, could not be dissuaded from her first impression. On the trip, she indicated Mr. Peikes' presumed sexual orientation to the locals using suggestive hand gestures. "There was a language barrier," she said.
"It's O.K.; we don't have a problem with it," the Puerto Ricans assured Mr. Peikes.
"Um …. O.K., but I'm not … ," he said helplessly.
Meanwhile, Ms. Smothers and Mr. Peikes were becoming buddies, even sharing a tent. "He rubbed my feet one night, and I thought he was kind of liking it," she said. "But we were all drinking." Still, she was intrigued.
Back in the city, she arrived at Mr. Peikes' birthday party wearing a glittery top and sherbet-green pants that laced up at the sides.
One night, they were enjoying a friendly Mexican dinner in Union Square when Ms. Smothers leaned in and looked Mr. Peikes in the eye. "Have you ever kissed a guy?" she asked, the tequila heavy on her breath. "Ever thought about kissing a guy?"
In fact, he had once (in a bar, on a dare)—but he preferred the ladies, he swore. They paid the check and headed first to Winnie's, a karaoke place in Chinatown, and then to the Moonlight Diner. "Who do I have to blow around here to get some decent grits?" Ms. Smothers yelled.
Mr. Peikes got her the grits, but the two parted at the end of the night. A month later, she gave the rich loafer she was seeing the heave-ho, and the spelunkers finally went on their official first date, at Swing 46 in midtown. Ms. Smothers, busy primping, was an hour late.
After dinner, they went for a stroll in a local community garden, and Mr. Peikes went in for a kiss. Oooh, his lips touched mine! Ms. Smothers thought somewhat clinically.
She'd been apartment-sitting for an ex, and soon she was spending every night with Mr. Peikes instead. Still, when Ms. Smothers suggested that they cohabit, he felt, well, smothered. "I was sort of weary," he said. "I know myself, and I have never had a half-assed relationship—I'm either in it or I'm not. It made me more nervous about jumping in like that, going full force."
Eventually he got over it; they bought an unrenovated two-family house in Red Hook, where Ms. Smothers opened LeNell Ltd., a funky wine and spirits boutique complete with peeing Cupid fountain. Mr. Peikes, meanwhile, landed an information-technology job at Gargoyle Strategic Investments, which is based in Englewood, N.J.
He proposed on Christmas as they were setting up a tree. Ms. Smothers was a little tense. "The holidays for retail are hell," she said.
"You're going to marry me, aren't you?" Mr. Peikes blurted.
"Of course," she said, "but now's not the right time. We don't even have rings."
But now they do: matching enamel leopard-print ones from Rone-Regency Jewelers in Tennessee. It was after drinks at Michael Jordan's Steakhouse that Mr. Peikes grabbed Ms. Smothers' hand and said: "We're in the middle of Grand Central, the middle of the world. We gotta do it."
Adam Kertzner and Seri Revzen
Met: February 2001
Engaged: Aug. 25, 2006
Projected Wedding Date: March 17, 2007
A trousseau of modestly priced cashmere turtlenecks and tasteful pencil skirts! Seri Revzen, 27, a slender, dark-haired senior production manager at Club Monaco, intends to marry Adam Kertzner, 28, a dark, handsome vice president of a money-management firm. The ceremony is planned for the Fermenting Cellar in the Distillery District of her native Toronto.
They met at the now-defunct restaurant Globe on Park Avenue South, introduced by a boyish banker named Tim, who at the time was Ms. Revzen's only friend in town. She was working as an accounting associate at Kate Spade, the minimalist accessory company, and she was convinced that her "New York experience" was only going to last a year (oh, honey). Mr. Kertzner was instantly smitten—and a tad peeved at his pal. "I figured if he had a nice Jewish friend moving to New York, he would have introduced me," he told the Love Beat.
"Hi, do you need a boyfriend?" he asked Ms. Revzen, sitting down and throwing his arm around her apparently quite receptive shoulders.
"It was love at first sight," she said. "It sounds so cheesy, but it was powerful."
They moved on to Chaos, the nightclub, arranging a first date for a week later at the Park Avalon, where Ms. Revzen kept eyeing her watch. "It's getting late—I should go," she'd murmur demurely, and then another hour would pass by. Before long they'd drifted onto the dance floor, where they made out passionately. "I think we were both, at the time, sort of young and fun-loving," recalled Mr. Kertzner (whom, we repeat, is 28). "We both were working hard and kind of playing hard, and it clicked."
After about three years of dating, Ms. Revzen got rid of a share in Gramercy and moved into his two-bedroom apartment in midtown east.
"Not cool enough," Mr. Kertzner teased.
"It's not that," she said. "It was right across from the U.N. When Bush came to town, they set up the dog-sniffing tents right in front of our apartment!"
A year later, she herself had sniffed out an apartment for them both on Mercer Street.
The couple was visiting Toronto when a friend of Ms. Revzen's invited her to a music-industry shindig at Casa Loma. "There'll be celebrities," she said meaningfully. "Bring Adam."
A clipboard Nazi stopped them at the door. "We're here for the video?" Ms. Revzen said haughtily.
Inside, Mr. Kertzner surprised her by dropping to one knee. "We're not here for the video," he declared, blinging her with a platinum pavé-set, cushion-cut diamond. "I'm here to propose."