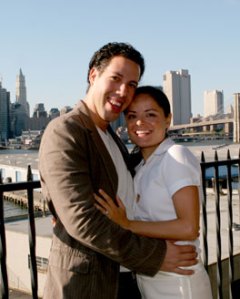 Tara Lorraine Padua and Harrison Grant Wise
Met: June 2004
Engaged: Dec. 31, 2005
Projected Wedding Date: Dec. 31, 2007
What an accomplishment! Tara Padua, 31, a life coach for Accomplishment Coaching, is planning her dream wedding to Harrison Wise, 30, a vice president at Rubenstein Public Relations, at the Villa Montana resort in Aquadilla, Puerto Rico.
They met at a party on the Lower East Side, where Ms. Padua, a slender brunette with sea-foam-colored eyes and an innocent, doe-like face, was expounding her incongruously jaded view of the New York dating scene. "Why go through the whole song and dance, the whole circus?" she asked with some indignation. "You want a blowjob? Just ask for a blowjob. If you want to have sex, why not say so? If I'm not interested, maybe there's someone I know who is."
Hubba hubba! thought the suave, dark and curly-haired Mr. Wise, who was sporting a T-shirt that read "Love machine, batteries not included."
Ms. Padua wasn't finished. "I can cook up a storm," she said. "I can cook anybody under the table."
"Put your money where your mouth is," Mr. Wise said, and got her number.
In a subsequent e-mail exchange, Ms. Padua mentioned her fondness for capoeira, the Brazilian martial art. So for their first "un-date," Mr. Wise brought her to Vela, a Brazilian-Japanese fusion restaurant in Chelsea. After dinner, she asked if a girlfriend of hers could join them.
"Two for one?" asked Mr. Wise, at this point feeling very lucky indeed. "Why not?"
The trio headed to the Cutting Room, where the girlfriend in question quietly assessed Mr. Wise's "potato" quotient—her nickname for the short, bald, personality-challenged type that Ms. Padua normally dated—and announced: "He's different than the rest. Don't screw it up."
Later that evening, Ms. Padua relaxed her customary moral code and went back to Mr. Wise's apartment in (gasp) Dyker Heights, Brooklyn. "You can stay if you behave," he told her the following morning.
Their "un-date" continued for another decadent 48 hours and involved a tour of Dumbo, a walk down the Brooklyn Heights Promenade and a tasting at Jacques Torres' chocolate emporium.
Within a month, Mr. Wise gave Ms. Padua a set of keys, and within six months she had given up the lease to her Long Island City two-bedroom. "We called her apartment a very expensive closet," Mr. Wise said.
"I love you," he whispered one night when he thought she was sleeping.
They spent the following Thanksgiving in Puerto Rico. "She was expecting that I would propose, but it took the mystique out of it," Mr. Wise said. "I'll do it on my own terms. That's the way I roll." Stand back!
On New Year's Eve, his mother offered to take Ms. Padua for a mani-pedi and a blowout as a late Christmas present. "His mom always encourages me to be more polished," she said. Afterward, she met her beloved and some friends at Villa Paradiso, an old-school Italian restaurant in Bensonhurst. Following the meal, a white stretch limo pulled up to the curb. Mr. Wise handed her a blindfold.
"There's something I want to show you," he said.
This jerk bought a boat, Ms. Padua thought.
Moments later, she was circling around the Statue of Liberty in a private helicopter he'd chartered, her eyes filling with tears as he presented her with a 1.5-carat, brilliant-cut, platinum-pavé-set diamond from Riverfront Jewelers.
"This isn't for you," he assured Ms. Padua (who had at one point insisted she didn't want any "blood diamonds"). "It's for your girlfriends."
Alison Ladd and Eric John Parucki
Met: July 2003
Engaged: Dec. 27, 2004
Projected Wedding Date: Oct. 7, 2006
It was trivia night at Rocky Sullivan's, an Irish pub on Lexington Avenue, and Eric Parucki was nursing a glass of whiskey and mulling a break with his then girlfriend, a software engineer. Major incentive arrived in the form of Alison Ladd, a spunky yet deadpan blonde who told him about a recent near-death experience she'd had riding the Cyclone at Coney Island.
"It was a lot of flirting with eyes and gestures—or at least I was trying to," said Mr. Parucki, 33, a robust, driven executive at Agilsys, a technology company. He requested Ms. Ladd's e-mail address, suggesting that she might sponsor him in an upcoming bicycle race for an AIDS charity. "I thought Alison would give me a big chunk of cash," he joked. At the time, Ms. Ladd was working as a law clerk while she took evening classes at Brooklyn Law School.
The next day, Mr. Parucki split with his girlfriend (she went on to become a stripper, he said), and the following weekend he and Ms. Ladd met for a game of pool at the Musical Box on the Lower East Side, near Ms. Ladd's studio apartment. It was a miserable day, and the only other people in the joint were Ms. Ladd's former roommate and his girlfriend—pure coincidence, she swore.
Mr. Parucki and Ms. Ladd then took a romantic walk in the rain, which led to a passionate kiss. "How much more of a cliché can you be?" he said, adding: "It was very soon that we were able to—not actually finish sentences, but I think that's a good metaphor for where we were at."
On Valentine's Day, while dining at Metrazur in Grand Central Terminal, he asked Ms. Ladd to move in with him, and shortly thereafter they found a gorgeous two-bedroom in South Street Seaport with exposed brick and a month's free rent on the lease. "It's as quiet as living in New Jersey," Mr. Parucki said, who should know, having spent most of his bachelorhood there. "Central Jersey, not North Jersey. Or Connecticut—Central Connecticut, not Southern Connecticut." Whatever, dude.
Six months later, the couple attended her brother's wedding in Bolinas, Calif. "It's where hippies go to die," said Ms. Ladd, 32, now an associate at the law firm of Fried, Frank, Harris, Shriver & Jacobson. "On the West Coast—not Vermont, which is where hippies go to die on the East Coast," Mr. Parucki helpfully clarified.
Watching the exchange of vows made him contemplative, and after drinking a few glasses of Jameson (the local wine was "spit-it-out bad," he said), Mr. Parucki posed some third-person hypotheticals to Ms. Ladd about religion, children, etc. "You need to ask these questions at some point," he said. "If you're not compatible, you need to move on."
Luckily, her answers pleased him, and so Mr. Parucki (whose father is in the Air Force) came crashing to one knee at the Wright Brothers Memorial in North Carolina, where he presented Ms. Ladd (whose mother is a flight attendant) with a silver-painted, heart-shaped ring pop. (It has since been replaced by a stunning florette of diamonds from DeNatale Jewelers in the diamond district.) The couple celebrated their engagement with some friends and a six-pack of Miller Lite at a nearby mansion they'd rented.
Their wedding will take place in the Monaco Hotel in Ms. Ladd's hometown of Chicago. "I think that we've done a couple of things that couples that succeed do," the groom-to-be mused. "That is, become intimately familiar with each other and our habits and our days, and the things that we do and the things that we say."