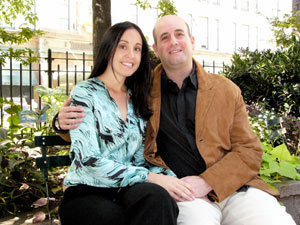 Craig Ellish and Nora Grudman
Met: June 2005
Engaged: April 28, 2006
Projected Wedding Date: Dec. 2, 2006
Nora Grudman had only just moved to New York to start a new job as a senior press manager at Bravo Television, and already her mom was calling her at work to play yenta.
"He's a wonderful boy. I met his parents at a wedding …. "
"All right, Mom," she said, scribbling down the number of one Craig Ellish, an advertising executive at Specific Media.
They talked for hours on the phone, but she couldn't remember about what, exactly. When Mr. Ellish, 6 feet tall and sporty, arrived for a date at Café St. Bart's in midtown, Ms. Grudman was relieved. "I remember thinking he looked very normal," she said. "That's not very romantic, I guess, but after you've dated as much as I did, normal was a good thing." Tell us about it, sister!
Mr. Ellish also expressed relief: Ms. Grudman is a black-haired, exotic-looking beauty with soft freckles. "When people say they go on second dates because they like the girl and think she's nice, they're full of B.S." he said. "It's an added plus if they have a great personality.
"I thought she had an unbelievable personality," he hastened to add.
The following evening, Mr. Ellish picked Ms. Grudman up at her one-bedroom apartment on the Upper West Side. Downstairs, a taxi was waiting to bring them to the Public restaurant on the Lower East Side. "I've never had any guy in New York ever do that," she said. "He was such a gentleman."
Mr. Ellish had pretended that he had a friend coming in from London in order to snag the reservation. "You have to pretend you're British," he told her. Ms. Grudman was charmed.
A month later, they met each others' families in the Hamptons. (The Grudmans summer in Mattatuck; the Ellishes in Quogue.) "It was really easy," he said. "We both have really good personalities, and we can fit in and have a conversation with anyone."
"Our parents have a lot in common," Ms. Grudman added. "They're both on the younger side, they're fun, they go out, they do things, they're adventurous." Indeed, Mr. Ellish's folks were living it up at a (not the) White Party while he and Ms. Grudman, 32 and 30 respectively, spent the evening cuddling on the couch.
Five months later, with Billy Joel playing over the loudspeakers at a small bar in Puerto Vallarta, Mexico, Mr. Ellish, emboldened by a few glasses of port wine, took one look at his sweetheart's face, lit by candlelight, and declared, "I love you."
"Oh, Craiger …. I love you too."
The following year, the jet-set couple went to South Beach, Miami, to attend a wedding and celebrate the 90th birthday of Ms. Grudman's grandmother. During the weekend, they ducked into their favorite hotspot, the Raleigh Hotel, and impulsively ordered a bottle of Champagne. "Want to make a toast?" Ms. Grudman asked.
"I can do better than that," Mr. Ellish said, whipping out a 3.2-carat brilliant-cut, platinum-channel-set diamond—a little nothing from Anthony Robert Jewelers in Rockland. Grandma was very happy, especially when they began planning their wedding for the Addison Reserve Country Club in nearby Delray.
It was only after Ms. Grudman accepted his proposal of marriage that Mr. Ellish gave up his apartment on the Upper East Side and moved across the park. "Nora is one of those traditional women that want to have some assurances first," he said. "She wanted some hardware."
Linda Maxwell and Ned Towle
Met: 1995
Engaged: June 1, 2006
Projected Wedding Date: Jan. 6, 2007
After 20 years as the New York City Transit Authority's chief financial officer and vice president of planning and budget, Ned Towle wanted a career change. Thinking he might become a therapist, he joined a psychodrama group at the Sociometric Institute, a slightly suspicious-sounding experimental psychology center on the Upper West Side. It was there he met Linda Maxwell, an ebullient psychotherapist with a private practice in Chelsea and Hastings. "We got to know each other from the inside out," said the short-haired, spunky Ms. Maxwell, 47. But: "I didn't think at all that he was my type." Mr. Towle is 13 years her senior, bearded, bespectacled and intellectual-looking.
A year after Mr. Towle and Ms. Maxwell both stopped attending the group, they ran into each other at a party, and shortly thereafter he called and invited her to see a friend of his perform cabaret at Danny's Skylight Room. "He informed me that it was our first date," said Ms. Maxwell, who showed up wearing a vintage pair of tight black leather pants. "I like to dress to impress," she said. "It wasn't for Ned's sake, but you never know who's out there." Ouch!
"That wasn't fair at all," said Mr. Towle, who tried unsuccessfully to seduce her with a bottle of Chateauneuf du Pape.
After that, he waited three months, then called and invited Ms. Maxwell to a family weekend in the Adirondacks. "I knew Linda liked climbing and hiking," he said. "She was the best person I could think to invite along." They tromped around the aptly named Heart Lake, after which she met Mr. Towle's twin sister, brother-in-law and nephew. Later, the couple retired to bunk beds. Before clambering onto the top one, Mr. Towle spotted Ms. Maxwell's navel protruding endearingly from her pajamas. "Could I kiss your belly button?" he asked.
Ms. Maxwell granted permission but, since she is ticklish, began giggling almost immediately, causing her bunkmate to hit his head. Soon, they were both in stitches. "It was love on the second date," she said.
At the time, Ms. Maxwell resided in Croton-on-Hudson, and Mr. Towle—who at this point thought he might become a preacher—resided in the dorms at Columbia, earning his master's in divinity from the university's Union Theological Seminary. He took a summer off to visit his daughter, a choreographer in Paris, the product of a 25-year-long marriage to an assistant professor at SUNY Downstate Medical Center. Meanwhile, Ms. Maxwell was "definitely playing the field," he said. "While I was laboring in the vineyards, you were going out on dates every night."
"I had no idea if you were willing to commit at that time," Ms. Maxwell retorted.
When he returned from France, they finally pledged eternal to monogamy over a country breakfast during a weekend trip to Pittsford, Vt., moving soon afterwards to a one-bedroom apartment in Hastings. "It was scary," Mr. Towle said. "The real issue was whether or not I would be accepted by Linda's cats." (Fearless and Figaro. What choice did they have?)
"Let's go for a jog!" Mr. Towle suggested brightly one morning. "Mmmph," was Ms. Maxwell's reply. Reluctantly, she roused herself, to be rewarded mid-run with a gold ring from Movado containing a bridge of three brilliant-cut diamonds.
Their wedding will take place at the Union Theological Seminary, even though the groom—who, two years ago, founded the Westchester Wine School—decided not to become a preacher after all. "I decided to do something even more spiritual," he said. "I decided to teach wine."