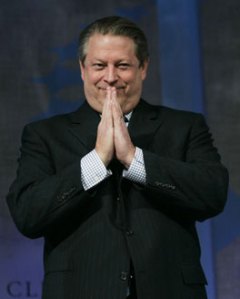 In suit pants too short and black boots too polished, Al Gore stepped haltingly to the podium of the Sheraton New York on Thursday afternoon and took credit for helping to solicit an enormous donation to fight global warming. Mr. Clinton patted him on the back and joked, "Al's the enforcer." Mr. Gore ignored the whiff of condescension as his puffy, aquiline face beamed in the direction of the adulation.
To the Democratic-leaning audience, he was their favorite political martyr. But for a series of major donors and operatives across the country, he's still very much their candidate for 2008.
"I might host a reception here for Mark Warner, I might attend some event for John Edwards, but I think certainly because of my background with Gore, they wouldn't expect me to be committed to them if Gore were to come in at the last minute," said Charles W. Bone, one of Mr. Gore's major fund-raisers in 2000, who is hosting a reception this weekend for Mr. Warner in Nashville. "I think a lot of folks are just going to stand on the sidelines to see who strikes the hearts of the Democrats, and if nobody does that, it just makes the case stronger for Al Gore."
These quiet, influential members of Al Gore sleeper cells are only going to become more recognizable in the coming months in places like New York and Los Angeles, the gold-paved El Dorados for Presidential hopefuls. They'll be the ones who listen to carefully crafted pitches from the other prospective 2008 candidates, go to endless meet-and-greets and maybe even help raise a little money—but who won't even hint at a commitment until they know for certain what the former Vice President intends to do.
"Al Gore has emerged as an important figure on the national and the world stage after being Vice President because of the courage of his convictions and the power of his message," said Robert Zimmerman, who was the New York State managing chair for Gore 2000 and who has dined privately with many of the prospective 2008 contenders this year. He is, so far, neutral.
On the evening of Friday, Sept. 15, Mr. Gore and his wife, Tipper, attended a dinner at the Park Avenue apartment of the prominent Democratic donor Hassan Nemazee. The purpose of the dinner was to raise money for Democrats running for the U.S. Senate. Senate candidate Harold Ford Jr. of Tennessee was ostensibly the star beneficiary, but the roughly 20 guests dining on Chinese shrimp and noodles seemed most interested in Mr. Gore's intentions toward 2008.
The former Vice President responded to questions about whether he was going to run by saying that he had no interest in another candidacy, and he even dismissed the arduous process as so much "tomfoolery," according to Mr. Nemazee. Mr. Gore seemed absolutely content, Mr. Nemazee said, with his work as the herald of the global-warming crusade, with his lucrative job as an advisor to the search engine Google and his burgeoning television company, Current TV, which just merged with Yahoo.
For his part, Mr. Gore has been perfectly consistent on that point. His most prolific fund-raisers, from New York to New Jersey, from Tennessee to Massachusetts, all swear that he has not asked them to raise money for him or withhold contributions from other candidates. According to those loyalists, he still hasn't told them anything.
"If you are doing what a traditional candidate needs to do," said Mr. Nemazee, "which is pulling together a group of people who are your actual campaign staff or your shadow campaign staff, or putting together a finance network or a shadow finance network, you are beginning that process, being very active—and he has done none of the above."
Only one other candidate, Hillary Clinton, has assumed such a nonchalant approach to campaigning as Mr. Gore. With her tens of millions of dollars in the bank and superstar status in the party, she is a similarly special case.
Nearly all the other aspiring candidates—think of John Kerry, John Edwards, Joe Biden, Mark Warner, Tom Vilsack, Evan Bayh, Wesley Clark, Bill Richardson, Russ Feingold and Christopher Dodd—have been scrambling to solicit donors on the coasts and spending time getting to know the locals in New Hampshire, Iowa and the other early primary states. For them, it's necessary spadework if their candidacies are to be taken seriously by donors and party insiders. And they'll be under growing pressure following the November elections to announce their intentions formally.
Yet clearly, those rules don't apply to Mr. Gore. For one thing, he has a network of operatives ready to jump into action for him—whenever he makes up his mind to get into the race.
"If he decides to run, many people like myself will come out of retirement and help him," said Donna Brazile, Mr. Gore's campaign manager in 2000. "He would be an instant front-runner, could raise the money, has the name ID, could put together the organization; he doesn't have to start traveling the country till mid-year 2007."
Chris Deri, who was Mr. Gore's regional finance chair in the Northeast, said he would jump on board a Gore candidacy with "two feet first."
"He is the most capable out there in the party to get nominated and win the general election," said Mr. Deri, adding: "He has quite a unique opportunity to do it differently than the others."
And of course, in addition to his high-rolling donors, Mr. Gore will almost certainly be able to rely upon those same liberal online activists who showed their financial strength in 2004 by raising tens of millions of dollars for Howard Dean.
"What he believes is perfectly appropriate to the historical moment that we are in," said Eli Pariser, executive director of MoveOn.org, the liberal online organization that claims 3.2 million members. "He is, for our members, one of the greatest leaders around."
So supposing hypothetically that he is somewhat more interested in running than he's letting on, all that would remain for Mr. Gore, for now, would be to keep himself in the public eye.
On Monday, Sept. 18, he came to the New York University School of Law to deliver a major policy address calling for an immediate freeze on carbon-dioxide emissions and a shift from a payroll to pollution taxes. After rousing some of the party's most prominent donors out of their seats at the Sheraton with an impassioned plea "to wake up to the reality of our circumstances and see the truth of the situation that we are in," Mr. Gore appeared on Good Morning America with Richard Branson, whom he had helped convince to pledge roughly $3 billion to save the environment.
Later that night, he showed up in a black shirt and blazer at an arts space in Chelsea, where he was swarmed by young fans as he danced to Naughty by Nature ("Hip Hop Hooray") at the launch party of Good magazine, at which his son is associate publisher.
Because of this activity—or maybe despite it—political strategists and key backers of other Democratic candidates seem hesitant to take Mr. Gore at his word about not running in 2008.
"I think he is sitting on the side and watching," said Alan Patricof, an investor and key fund-raiser for Hillary Clinton. Mr. Patricof had just exited a packed "special session" at the Sheraton on Friday morning moderated by none other than Mrs. Clinton. He said he'd been there the day before for Mr. Gore's speech and that he had applauded.
"I would say, from all his visibility, every indication is that he certainly hasn't disappeared from the public scene," he said.
The only question about any Gore candidacy, then, is this: How long is too long to wait?
"I think the point and the immediate question is, how much of the old network he enjoyed has either gotten out of politics or committed to another candidate?" said Warren Gooch, a Tennessee lawyer who bundled more than $100,000 for Mr. Gore in 2000. "Obviously, in a national campaign, the later that you wait, the more difficult it is to raise the money. But if the premise is correct that he can wait later than most people to do that, you've got to think he can raise enough money to be competitive."
And what would Mr. Gooch do in the event of a late-breaking Gore candidacy?
"If Al Gore runs for President," he said, "I'm going to support Al Gore."
—additional reporting by Michael Calderone