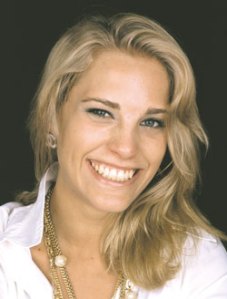 On a recent Sunday night, Charlotte Bocly, who is a 19-year-old sophomore at Marymount Manhattan College and lives on Park Avenue, swept into the bar at the Carlyle Hotel. Petite and winsome, with thick, long blond hair and pale blue eyes, she was wearing a brown Tory Burch jacket over a navy Valentino dress, accessorized by a vintage Gucci belt, a Bulgari necklace, a Patek Philippe man's watch and a Fendi bag. She laughed, ordered a chamomile tea, and said that Matt Dillon had just tried to pick her up.
She was walking down Park Avenue, she said, and a man stopped right in front of her. She tried to maneuver around him, then looked up and saw that it was Mr. Dillon.
"I was like, 'Oh my God, hello, how are you?'" she said. "He shakes my hand and doesn't let go of it. And I was like, 'Um, O.K., can I help you?' He's like, 'I really like your style, blah blah blah blah blah, and can I get your number?' He said he liked my bag. And I was like, 'I like your Army hat.' He said, 'I'll call you some time.' And I was like, 'You know, I'm not the one to give out my number, I always take numbers. How about I take your number?' And he was like, 'Oh, no, no, no.' And I said, 'Why not?' I was trying to play my cards right. I said, 'I've seen you before, met you before, at Butter, and you seemed a lot shorter then.'"
She paused, then said: "If he calls."
Things like that happen to Charlotte Bocly. The night before, a modeling agent from the West Coast called her cell phone, saying he'd seen a photo of her at a party in the Hamptons posted on photographer Patrick McMullan's Web site and wanted to use her for a photo shoot. The agent proceeded to read her a poem. "I couldn't hear anything," she said. "I'm on the street, there were like taxis, like constant horns and ambulances, and he read me this poem. And I said, 'Life.' And he's like, 'I like that. Do you have any, like, preferences on meals on the airplane?' I was like, 'No, I don't have time to fly to the West Coast.'
"I probably won't do it," she continued, "but it's fun. And then I told my mother and she was like, 'How did he get your number?' So that sort of weirds me out."
"I'm not like a big modeling type," she said. "If I were to have like a face—you know, be more public—I wouldn't want to do it through modeling at first. That's something you do after, for fun. It's a matter of principle, I think."
She sipped her tea—no hard stuff. This past July, her partying had gotten out of hand and Charlotte checked herself into the Silver Hill rehab clinic in New Canaan, Conn.
"I've never really liked alcohol in general until I started drinking, you know, and then, you know, smoking a joint," she said. "You find a level and you like it and, like a lot of kids growing up in New York City, you find it appealing, because it's so easy to do it."
The summer of 2006 had started out quietly enough. At her family's house in Bridgehampton, Charlotte floated around in the pool, played tennis in a bikini, had lunch with her friends at the Maidstone Club (she's not a member, but "I literally have gone there more than some members.") Then, one evening, she had some friends over … then more friends. Then it was off to a nightclub.
"It was just a crazy, crazy time," she said. "Somehow, everyone ended up at my house, and everyone's in my pool, everyone's naked, Paul is naked—this is at 5 in the morning, by the way—then Alexandra drove up. Out of nowhere, there are like 20 cars. Alexandra disappeared with a house guest, and I disappeared with this boy I thought was cute—it's been a year, it's not my style—a good-looking boy who I found out was in high school the next morning, but looked much older. And then Emily goes off with Paul—Paul!—and I'm in my underwear and a bra and I'm chasing after this guy, and I'm on the lawn—this is a little scandalous. My father comes out in his underwear—you don't wake up my dad—and he was yelling in French and everyone was out of there. The world was shaking. Then I passed out in bed. That was a great night, for the Hamptons."
Charlotte has one sibling, a sister, Laura, who is 21 and lives in a Paris apartment with a small dog. "She's doing her thing there," said Charlotte. "By 'her thing,' I mean shopping—not doing anything." Charlotte drives a Jeep Wrangler. "That basically describes me—and the fact that my sister drives a Range Rover describes her," she said. "Because we chose which car."
Besides apartments in New York and Paris, and the house in Bridgehampton, her parents have a chalet in Gstaad, Switzerland, where Charlotte says she's a "member for life" at the super-exclusive Eagle Club (three-year waiting list to rub parkas with the likes of Roger Moore.)
She thought about ordering a glass of wine, which she said would be her first drink in two months. She decided against it. More tea.
After the naked pool party, the wild nights kept accumulating. "You could tell she was having a lot of fun for a while, and then—probably at the five-month mark—you could tell she was not having fun," said a friend. "She looked unhealthy, too skinny, wasn't eating at all, and looked a lot older."
"I was like, 'I'm done with it,'" Charlotte said. "You know, like drama, drama, drama, drama, drama, drama, drama. I needed time away."
So she checked into Silver Hill.
"I think I had Billy Joel's room," she said. "I had a great time. I met great people. I went there to have the experience. I needed to change, and that just seemed like the biggest extreme way to do it, regardless of whether I needed to do it or not. I was actually just supposed to go for one week, and I loved it. I was like, 'Mom I want to stay longer.' Oh, I loved it! It was like a spa, there was a pool.
"I met this great girl who just cracked me up," she continued. "She had anger issues in a funny, funny way. We're both taking a nap in the TV room, and you're not allowed to bring your blankets and pillows there. We didn't care, so we did it. And there was one nurse who was just atrocious, and she has these buck teeth, and she's like, 'Maggie, you can't have your sleepwear and pillows down here.' And Maggie turns around and goes, 'Shut the fuck up before I punch your glasses!' I was on the floor laughing. And I keep in contact with her. She's 21. And I met someone from Eton—I have a lot of friends in England. It's crazy—I thought I was going to be there with perfect strangers. I met someone from the Hamptons."
In the living room of the Boclys' Park Avenue apartment are 20 red, leather-bound albums dated from 1987 to the present, documenting Charlotte's life. While her bedroom boasts a closet stuffed with designer clothes, the rest of it—tiny desk, bed and chair—speaks to a girlish youth.
Charlotte's father, Daniel Bocly, a stockbroker and race-car enthusiast, is the son of Raoul Lévy, a film producer who boosted the careers of Roger Vadim and Brigitte Bardot and directed Montgomery Clift's last movie, The Defector, in 1966. That following New Year's Eve, bankrupt and miserable at 44, Lévy committed suicide. His gravesite is by the water in Saint-Tropez, where he shot himself.
Charlotte's mother, Marisol de la Begassière had a "pseudo-European" upbringing, according to Charlotte. In 1981, she appeared on the cover of Town & Country magazine for an article about the "beguiling" Blaffer women.
One of the most beguiling Blaffer women is Charlotte's maternal grandmother, Joyce Blaffer Von Bothmer. The youngest daughter of Robert E. Lee Blaffer, who co-founded Humble Oil (which later merged into Exxon), she married a French marquis whose close relative, Ferdinand de Lesseps, was the driving force behind building the Suez Canal. After the marquis died, she married Dietrich Von Bothmer, an archaeologist and former chairman of Greek and Roman art at the Metropolitan Museum. Ms. Von Bothmer has given the Met over $5 million and enough Greek and Roman art to fill two galleries. Last spring, as she was leaving a Chanel exhibit at the museum, security guards accused Ms. Von Bothmer of swiping the Chanel suit she was wearing. She let the guards know that Coco Chanel herself had personally made it for her, then gave them some idea about how much inside the museum was hers, too.
Now 80, she lives at 1040 Fifth Avenue, where she became good friends with neighbor Jacqueline Kennedy Onassis. She spends most of her time on Centre Island, Long Island. On weekends, Charlotte rides around the 12-acre estate in a golf cart.
CHARLOTTE WAS BORN IN MANHATTAN. She was sent home one day from the Madison Presbyterian nursery school for biting boys. When in Paris, her family stayed at the Hotel Powers, where Charlotte and her sister would throw cheese out the window. "Oh, I didn't like French cheese, so we'd open them up a little bit and throw them on cars and it splattered," she said. "It's great."
In New York, a chauffeur drove Charlotte to nursery school. "I hated him," Charlotte's mother, Marisol, recalled. "Now we have a young one; he's so good-looking. But this old one, Andy, I hated him, because I would say, 'Andy, could you please turn down the radio?' And he'd say, 'What radio?' He was deaf and a danger—how we're still alive, I don't know! But he loved Charlotte. And one day she leaned over to me and said, 'Mama, I have a problem—I talk in my head.' And I said, 'What do you mean Charlotte?' She said, 'I talk in my head. Can you hear it?' It was a little child realizing she was thinking. And I said, 'Well, no, Charlotte, you know, it's in your mind—that's how you know you're intelligent, because you talk in your head.' And she said, 'Mama, I'm talking in my head!' She thought there was something wrong with her."
Charlotte started kindergarten at the Spence School, where she was friends with Bee Shaffer, Anna Wintour's daughter. In 1995, the Boclys moved to Gstaad. Charlotte attended the Beau Soleil boarding school and got to know classmates who included one of Osama bin Laden's nieces and the daughters of Adnan Khashoggi ("the Khashoggi girls," she calls them). She said she's still close with several friends from that time. "It's great; I have great connections to a nice hotel, a nice this, wherever I travel," she said. "They say you make your true friends when you're younger that you keep forever."
After five years, the Boclys moved back to New York and Charlotte entered the Lycée Français, where she consistently made the honor roll. "I was friends with all the guys; French girls are very bitchy." She said she became known as "one of the kids in uniforms who smoked cigarettes."
"My mother wasn't really around that much, and it was partly my fault—like, I drove her away," she said. "I love my dad. My dad gave me money like it was Kleenex." She added that her father tends to be very tolerant of her friends, and cooks them breakfast after late nights when they sleep over.
As a young teen, she dated a few inappropriate boys to "spite" her mother and got her tongue pierced four times. "I would never get my tongue pierced again. I thought I was the shit with my tongue pierced." (Since she's been sober, Charlotte said, she and her mother have been spending a lot of time together, going to dinner and Broadway shows.)
Around that time, Charlotte and her older sister were left alone in a hotel in London for a few weeks, before summer camp in Rome. "We got into a lot of trouble because this was the summer of credit cards," said Charlotte. "Designer stuff left and right."
Next stop: Choate Rosemary Hall in Connecticut, where she entered the 10th grade.
"I went from a French school, where I could have a cigarette with my teachers, to having to hide behind a bush to smoke," she said.
She added that she was high on marijuana during the graduation ceremony. She was wearing a somewhat slinky white dress; her grandmother whispered that her outfit was "inappropriate" and wrapped an Hermès scarf around her neck.
After high school, she was never far from a party. She spent the summer of 2005 whooping it up in the Hamptons, then went to the University of Paris for two months. During that time, her parents rented a "beautiful" and "huge" apartment in Paris for her and her sister. "My mom was like, 'Honestly, I don't know why we're giving you this,'" she said.
Charlotte returned to New York by Thanksgiving. "I worked as the coat-check girl at Opia, a trendy place on 57th and Park," she said. "I didn't want to do that. My dad was like, 'You withdrew from college, you have time to kill—Charlotte, you're going to get a job.' I was like, 'Oh my God.' And it was fine—you know, I made like $500 a night. I made French girlfriends that I worked with that were fabulous."
She also enrolled at Marymount College, where she's currently on the dean's list. She hopes to transfer to Sarah Lawrence College in Bronxville.
On Charlotte's upper thigh is a "very chic" tattoo, a white outline of a snake. Recently, she took hip-hop dance lessons in Harlem, "on like 130th Street or something, and I was the only white girl—literally. My dad sat outside for two hours while I danced, and I never went back."
She said she's so lazy, she got all of her schoolbooks on Amazon.com because she didn't want to go to the bookstore two blocks from her apartment. "And I overnighted all of them. Online shopping is so amazing."
She doesn't think she'll have to worry about money, ever.
"I'm definitely aware of it," she said. "I am, you know, spoiled. I am. Most of us are. The thing is, I'm not like a brat. You know, my two maids, Rubé and Maria, are like my best friends. I love Rubé and Maria; they will come in my room and go, 'Charlotta, get up! Get out of bed, put on your shoes!' I'm like, 'Rubé, noooo.' Then I'll go and get her coffee, you know, they're like family." She said she adores her doormen and that, if she returns home with no money after a night of clubbing, the doormen pay the cab driver.
CHARLOTTE'S SELF-ASSURANCE CAN BE disarming. Or charming. Here's some of what she knows a lot about: Charlotte on Gstaad: "Gstaad is New York City without, like—I'm not going to say like the commoners, but you take a certain group of people and you just put them together in a little world, in a bubble, and that's what it is," she said. "I have come to love it. I had a phase where I was like, 'Fuck all these people; it's not real life.' I've come to love it because I can go there, have fun with people I think are ridiculous, just enjoy their company."
Last New Year's Eve, she was sitting at a table in Gstaad with Paris Hilton. "Paris Hilton has her baby voice, like, 'Hiiiiiii, I'm Parissss?' said Charlotte. "Then she has her real voice, and when it comes out, it's like deep and raspy. She's smart, she uses her baby voice to be like, 'I'm sweet and innocent and I want, you know, this and that, and I don't wanna talk about my big feet.'"
Charlotte said Ms. Hilton didn't really get the hang of Gstaad.
"Gstaad is a cozy chalet place, and people like Paris Hilton look really funny being there, because it's like families and everyone knows everyone—literally," she said.
During her visit to Gstaad, Ms. Hilton apparently thought she needed security, and hired a big local guy that Charlotte had known for years. "He used to give us karate lessons when we were like 5," Charlotte said. "Here he is, we're sitting at my table, and he's her bodyguard. It was really funny. He would push me out of the way for her to go to the bathroom like 20 times. Poor karate teacher. Paris was like back and forth, back and forth."
Charlotte on dating: "I have this thing for Eton boys. One summer, I was dating this Eton boy—I've had three in three different countries. They all come to Gstaad in the summer for polo. Polo is so much fun, because all the polo players come, and we all go out together and they're so sleazy, they're so fun, just to go to their hotel rooms with a big group of people and order room service and ice cream and go out. It's great—that's all they're good for. That's as far as it goes!" She's had five serious boyfriends. "And a lot of summer lovers, ha-ha!" she said. "Definitely a lot of them—you know, flings. I'm big on flings. The beauty of a fling is you can have fun, do what you want and there's no bad ending; everyone's always happy. It's like you can be emotional, you can be in love, but there's no hassle, there's no label, there's no pressure, it's all lax. It only ends when something else is over, not the relationship. Like when the vacation's over, the fling will end …. I'm never going to get married. My dad has been married four times; my mother has been married twice. My mother said, 'Charlotte, always marry someone who loves you more, who's a nice guy, because, you know, love doesn't last.'"
Charlotte on New York's beau monde: "It's jet-setting—you go from one little place to the next and it's like a bubble, you live in this bubble," she said. "I can go anywhere in the world and I have one or more friends there, even in a country like Uzbekistan. I'm lucky enough to do the whole New York thing and fly to London for the weekend. I flew there one weekend my senior year. I got off the plane, got to the hotel, didn't take a shower, went out to Tantra nightclub, saw my sister, my friend from boarding school, my boyfriend, all his friends, ran into some other friends—like I was in New York seven hours before. Ate some tandoori chicken—it was so good. We can do that, you know, and like enjoy it, and that's why we're spoiled. I can do that, and I appreciate it. You can't always just stop and be like, 'This is like so great that I have this money'—because you live it. Sometimes you forget."
Charlotte on herself possibly being Brigitte Bardot's granddaughter:
"There is this theory, which is really funny, that I am Brigitte Bardot's granddaughter." She explained that her grandfather, the movie producer Raoul Lévy, slept with women left and right while her grandmother, 10 years older, remained loyal.
"He would go off and like cheat with women, have sex. And she thought of it like, 'I'm the wife, and it's normal.' I have this theory that when you're married, if your husband, 50 years later, needs to go out and like have sex, I think it means nothing if it's not spoken of. You still love him. You know?"
I nodded eagerly. So I could be talking to Brigitte Bardot's granddaughter?
"You could. I'd love that," she said. "She was one of the most gorgeous women on the face of the earth."
People have told her she resembles Ms. Bardot, she said, "and I'm like, 'Oh my God, I love you for saying that.' I've gotten Jessica Simpson, too, and that's not a compliment. I don't look like Jessica Simpson, thank you very much."
A FEW DAYS LATER, WE RECONNECTED at the Metropolitan Museum. That morning she'd woken up at 11 a.m., having decided to sleep the night before in her sister's bedroom, in a French canopy "Versailles-looking" bed, which has been in her family for "years and years and is so comfortable," she said. "Whenever I have someone sleep over and it's a guy, he can't fit in the bed, because it's for like mini-people, back in the day when people were little."
She was wearing a red scarf covered with skulls by Alexander McQueen ("Skulls are definitely in"), a white designer T-shirt by Francesco ("I got it for free, so I'm representing for him"), white vintage jeans and red vintage shoes from Screaming Mimi's, her favorite store.
We entered the museum and walked around the corner to the Von Bothmer Gallery, full of artifacts her grandmother has given the museum. "This is all Greek art of the fifth century," she said. She gestured toward a priceless plate and joked, "I had dinner off of that the other day."
Her heels clack-clacked over to the main stairs, where she stopped at a list of names of benefactors.
"This is my mother," she said, pointing. "This is my aunt. This is also my aunt. Palm Beach. Egypt. New York."
Clack, clack up the stairs.
"My great-uncle has a gallery here."
She wasn't sure where it was. She asked a guard for directions to the Gelman gallery, then asked a lady at the information booth, but we couldn't find it. Then, by accident, we stumbled on it: the Jacques and Natasha Gelman gallery, three rooms packed with 20th-century works by Matisse, Chagall, Braque, Derain, Mondrian, Klee, Bacon.
"I wish I could come here and go shopping," she said, laughing. "I can look, but I can't have it and, you know, decorate my room. This would make a nice ashtray."
We decided to have lunch at Le Bilboquet, the East 63rd Street restaurant with no name out front. Charlotte noted that Matt Dillon still hadn't called.