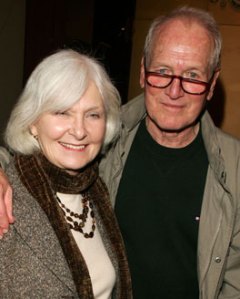 Paul Newman, Joanne Woodward, Jerry Stiller and Anne Meara, Sidney Poitier, Lauren Bacall, Jonathan Demme, Matthew Broderick—none was in attendance last Thursday evening when I visited, "invitation only," the Dressing Room: A Homegrown Restaurant, the new venture in Westport, Conn., owned by the Newmans and their executive chef, Michel Nischan.
In advance of the formal opening on Oct. 6, they were hosting "guinea-pig" dinners for friends and colleagues, which, I envisaged, would comprise a stellar cast of marquee names.
This promised to be a big outing for me and my wife, Amy, considering we were new parents who had been living under self-imposed house arrest for more than a year.
"Come on," I urged. "Let's get out of the house for once—besides, it'll be a real scene."
As we drove up to the restaurant, Amy primped in the visor mirror while I patted the front of my blazer to make certain that nothing unsightly was clinging to it.
The restaurant occupies an airy barn with a timbered arched ceiling, rough-hewn walls, shiny pine-board floors and flattering soft lighting. As we approached the greeter's station, I noticed that the cozy front room, flanked by a small bar and glowing stone hearth, was bereft of celebrities. Indeed, it was nearly empty save for a middle-aged couple in full country raiment—blue jeans, flannel and Timberlands; green cotton blouse and khaki slacks—and a younger duo who, similarly, seemed to have stepped out of the Lands' End catalog.
"It's early," I whispered to Amy. "You don't expect Lauren Bacall to dine at 6:45."
The Dressing Room is not just another movie-star restaurant. As with all of the Newmans' enterprises, it serves up ample portions of diversion and social consciousness in equal measure. Accordingly, there is the new Thursday farmers' market, backed by the restaurant to support local organic growers and other food purveyors; the "line-caught" fish on the menu (no destructive bottom-draggers or wasteful giant nets); the antibiotic-free local beef. What is more, a portion of the restaurant's profits will be funneled toward the venerable 75-year-old Westport playhouse that has been so much a part of the Newmans' lives since they moved there in the 1960's.
"Please let us know what you think of the food," our waitress asked as she handed us the menus. The menu du jour presented dishes like Connecticut oyster stew, Maine crab cocktail with sweet corn sauce, fried calamari with cheese grits, pot roast, Berkshire pig with parsnip-horseradish purée, spit-roasted chicken, the Paul Newman hamburger, and chocolate bread pudding with orange creamsicle ice cream.
I opted for a cured duck salad with duck confit, which was delicious, nicely set off by sweet, crunchy wheat berries. Amy had the seared scallops (fetched with scuba and flippers, of course) accompanied by crispy pork belly, celery root, chanterelles and fava-bean purée.
In mid-bite, we were visited by Chef Nischan. A longtime leader in the organic-foods movement, he was opening chef at Heartbeat, the ticker-friendly dining room in Manhattan, and is the author of two cookbooks, the latest of which comes out this month: Homegrown Pure and Simple: Great Healthy Food from Garden to Table. Not averse to commuting, Mr. Nischan recently opened Pure, an organic and sustainable-focused restaurant at the Taj Lands End luxury hotel in Mumbai, India. (For the $3 million Dressing Room, Nischan and Newman kicked in 50-50.)
"Is Paul a hands-on guy when it comes to the new restaurant?" I asked.
"Oh, yeah," he replied. "They're both in here four days a week, and he's always making comments—you need more vegetable and starch on the plate, the hamburger is not crispy enough, that kind of thing."
Mr. Newman is famously fanatical about hamburgers. The restaurant makes its own buns, and he recently treated one of the chefs to a learned exegesis on this critical métier: The bun should be soft but not squishy, yet not so firm that the fixings start oozing out when you bite into the burger.
"He could talk about that stuff for hours—it's not crispy enough, that kind of stuff," Mr. Nischan added.
"Do staff members ever get ruffled when he's around?" I asked.
"Yeah, sometimes," he said. "Not long ago, one of the girls got so nervous that he went over and put his arm around her and said, 'You know, if you pinch me I say ouch!'"
Chef Nischan has a crack tag-team working with him in the kitchen: Franz Fruhmann, who cooked most recently at Blue Hill at Stone Barns, in Westchester, and Bill Yosses, the former pastry chef at Bouley Bakery and the executive chef at the defunct Josephs, both in Manhattan.
Mr. Yosses recalled the day that Mr. Newman came in to taste-test the desserts. "It was the first time I was making a chocolate dessert soup. He tasted it and said, 'It looks like a turd on the plate, but it's delicious.'"
By 8:30 p.m., the dining room was full—of people I didn't recognize. Maybe there were a few character actors or walk-ons from Law & Order—I don't know.
One thing was sure: If Sidney Poitier happened to drop in, he would recognize me. Our warm relationship goes back to 1998. It came about because of my involvement with the Newmans' Hole in the Wall Gang Camp, in Connecticut, a summer retreat for children with cancer (my Cajun band played at fund-raisers there). One winter evening, I was invited to a dinner party at the Newmans' Fifth Avenue apartment, at which there were real celebrities, among them the imposing and dignified Mr. Poitier.
After a few drinks, I assumed a spot on a couch next to Mr. Poitier, who, I might add, was so well preserved he could, with a dab of hair coloring, reprise his role as a high-school teacher in To Sir, With Love. The narcoleptic effect of booze and warm air and chamber music was more than I could sustain. My guess is that it was 15 to 20 minutes before I awakened, somewhat uncomfortably, on the wide, cashmere-clad shoulder of Mr. Poitier. When I achieved verticality, he half turned toward me and grinned—not a so-great-to-meet-you-grin, but something more enigmatic.
As Amy and I took our leave from the restaurant, I ducked into the kitchen on the outside chance that Butch Cassidy would be squeezing burger buns. No luck. I asked the chefs to line up for a photo. The Dressing Room is bound to receive more press than a Brooks Brothers button-down, so reservations will be hard to come by for some months—especially during theater season, when, no doubt, it will be chock-a-block with movie stars.