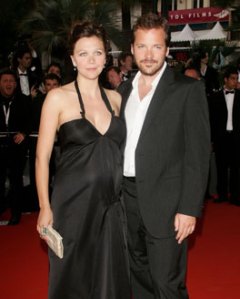 In a world where young actors establish their highbrow bona fides by working with New York directors and live on New York stages, one young, expectant couple has the boldness to make its home an F-train ride away from the footlights and photographers.
Following in the footsteps of the young Heath Ledger and Michelle Williams into a Park Slope brownstone near you, actors Maggie Gyllenhaal and fiancé Peter Sarsgaard have just signed a contract for a vintage 3,600-square-foot brownstone in north Park Slope.
The four-story house, which was selling for $1.75 million, had been an owner's triplex with a top-floor rental apartment. But the Gyllenhaal-Sarsgaard family will not be a landlord: According to the Corcoran listing, the brownstone will be delivered vacant.
Ms. Gyllenhaal confirmed the deal through a spokesperson, but Mr. Sarsgaard was filming and could not be reached.
Corcoran's Beth Kenkel and Nick Ferrone were the listing brokers, but they declined to comment. Their listing—before it was yanked from the Corcoran Web site—described old-school brownstone details like original doors and moldings and a recently restored façade, plus "a grand parlor with floor-to-ceiling windows." (Thankfully, those floors are pine.)
Then there are the fireplaces, seven of them, with marble mantles.
Besides those niceties, what attracts starlets and their star husbands to this outer borough? In a letter protesting the Atlantic Yards development, Ms. Williams wrote: "My husband Heath and I moved to Brooklyn for light and space and air.
"If Mr. Ratner lived here," continued Ms. Williams, "he would understand what we love about it and why we want to preserve our open skies." (She means developer Bruce Ratner.)
Ms. Gyllenhaal and Mr. Sarsgaard can soak up their light and air in a leafy rear garden. What kinds of plants are there? Charming ones, well-established ones, delightful ones, according to that Corcoran listing.
A contract has been signed for the old four-floor place, but the deal hasn't closed yet. So according to city records, Doris Clark is still the owner—though last month she bought an apartment nearby. Ms. Clark retired last year as the executive director of Brooklyn Community Housing and Services, a group that helps the homeless.
Styles of Radical William
The late Susan Sontag's Chelsea penthouse is in contract to sell to the exuberant interior designer William Diamond.
The five-and-a-half-room apartment in the London Terrace complex was listed for $3.75 million when it sold.
Who is Mr. Diamond? According to a new book about his firm, Diamond Baratta Design, the designer is known for "couture living spaces, genius color interpretation, fearless playfulness, and witty juxtapositions."
"He has high-profile clients—doesn't need to advertise," said Prudential Douglas Elliman's Bruce Wayne Solomon, who identified the buyer to The Observer.
Mr. Solomon is himself a 10-year resident of the building, and a top broker there: Last June he sold Annie Leibovitz's two Terrace penthouses, reportedly for $5 million.
Will the designer's knack for colorful couture thrive in Ms. Sontag's old apartment?
"It was more on the minimalist side," said Victoria Steele, the chief of UCLA's Department of Special Collections. Dr. Steele visited with Ms. Sontag at the apartment before UCLA's 2002 purchase of the writer's library.
"It was filled with books—you felt it was filled with ideas," Dr. Steele said. "Something that might have been a dining room at one stage was filled with books. And a large living room was filled with books. There were books everywhere!"
She said they totaled 15,000, plus 5,000 in storage.
"The condition of the apartment? Horrible," a less sentimental Mr. Solomon said. "It probably needs a complete renovation."
How might Mr. Diamond redecorate?
"Bees, horses, lighthouses, roses, flags, sailboats, dogs, plaids, sunflowers, houndstooth, marble, wire, wicker, tweed, tartan, braids, toile, patchwork, stripes, checks, needlepoint, modern, traditional, contemporary, antique, vintage, iconic"—these are a few of Mr. Diamond's favorite things, according to that new Diamond Baratta Design book.
Mr. Solomon's Elliman colleague David Glick represented the buyer, but neither he nor Mr. Diamond would comment. Brown Harris Stevens' Sallie Stern, the listing broker, did not return calls to her office.
Mr. Diamond's future penthouse has a 1,350-square-foot wrap terrace, though pesky balustrades interrupt the panorama from indoors.
"You have to go up to the windows to take in the view," said Mr. Solomon. "Otherwise if you're sitting down you're land-locked, if you will."
Dr. Steele didn't remember the balustrades. "The place had a great spirit," she said, "and a lovely view."
Painter of Modern Lofts
Chic British painter Cecily Brown has bought a 4,100-square-foot loft on Union Square for $3.3 million.
The full-floor apartment will be turned into a sprawling studio and two-room apartment.
"It really works beautifully for an artist, because it has wonderful light," said Prudential Douglas Elliman's Valerie Delson, who represented the seller. How wonderful? "In the front, there must be nine-foot-tall windows that go across the entire southern wall."
There are windows facing north, too, then a whole lot of space in between. "It's very open, and that's the appeal," the broker said. "She walked in, and that was it for her."
The less-artsy seller was businessman Michael Daniec, who used the loft as an office.
British-based architect Jonathan Caplan, son of über-collector Connie Caplan, will redesign the loft on East 16th Street into a workspace and modest pied-à-terre. "I was a designer for a house that my mother just built in Baltimore, and Cecily had come to the opening," he said. "She liked the material, I guess, and she asked me to get involved."
But besides the exposed-brick walls, there won't be too much adornment in the loft.
"The place is very big and raw right now," Mr. Caplan said. "It's going to be very simple, elegant, functional—very clean, rational. Studio spaces are a pretty straightforward program. You don't want to be in the way of their work."
Ms. Brown's paintings, voluptuous and very fleshy, will be on display next month in a solo exhibit at the Boston Museum of Fine Arts. And earlier this year she showed at Gagosian Gallery in London.
Appropriately three-quarters of the 4,100-square-foot loft will go to the studio.
"Because that's the focus of her life," said Jan Hashey, who represented Ms. Brown and is an artist herself.
How will Ms. Brown's home be divided from her workspace?
"Good old walls," Mr. Caplan said.
Ms. Brown is not the first young British artist to retain the services of the droll Mr. Caplan: In 2000 he built a house for husband-and-wife artists Gary Hume and Georgia Hopton.
Despite its size, the loft on 16th Street had been on the market for nine months.
"There was a lot of interest, but I think because of all the new developments being offered now, a lot of people don't want to do a great lot of work," sighed Ms. Delson. "But nobody ever said: 'Oh, this isn't a great loft.'"
Might anyone have said it wasn't in a great neighborhood?
"It's a vegetable lover's paradise, being next to the Union Square market," said Ms. Hashey. "Cecily has never touched fish or fowl."
Had the artful vegetarian kept a place in New York before? "The meat market, formerly," giggled Ms. Hashey. "Isn't that divine?"