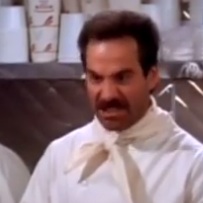 No chewing gum or flash photography for you!
Despite plans to open 5,000 Original Soup Man stores worldwide, celebrity stew monger Al Yeganeh–perhaps best known for inspiring the queue-rule-obsessed "Soup Nazi" character on TV's Seinfeld–apparently won't be reopening his first store on West 55th Street between 7th and 8th Avenues.
At least not in its original frothy form.
Franchise spokesman John Rarrick tells the NY Post:
"…one of the options is to turn it into a soup museum….It would be sort of an historical shrine to Al's career as a soup man."
Just what we needed. A New York food attraction with long lines.
– Chris Shott