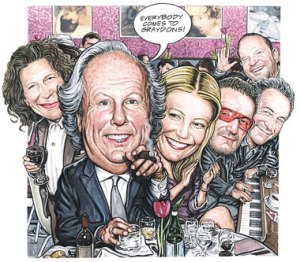 It's three weeks until Election Day and Charlie Rangel is already acting like he's in charge.
With the Democrats poised to take over the House in November—putting the 76-year-old dean of the New York Congressional delegation on the verge of landing the most potent and coveted job of his career—Mr. Rangel's recent public appearances have taken on the look and feel of a victory tour.
"When I become chairman of the Ways and Means Committee," he said Thursday night in front of the Hudson River School paintings at the New-York Historical Society, "we will have power over the entire tax system, Social Security system, pension system, Medicare and all international trade."
For some Republicans—most notably President George W. Bush—the thought of that broad mandate falling into the bejeweled hands of Mr. Rangel is a nightmare. The Republicans have been sharing their dark vision with anyone who will listen, using the prospect of a Rangel chairmanship to scare up support for their own candidates. ("It is a bad thing," said Republican National Committee spokesman Aaron McLear. "Taxes across the board will be raised.")
In his gravelly, undulating voice, Mr. Rangel dismisses it all as so much partisan nonsense.
"Republicans have to say these things," he said. "If I was down in the polls like they are, I'd knock Charlie Rangel too."
Mr. Rangel, clad in a gold tie clip, opal rings and a colorful handkerchief, intends to bring more than a change in style to the chairmanship. Experts in tax policy predict that if the Democrats win, Mr. Rangel will radically change the way the federal government levies America's wealth.
"He has been waiting a very long time for this," said Thomas E. Mann, a senior fellow in governance studies at the Brookings Institution. "I'd expect him to have a very active agenda."
On Thursday evening, Mr. Rangel crossed his 15th District in the passenger seat of a silver Cadillac with Congressional plates. In between formal receptions in midtown and kisses from well-wishers on the Harlem streets, Mr. Rangel talked about his priorities.
"The things I would like to work on would be Social Security and tax reform. However, the things that I can work with [Republicans] on will be the low hanging fruit," he said on the steps outside the Jazz Museum in Harlem, where he had just delivered some remarks about "music and the African beat." "Listen, I can't have a secret agenda—I'm 76. I have two years to show that the committee can function."
Still, Mr. Rangel—whose power derives from his role as the gatekeeper to most of the government's tax legislation—is relishing the chance to abolish some of Mr. Bush's key tax legislation and initiatives.
As Ross Eisenbrey, vice president and policy director of the left-leaning Economic Policy Institute, put it: "If Charlie Rangel doesn't want it to happen, it won't happen."
Given that any Democratic majority is likely to be a minuscule one, Mr. Rangel is making an effort to seem as unthreateningly bipartisan as possible. He talks about a retreat he would organize in January or February with Republican Representatives, administration officials and "no spouses"—for good-natured fiscal-policy talks.
"He works well across the aisle," said David Epstein, a political-science professor at Columbia University. "Some people have tried to demonize him and called him a polarizing figure, but you don't get to be chair unless you know how to cut deals."
Based on a series of monthly conversations he's had with Mr. Rangel, Mr. Epstein believes that the Congressman will increase tax incentives for the city's bilingual education, health-care programs and empowerment zones—a designation that includes significant portions of Mr. Rangel's district in Upper Manhattan.
Mr. Rangel is the sort of urban liberal, in other words, who is ripe for demonization by the G.O.P. The R.N.C.'s blog announced this month that "You've Been Warned: Rangel Promises To Raise Your Taxes If Dems Take Control," and Vice President Dick Cheney, who has accused Mr. Rangel of senility ("Charlie is losing it"), this week included him in a list of "Dean Democrats."
It's true that in the past, Mr. Rangel hasn't been a model of bipartisan comity, and he has been given to statements like the one he made recently on NY1 News, suggesting, as a casual observation, that the Vice President is clinically insane. Now, Mr. Rangel is assuming a reassuringly friendly posture—along with just the tiniest hint of menace.
"I don't really want to get out there and have Bush beating me up," said Mr. Rangel, doing his best to seem exasperated. "I would hope that we would be able to say to the President, 'Look, if you want to get something done, decide how much you want to compromise—let's not get out here and fight, because I'm good at that.'"
But putting aside the implicit wink that goes along with such statements—no one does indignation better than Mr. Rangel—his legislative agenda makes the prospect of heated clashes between him and the administration almost inevitable.
One area where he is likely to be active is on the alternative minimum tax, which was originally created to ensure contributions to the federal coffers from wealthy Americans who paid little or no taxes due to many deductions. Mr. Rangel wants to readjust the burden to exempt the middle-class families who have come to be burdened by it, and to cover the cost by closing loopholes for corporations who move their headquarters into foreign tax shelters.
"There is not one damn Republican who is going to say that's fair," said Mr. Rangel, anticipating the fight he's going to wind up having.
He also plans to revivify the enforcement abilities of the I.R.S. to bring in billions of uncollected dollars. He intends to demand the insertion of more labor and environmental protections into America's trade agreements. And he plans to increase the power of the government in negotiating prices for pharmaceutical purchases, and to limit access to the health savings accounts, created by President Bush's 2003 Medicare bill, which were designed to help Americans put money away for health expenses on a tax-free basis.
For small-government conservatives, it truly is the stuff of nightmares.
"At a minimum, the notion of extending the Bush tax cuts is off the table," said Michael Franc, vice president for government relations at the Heritage Foundation, a conservative think tank.
Mr. Franc said he was particularly concerned that Mr. Rangel would bring to a halt the partial privatization of a Social Security system that is about to be put under unprecedented strain by an aging generation of baby boomers. "This chairmanship at this point in our history is more than important—it's pivotal," said Mr. Franc. "He's inheriting this demographic tsunami or hurricane or whatever you want to call it. He's not going to do anything."
Brandon Arnold, the director of government affairs at the Cato Institute, another conservative think tank, believes that inaction is Mr. Rangel's most effective weapon, and that he will use it to see that key legislation sponsored by the administration quietly expires.
"He can affect policy by sitting on his hands," said Mr. Arnold.
For his own part, Mr. Rangel interprets any Republican pressure to extend the tax cuts—such as an abolition of the estate tax—as a clear sign that they have no interest in working with him.
"Forget about it," he said while waiting for his car to pick him up outside the jazz museum on 126th Street. "I mean, if I have to kick it up a little—you know? But don't tell me that we gotta repeal it. Get out of here! Don't talk about private accounts—let's just go to the table."
From the front seat of the car, where he checked his leather-bound schedule, Mr. Rangel argued that he would need Republican votes to get any legislation through. He struck a similarly modest tone about his chances of finally claiming the chairmanship.
"This is not the first time I got worked up about this damn thing," he said as the car sped down the West Side Highway. (He went so far as to vow earlier this year to leave the House once and for all if the Democrats failed to regain the majority.)
The car pulled up to a high-rise on West 42nd Street for an event honoring a tenants'-rights advocate. He adjusted his tie in an elevator shooting up to the penthouse on the 33rd floor, stepped out to shake hands, took in the northern views and then plunged headlong into a speech on his new favorite topic.
"People say to me, 'Charlie, if you become chairman of the Ways and Means,'" he said, pausing for the applause, "'do we have to call you Mr. Chairman?' And I humbly say, 'If I become the chairman of Ways and Means Committee, I don't want to be treated any differently than any other world leader.'"