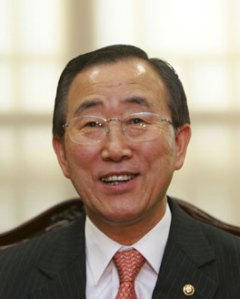 The man who is set to become the new leader of the United Nations has a startlingly triangular head.
It's the only startling thing about Ban Ki Moon, a man whose lack of charisma is absolute.
Even the news that the South Korean foreign minister had effectively sealed his victory in the race to succeed Kofi Annan as the U.N. Secretary General was delivered with a shrug of the shoulders.
China's U.N. ambassador, Wang Guangya, announced the result of Monday afternoon's Security Council straw poll to the waiting media at the organization's Turtle Bay headquarters.
"It is quite clear from today's straw poll," Mr. Wang began, "that Minister Ban Ki Moon is the candidate that the Security Council"—here came the shrug—"will recommend to the General Assembly."
It is now all but certain that this most unremarkable official, who was the Bush administration's preferred choice for the post, will be heading up an organization with an annual budget of more than $5 billion. He will become the face of international conflict resolution for the next decade.
(If Mr. Ban serves two terms—of the seven full-fledged Secretaries General to date, only Boutros Boutros-Ghali was denied the opportunity—he will not leave office until the end of 2016.)
Some of the most forceful criticism of Mr. Ban, whose career in his nation's foreign ministry began 36 years ago, may be unfair. But it is undeniable that an election that was billed as a chance to show the new, dynamic face of the United Nations has ended up following a familiar pattern.
While some other contenders in the field of seven embraced the notion of a more open electoral process, giving numerous speeches, feverishly penning op-ed articles and otherwise making a public case for their candidacies, Mr. Ban was virtually invisible to the public.
He eschewed all but the most scripted appearances and routinely declined interviews. (Repeated attempts by The Observer to contact him in the week before the final straw poll were unsuccessful.)
Mr. Ban did, however, quietly make the rounds of the member states of the Security Council. He also received the energetic support of his government—backing which itself attracted controversy and unfavorable comment late in the race.
Last week, both The Washington Post and The Times of London reported that Seoul had offered aid and other incentives to nations whose votes would be important to Mr. Ban's bid.
They drew particular attention to Mr. Ban's pledge of millions of dollars in aid for Tanzania during a trip in May; another recent trip by him to the Republic of the Congo (the first by a senior South Korean official since the African state gained independence in 1960); and a trade mission to Greece headed by Mr. Ban and his nation's president last month, which culminated in the signing of agreements on trade, tourism and transport. Tanzania, Congo and Greece are all on the 15-member Security Council.
Mr. Ban and his government have vigorously insisted that their behavior was ethically sound. But the stories have been met with dismay—though not surprise—by U.N. skeptics.
"The wheeling and dealing for position at the U.N. is a very unfortunate way of life for the institution," said the Hudson Institute's Anne Bayefsky, who is also editor of the eyeontheun.org Web site.
Mr. Ban's victory is not yet official, but it is virtually sealed. A Security Council meeting is scheduled for next Monday. Barring a colossal shock, that meeting will recommend the South Korean as the next Secretary General. The U.N. General Assembly will then vote on whether to accept the recommendation. The Assembly has never rejected a Security Council–approved candidate before, and there have been no hints that it intends to start now.
Ultimately, the mild-mannered Mr. Ban's greatest asset has been his status as the candidate least likely to offend anyone important.
Still, some of Mr. Ban's fellow envoys are dissatisfied with the outcome. "We were expecting other candidates that never came into the race," one diplomat from a permanent Security Council member state told The Observer wistfully. Speaking on condition of anonymity on the afternoon that the final straw poll was to take place, he added, "We were hoping for candidates from Singapore. Some other places we were expecting never proposed anyone. It is more of that, to be truthful, and less [Mr. Ban's] outstanding personality that has decided it."
Some of Mr. Ban's rivals were undoubtedly more colorful. But all of them had at least one fatal electoral flaw that made it impossible for them to put together a winning bid.
Shashi Tharoor, the official nominee of the Indian government, ran second to Mr. Ban throughout the process. Mr. Tharoor, whose clipped speaking tones, floppy hairstyle and urbane air all suggest a childhood spent in elite English circles—in fact, though born in London, he was educated in India and the United States—has worked for the United Nations since 1978. He is also a novelist.
Mr. Tharoor's long service in the U.N.—especially his close association with Kofi Annan, which dates back to at least 1997—is understood to have given pause to those nations that wanted the new 'S.G.' to be unaffiliated with the outgoing regime.
"An older broom can sweep cleaner, because he knows where to sweep and how to sweep," Mr. Tharoor insisted to The Observer in the week before the final straw poll. However, it was not to be, and he promptly conceded defeat on Monday.
Mr. Tharoor was also disadvantaged by an accident of birth. Secretaries General have traditionally come from nations that are not major international players. Many at Turtle Bay believe that India is too large and too powerful these days to garner the support that would put one of its citizens in the top job.
The relatively late entry of Latvian President Vaira Vike-Freiberga into the race caused a big media stir. The sole European contender, she would have become the first female Secretary General in the world body's history. But all the attention was misplaced, The Observer's Security Council source insisted.
"She was always barred by Russia," he explained. "They made it known from the start that they wouldn't accept her." China was also said to be opposed to her candidacy.
The mini-drama that really roiled U.N. insiders concerned the Thai candidate, Surakiart Sathirathai. In what came to be seen as a strategic error, the influential 10-member bloc of the Association of Southeast Asian Nations (ASEAN) threw its support to the Thai early on. But his performance didn't live up to expectations, and the final nail in his coffin came with the coup in his native country.
To general consternation, rather than withdraw from the race, Mr. Sathirathai traveled to Thailand, then proclaimed that the new government was backing him. His continued candidacy effectively made it impossible for any other candidate from the ASEAN nations to come forward.
"It would be rather hard to go for a new U.N. Secretary General who has been blessed by coup leaders, however bloodless the coup might have been," CUNY Graduate Center professor Thomas Weiss, an expert on the world body, noted dryly.
One of the few people who did express firm enthusiasm for Mr. Ban was U.S. Ambassador John Bolton. Speaking to reporters on Monday, Mr. Bolton pronounced the U.S. "very pleased" with the outcome of the Security Council's straw poll.
Mr. Ban served in South Korea's U.S. embassy during two separate periods, and was also once the director general of American affairs in his nation's foreign ministry.
In the eyes of some observers, however, this convivial relationship with the U.S. constitutes a barrier that Mr. Ban will have to overcome rather than a feather in his cap.
"One of the current Secretary General's real problems is that he is perceived as a lackey of Washington—I think unfairly," Mr. Weiss said. "Ban would really have to bend over backwards not to appear to be on Washington's payroll."
Others are not so sure that the U.S. will find Mr. Ban a reliable ally. Ruth Wedgwood, a professor of international law and diplomacy at Johns Hopkins, suggested that differences of emphasis are apparent between the U.S. and South Korea on vital issues, most obviously how best to deal with the threat posed by North Korea.
Ms. Wedgwood also noted that Mr. Ban has suggested that he would leave much of the day-to-day administration of the world body to a deputy. "He ought not to be an absentee landlord," Ms. Wedgwood warned. "He can't just be the figurehead."
Thomas Kilgannon, the president of the right-wing Freedom Alliance and a fierce critic of the U.N., also cautioned that assertions of Mr. Ban's closeness to the U.S. could prove wide of the mark.
"Kofi Annan was the choice of the U.S. at one point," Mr. Kilgannon said. "Look what he did! He's anti-American; he's presided over scandals—he's a disgrace."
Mr. Kilgannon also claimed that South Korea's campaign on behalf of Mr. Ban "says it's business as usual at the U.N."
Not everyone adopted such a gloomy view, however. Tony Fleming runs the unsg.org Web site, which tracked the Secretary General race in great detail. He asserted that Mr. Ban's "diplomatic skills are unquestionable." He pointed to his role in the six-party talks on North Korea's nuclear program as evidence of this deftness of touch.
It is also true that some Secretaries General have risen from great obscurity to widespread acclaim. Dag Hammarskjöld, who occupied the top position from 1953 until his death in 1961, is almost universally considered the most effective leader in the U.N.'s history. But when Hammarskjöld was first recommended by the Security Council, legend has it that even he was shocked by the decision—he wasn't aware that he was being considered.
With the U.N. under near-constant attack, with memories of scandals involving the oil-for-food program and sexual harassment still fresh, and with a host of knotty international problems to tackle, many in Turtle Bay and beyond will be hoping that Mr. Ban can rise to the challenges that lie ahead.
Whether that hope will be fulfilled, however, remains very much in doubt.
"Let me be unkind: The real reason he looks like winning is because he is so innocuous a person," Mr. Weiss said.
"Major powers are very fond of having someone at the top who will not make any waves."