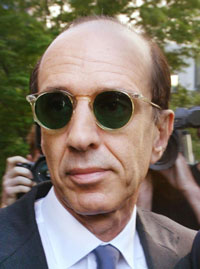 A triplex penthouse that once belonged to incarcerated ImClone co-founder Sam Waksal has been sold to A.J. Agarwal, a senior managing director of the mighty Blackstone Group.
According to the deed, he paid $7 million for the 5,800-square-foot apartment, $495,000 less than the latest asking price.
Marvin and Susan Numeroff, who bought the place from Mr. Waksal for $6.5 million in May of 2004 were the sellers. The apartment had been on and off the market since that purchase.
A source close to this deal said it was complicated by the ImClone boss' murky legacy. "A lot of his work was done illegally," said the source. "Every time you've had bad things done to an apartment, you inherit them."
That skullduggery includes a secret passageway.
"There was an illegal staircase installed that went up to the roof terrace," the source said. "According to code, it was completely out of whack, so it had to be sealed off behind Sheetrock. You couldn't even see it."
Listing broker Pat Dugan was more upbeat about the triplex's history and its perks, like a kitchen "with a balcony overlooking it."
A balcony?
"There was an opening that was created on the stairs that led up to the top floor," she said. "It was like a window, really. I guess Waksal did it."
Despite Mr. Waksal's apparent fondness for renovation, the Numeroffs had even bigger plans.
"Supposedly, they had literally wanted to tear the whole thing down, and to build it all from scratch," said our source on the deal. "The board declined. They didn't want to live with a three-year renovation."
The buyer's broker was Leonard Steinberg, who would not comment for this story. And Mr. Agarwal, who runs real-estate-related advisory services for Blackstone, did not return calls to his office.
(As luck would have it, Blackstone co-founder Pete Peterson briefly served on ImClone's board.)
Mr. Agarwal's new penthouse has a private foyer that leads into a 47-and-a-half-foot-long living room, which eventually leads into a master bedroom with cherry-wood closets, four skylights, a terrace and a steam shower.
The Numeroffs are leaving all that behind for a mid-19th-century brownstone on West 23rd, which they bought in August for $4,975,000.
The octogenarian Mr. Numeroff was the president of Brooklyn's Universal Diagnostic Laboratories, which folded this year. Back in 1988, he and his firm were accused of dumping blood vials contaminated with hepatitis B. (The incriminating trash bags, found in Flatbush, also had urine and sperm samples, loose needles, plus a scalpel.)
Mr. Numeroff was reportedly arrested and charged with misdemeanors.
Mr. Waksal didn't get off so easily: After pleading guilty to insider trading, securities fraud and tax evasion, he was sentenced in June 2003 to an 87-month sentence at the federal Otisville Correctional Facility.
There are probably no steam showers in Otisville. But he can hope for a secret stairway.
Sheila Johnson in Suite Deal At St. Regis: $1.44 M.
Sheila Crump Johnson, founder of the BET television network, has bought a deluxe suite in the St. Regis Hotel for just above $1.44 million.
The 523-square-foot palace, which was first listed for $2.118 million, is one of the 24 residences being sold at the Fifth Avenue landmark.
Ms. Johnson's apartment is essentially just a bedroom, but what a bedroom it is!
According to a sales booklet, there's a "silk-draped king bed," plus "fabrics in muted shades of silver-pale green and steel blue," chosen by the celebrated interior designer firm Sills Huniford.
The St. Regis pad also has a custom-built hideaway flat-screen television, plus a TV in the marble bathroom.
Appropriately, each apartment comes with a butler's pantry, plus a five-fixture bath.
Despite those attractions, it's not likely that Ms. Johnson will be spending much time in the hotel.
For one thing, Ms. Johnson, the first African-American woman to become a billionaire, owns a century-old Virginia estate named Salamander Farm.
For another, the St. Regis residential-use plan limits owners to only 182 days in their apartments.
Ms. Johnson could not be reached at her office. Likewise, representatives of the internal St. Regis listing broker, SVO Residents Club, would not comment. Corcoran's Sunshine Group began marketing the hotel's 24 residences (plus 22 fractional units) this February, though SVO took over six months later.
According to the Manhattan database RealPlus, 15 of the 24 residences are still on the market.
Rockstar-Wrangler Ankles Flatiron
Rock 'n' roll manager extraordinaire Merck Mercuriadis has flipped his block-spanning loft at Fifth Avenue and 17th Street.
City records list the buyer as Ian Peck and the selling price as $4.366 million.
Mr. Mercuriadis and his wife Susan paid $4 million for the apartment only last year. But Union Square life didn't suit the father of four—who manages Elton John, Guns N' Roses and the pompadoured pop genius Morrissey.
What was wrong with the 6,000-square-foot place? He complained that his kids could slip out the building's 18th Street backdoor before family dinnertime.
The solution: "We've moved to Los Angeles, where you can have a little more control of your children. Everything is driving distance."
But there was a more romantic rationale for what Mr. Mercuriadis calls his disconnection from the apartment. He had pined to build a glassed soundproof music room for his 100,000 albums, but zoning laws got in the way.
"Music is always on in the house. And it's always on at volume," he explained. "Ultimately, the loft space wasn't conducive to that."
Why? "With four children, you've got four TV's going on at any one time."
As recompense, the full-floor loft has a chef's kitchen with commercial appliances, north and west views, plus oversized windows facing south.
Along with his migration to California, Mr. Mercuriadis is reportedly leaving his job at the Sanctuary management group. But he promised that Guns N' Roses' legendarily long-awaited album will be out by Christmas.
His broker, Tom Wexler, didn't return calls to his office, and Mr. Peck could not be reached.
E*Trade Founder Sells for $6.05 M.
E*Trade founder William Porter has sold his three-bedroom apartment at the bullion-colored Trump International to filmmaker Dounia Benjelloun.
According to city records, she paid $6.05 million for Mr. Porter's condo, the second in the building for the daughter of big-time Moroccan banker Othman Benjelloun.
Trump broker Susan James wouldn't comment on the deal, though the original listing describes a marble-floored entry foyer and crown molding throughout the 2,165-square-foot apartment.
Mr. Porter couldn't be reached through E*Trade (which he founded in 1992) or through his newer firm International Securities Exchange.
But according to the I.S.E. Web site, Mr. Porter is a rabid inventor: Among other things, he patented the "first shoulder-mounted backpack broadcast color TV camera."
The listing described his apartment as "tastefully decorated with contemporary furnishings in earth tone palette." Quite a contrast to the very un-earthy aesthetics of Trump International, which Philip Johnson helped convert into a turgidly posh hotel and condo in the 90's.
Ms. Benjelloun's new 29th-floor apartment has lofty city and park views—loftier than the views from her old apartment on the 23rd floor.
"That's what I like—the light and the Central Park view," she said. "In [the old] one I had a corner view. It was good, but now I'm right in front of the park."
City records show that she bought her first apartment in the building in 1999, which is also when the Porters bought their apartment. On the sales deed, the Porters' address is listed in Portola, Calif.