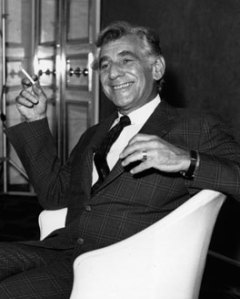 Forget the baseball rivalry: The real Boston–New York dispute is over bragging rights to Leonard Bernstein (1918-1990). As a composer, performer, writer and teacher, Bernstein made an indelible impression in this city as music director of the New York Philharmonic from 1958-1969 and laureate conductor thereafter. He kept an apartment at the Dakota, lodged his family a commute away in Fairfield, Conn., and penned the ur-New York Broadway musicals West Side Story, On the Town and Wonderful Town.
Yet as a matter of record, Bernstein was born near Boston, and Massachusetts will be laying claim to him from Oct. 12 to 14, during Celebrating Leonard Bernstein, an international conference and performance festival at Harvard University. A scholarly symposium will include subjects like "Boston's Bernstein: Jewish Identity and Community," "Bernstein's Harvard Student Union Productions: In Search of Political Origins" and "Bernstein's Senior Thesis at Harvard: The Roots of a Lifelong Search to Discover an American Musical Identity." Concerts at Harvard will feature Bernstein's neglected early music like his Piano Trio (1937) and Sonata for Clarinet and Piano (1942), as well as works by his childhood mentors like Solomon Braslavsky, who was choir director at Bernstein's family synagogue in Boston. Will Harvard succeed in co-opting Bernstein as a Bostonian, snatching away New York's favorite classical-music son?
New CD and DVD releases suggest that neither New York nor Harvard can definitively claim Bernstein; he belongs to the world. Sony Classical has just transferred to CD a 1956 performance of Beethoven's Fifth Symphony augmented by a compelling lecture about Beethoven's sketchbooks, delivered by Bernstein in four different languages: English, Yiddish-accented German, pinched French and vibrant, garlicky Italian.
Bernstein valiantly struggled against Babel, reaching out to conquer foreign languages that separated people. In a new DVD from Deutsche Grammophon of a 1990 concert of Mozart's music, Bernstein delivers an intense chat in more stately and masterful-sounding German than he could manage in the mid-50's. He points out that he's conducting Mozart in a church in Waldsassen, Germany, near the Czech border, a location at "the very heart of Europe." Contemplating a local war memorial makes Bernstein "realize how totally outmoded wars are, how futile and useless it is for anyone to emerge and claim victory …. Wars only serve as a pretext for satisfying greed, an appetite for power [in the original German, Machthunger], and economic growth at other people's expense."
Music can be seen in a visibly international context as part of a slew of new DVD's of Bernstein concert performances released by Kultur International Films Ltd. They include long-unavailable films of performances in Paris, Vienna, Sydney and Tokyo, among other places. In 1970, Bernstein conducted Verdi's Requiem in St. Paul's Cathedral, London. Before the concert, as the camera pans over the majestic cathedral, Bernstein's disembodied voice speaks mournfully about the London Blitz, the Holocaust, the assassinations of J.F.K., R.F.K. and Martin Luther King Jr., as well as the death in a 1961 plane crash of U.N. Secretary General Dag Hammarskjöld.
Intertwining music, language and site-specific history was a compulsion for Bernstein from his days at the Boston Latin School (he was class of '35). It was at Boston Latin, as Jack Gottlieb writes in an editor's note to Bernstein's recently reprinted Young People's Concerts (Amadeus Press), that the young Lenny picked up German, French, Italian, Spanish, Yiddish and Hebrew — in addition to Latin. Most conductors have enough working knowledge of foreign languages to get them through rehearsals overseas. By contrast, Mr. Gottlieb recalls, Bernstein's New York study was "filled, floor to ceiling, with dictionaries, etymological works, and phrase books of all kinds. His familiarity with literature was almost frightening in its scope; and his passion for unconventional word games, like cutthroat anagrams and convoluted British-magazine crossword puzzles—the harder the better—almost bordered on the religious …. He was intoxicated with words."
I've had firsthand experience of this linguistic intoxication: In 1982, I was invited to dinner, along with a friend who was editing some of the Maestro's unpublished music, at Bernstein's Fairfield home. What I remember most vividly about that long dinner—even more than Bernstein's noisily rapacious way of eating corn on the cob and suddenly leaping to his feet to perform balletic pliés as a digestive aid—were the postprandial, multilingual word games. The assembled guests were suddenly challenged to cite opening sentences of literary works in as many languages as possible. The pressure was real and slightly uncomfortable.
Linguistic achievements were also on the menu in 1984, when Bernstein made a return visit to the Boston Latin School. The New York Times reports that he explained to students how his teachers made learning a "matter of interdisciplinary cognition—that is, learning to know something by its relation to something else …. A known fact is like a dry, dead thing. But when those connections are made, wham!"
Bernstein's international connections retain their "wham!" in the Sony/BMG archives, among his few recordings still not transferred to CD. His 1961-62 versions of Benjamin Britten's Young Person's Guide to the Orchestra and Camille Saint-Saëns' Carnival of the Animals feature narrations in Spanish by his wife, the Chilean pianist and actress Felicia Montealegre Cohn. Two other contemporaneous recordings of the same works exist, with narration in Hebrew.
There's also the world-wide impact of conductors he mentored, like the remarkable John Mauceri, whose 1974 recording of Bernstein's Candide has just appeared on CD from Sony/BMG. Mr. Mauceri (who will be participating in the Harvard events, sharing his memories as an assistant to Bernstein) is the former music director of the Teatro Regio in Turin and of the Scottish Opera; he's recently been named chancellor of the North Carolina School of the Arts. And Antonio Pappano, possibly the greatest all-round conductor of his generation, got his start as a rehearsal pianist for a 1980's revival of Candide and is now music director of the Royal Opera House Covent Garden and the Orchestra of the Accademia di Santa Cecilia, Rome.
It's safe to say that Lenny's musical legacy has outgrown our local feud.