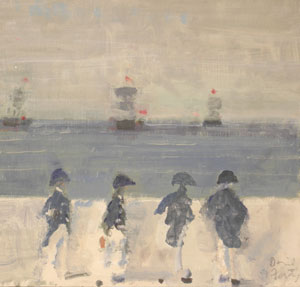 David Fertig is a contemporary artist who lives and works in New Jersey, but his art is patently at odds with the here and now. His paintings, which are currently on display at James Graham & Sons, keep getting stranger. His fascinations are so singular that he could almost be mistaken for an outsider artist.
Not quite, though: The softly stated fluidity with which he handles oil paint belies sophistication, as well as an understanding of culture far and wide. Mr. Fertig isn't a ham-handed loner given to religious (or perverse) visions. He's a guy from the tri-state area preoccupied—and how!—with history.
Mr. Fertig's attentions have long been devoted to the Napoleonic wars. This, in itself, is nothing special, though in our ahistorical age, anyone cognizant of the past is likely to be considered a throwback or a crank. The profoundly eccentric Mr. Fertig is closer to the latter.
It's not just that he's peculiarly well-versed in a particular epoch—the period from 1793 to 1815, when Napoleon Bonaparte's goal of world dominion was at its most ambitious. Mr. Fertig's eccentricity is better measured by how thoroughly absorbed he is in the era. As his wife puts it, "David really lives in another time." His knowledge of that time is so deep-seated that it conjures a startling illusion of firsthand experience.
The work's curious nature owes much to the artist's expertise, but more to the way in which the images draw in our attention. It's disconcerting to have Mr. Fertig yank the temporal rug from under our feet. To walk through the exhibition is to be swept away with the painter as he travels through time. His convictions, however quixotic, become our own.
Specificity and historical accuracy count for a lot with Mr. Fertig. When portraying long-dead figures—Jean-Baptiste de Marbot or Captain Best of the 10th Hussars—Mr. Fertig not only conveys a likeness, but a startling sense of the man. How, you wonder, did he capture the flirtatious impudence beneath the noble exterior of Count Kessler, the Duke of Brunswick's aide-de-camp? Colonel Jacquinot, in contrast, seems a bit of a bore; Captain Best, a thoughtful and compassionate man. It's as if they were posing directly in front of the artist's easel.
Mr. Fertig's access to the past is uncanny. The focus he brings to bear on history is equally (and often more seductively) evident in panoramas depicting sea battles, boats coming ashore, a distant view of Prague and the cleansing light of a crisp blue sky. A couple of the paintings have dates for titles—1802 and 1793. Due to Mr. Fertig's adroitness as an artist, we intuit the significance of the year even if we don't know the event linked with it.
Painters will envy Mr. Fertig's touch. Affectless, informal and, at times, breezy and brusque, his brush moves with a quiet bravura. Arrant splotches, slippery runs of color, dry drags of a wide brush and hasty accretions of pasty dabs—he handles them all masterfully, sometimes within the span of a single canvas.
The crafting of Safe Harbor (2005), a small painting of four soldiers walking along the beach, is awesomely blunt and alarmingly swift. Within its drift of pale blue, the image comes into being before our eyes. Brushstrokes roil, stutter and sweep, coalescing into an image and then, with calm decisiveness, snapping it into place. Mr. Fertig sums up so much—the gait of the soldiers, the dreadful lull of warfare, an unerring sense of place—with little forethought and even less material.
Only a painter who's paid his dues could so blithely toss oils around without losing his footing. The pleasures of Mr. Fertig's paint-handling will appeal almost instantly to contemporary viewers wary of (or befuddled by) his subject matter. Even then, the pictures thwart easy delight. Mr. Fertig's stylistic approach—an unapologetic clash of 19th-century impulses, a head-on collision of Corot and Vuillard—postdates the events shown. Anachronism powers a subtle tension between image and mode.
Photography informs the work as well. Exactly how is hard to pinpoint, yet its presence is unmistakable. Is it the documentary nature of Mr. Fertig's pursuit? The silvery tonalities suffusing the imagery? The eerie sense of fleeting events quickly and forever stilled? Gerhard Richter, famously reliant on photographs, could well be a hero of his.
Not that much of a hero, though. Don't peg Mr. Fertig as postmodern or whatever silly neologism is in fashion; he's too driven and involved in the work to stand apart from it. Commentary and distance are alien to the work's overriding aesthetic. Immersion is everything. How refreshing to see an artist brave enough to relinquish himself to his art!
Mr. Fertig's attempts at larger pictures—nothing too huge: three by six feet or something like that—lack the sureness of the smaller, more typically scaled paintings. Over greater expanses of canvas, his brush sometimes hurries up and peters out. At other times, it takes on a stylistic affectation that makes comparisons with Mr. Richter inevitable and regrettable. The effect is one of effortlessness saddled with scare quotes: Brush strokes feel manufactured and unmoored from the imagery. Mr. Fertig's skill is rendered stridently conscious, and our pleasure in it is diminished.
These "big" attempts are new, exploratory and transitional. Mr. Fertig is likely to get a handle on larger formats. Given the integrity of this prolific artist's vision, we can be sure that, at the very least, the results will be worth looking at. In the meantime, the rewards of Mr. Fertig's puzzling art are abundant enough.
David Fertig is at James Graham & Sons, 1014 Madison Avenue, until Nov. 11.