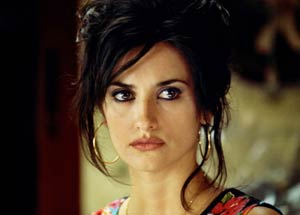 ¡Hola! Pedro Almodóvar's funny, scary and innovative Volver has been reviewed at so many film festivals that I'm not sure anyone wants to hear another word about it. But there is much to be said about Penélope Cruz, who has redeemed her reputation as an awkward, wooden actress in American films by proving just how enchanting she can be under the right conditions.
Volver is the Spanish verb meaning "to return," and that's exactly what everyone has done, with happy results. Mr. Almodóvar returns to his home turf in La Mancha, Ms. Cruz returns to her mentor for the first time since All About My Mother, and everyone returns to glory. The words "You can't go home again" apparently do not exist in Spain.
In person, Ms. Cruz looks petite, fragile and almost breakable. In Volver, Mr. Almodóvar has taken great pains to turn her into a voluptuous firebrand, big as the screen can hold, with a makeover inspired by the extended eyeliner of Claudia Cardinale, the tumble-down hair and plumped-up cleavage of a young Sophia Loren, and Dustin Hoffman's padded derriere in Tootsie. All dressed up in peppermint-candy stripes, with a cherry mouth and a gaze of perpetual sensuality, she's a delicious piece of work. The role: an abused housewife named Raimunda, who works hard to support her deadbeat husband and teenage daughter Paula (Yohana Cobo). During a domestic crisis, Paula murders her father with a frying pan, and Raimunda stuffs the corpse into the freezer of a restaurant where she is cooking dinner for 30 members of a film crew that is making a movie nearby. While Raimunda serves, her sister Sole (Almodóvar alumnus Lola Dueñas) attends their aunt's funeral and finds the house haunted by their dead mother Irene (another return, by Almodóvar's most celebrated star, Carmen Maura). The spirit of this indomitable Spanish madre from Hell hides in the trunk of Sole's car, moves in as her roommate, and goes to work helping Sole run her illegal beauty parlor by posing as a Russian hairdresser. Meanwhile, Raimunda smokes pot, grows oleanders and struggles with the chore of disposing of the heavy freezer containing her husband's dead body. There's more. They say the tempestuous winds in La Mancha make its inhabitants insane; they are also alleged to have caused the wildfires that killed Raimunda and Sole's parents and made them orphans. Now it is possible that Irene's restless ghost may not be an apparition after all, that the ashes Raimunda and Sole buried years ago might belong to somebody else, that the man Paula offed may not be her real father and … well, there is much confusion to sort out, but if you saw Bad Education, you know it's worth the effort. I haven't begun to scratch the curving surface of the constantly changing twists and subplots. All I can tell you is that nothing turns out the way you expect. Mr. Almodóvar has a way of making puzzleheads of us all.
By his own admission, his films are getting harder to summarize and next-door to impossible to analyze. They're not so much about things, actions and events, but about human interaction. It's good that so many flamboyant and passionate actresses make those relationships resonate in a film that might otherwise just seem hysterical. I'm glad to see Carmen Maura back where she belongs (her hilarious entrance is a highlight), and Ms. Cruz seems inspired for the first time in years. The director is obsessed with women, motherhood, generation gaps and especially death. In his films, no one ever dies. They just return and co-exist with the living in altered states. In the end, all of the women in Volver reveal terrible family secrets and need each other more than they need men. In fact, there are very few men in the film at all, and the ones who do appear make hasty exits. As is so often the case in Mr. Almodóvar's films, the implacable strength, gusto and resourcefulness of the assorted female characters in Volver enable them to transcend every challenge, and once again, the director confronts women on the verge of a nervous breakdown in a film full of humor and affection.
Slow Burn
From Richard Attenborough's Cry Freedom to Chris Menges' A World Apart and countless movies in between, the desperate horrors of apartheid have inspired scores of honorable films, but is anyone as weary of stories about the now-defunct apartheid regime in South Africa as I am? Catch a Fire, by the Australian director Phillip Noyce (Rabbit-Proof Fence, The Quiet American), is the latest entry in this sad genre. It's noble and well-meaning and heartfelt, but oh, the nail-biting Sturm und Drang of it all.
It tells the harrowing true story of Patrick Chamusso, a model citizen who became a radicalized terrorist with the African National Congress when the oppressive government invaded his peaceful life and threatened to rend the very fabric of his family existence. Before he became one of South Africa's most respected militant leaders, Patrick (Derek Luke) was employed as a simple, easygoing foreman in a coal refinery who silently endured daily humiliations from white bosses in order to keep the peace and provide for his family. Apolitical and loyal to the refinery, his only focus is on personal advancement, financial security and the welfare of his wife, Precious (played by the excellent South African actress Bonnie Henna). When he is accused of bombing the refinery on a day he wasn't even on the premises, he is arrested, interrogated endlessly, and tortured by security police chief Colonel Nic Vos (Tim Robbins). Even Precious is viciously brutalized to get him to confess. By the time he is released, demoralized and enraged, Patrick joins the A.N.C.'s military wing, takes up a gun and plots an act of violence that forces him to play a key role in the liberation of his country. It also makes him Vos' most dangerous enemy.
Mr. Noyce puts his talent for political thrillers to good use in scenes that build suspense (Vos egging on his young daughters to master their shooting skills; Patrick subjected to inhuman indignities at a simple road checkpoint), and the actors are superb in a three-dimensional script by Shawn Slovo, who also wrote the excellent A World Apart. Derek Luke, who made his mark in Antwone Fisher, is terrific as a man against the wall who finds his soul even as his personal life starts to unravel. Even Tim Robbins resists the easy temptation to play the adversary as a total monster. He has his own principles, and there is also contradiction and compassion in his nature. Nor is Mr. Chamusso himself passed off as a saint; instead, his guilty secrets and past crimes contribute to his fate. This is both a tense, exciting thriller and an absorbing character study set against the mass paranoia that overwhelmed South Africa in the 1980's, enhanced by the director's firm grip on both sides of the conflict. In contrasting scenes I will not soon forget, the black refinery workers launch into a joyous song that sounds harmless, but celebrates the deaths of the white men in the bombing, and the white militia infiltrates an A.N.C. camp in disguise, launching a massacre in blackface. This gives the film shock value that makes its final plea for forgiveness instead of revenge hard to swallow. Despite Mr. Noyce's attempt to achieve a sense of balance and restraint, the material covers an overly familiar landscape with no special insight or sense of purpose. My favorite part is the footage of the real Patrick Chamusso today: He's intelligent, rational and charismatic enough to make you wonder why they didn't make a documentary instead.
Bush and a Peck
The Dixie Chicks are supposedly the best-selling female vocal group of all time, a grim thought that must have the Andrews Sisters spinning around in their graves. More memorable than their hillbilly caterwauling is their outspoken political frankness. The trio made headlines throughout the world in March 2003 when, as George W. Bush announced the U.S. invasion of Iraq, lead singer Natalie Maines told an audience in London, "Just so you know, we're embarrassed that the President of the United States is from Texas." It conjured memories of John Lennon's quip that the Beatles were more popular than Jesus. The backlash was just as fierce. Right-wing groups responded with radio boycotts, country-pop CD burnings and death threats. Worse than criticizing Dubya, the girls made a mistake that was disastrous: Didn't they know that Texans can never be disloyal to Texas, no matter how valid the reason? Now comes a documentary about the dramatic three-year period in their career when they tried to survive the damage, with a title that probably echoes the sentiments of millions called, appropriately, Shut Up and Sing!
Co-directed by no less a talented duo than two-time Oscar winner Barbara Kopple (Harlan County, USA and American Dream) and Gregory Peck's daughter, Cecilia Peck, this documentary takes you behind the scenes to watch the band endure persecution and plot its comeback. With millions of dollars at stake in declining music sales and canceled corporate sponsorships, the band's members—Ms. Maines, Emily Robison and Martie Maguire—uphold their artistry and defend their politics against pressures to just "shut up and sing," and persevere against all odds. With the filmmakers given full access to their every move, the Chicks present a united front despite their occasional personal misgivings, and in the end, collective resolve wins when they bravely conclude that the issue of free speech is more empowering than ticket sales. Throughout their ordeal, the women—along with their wisecracking band manager, Simon Renshaw—maintain a sense of humor that is more admirable than their music. The film also follows their feud with cornball country-and-western superpatriot Toby Keith. And you watch them balance career and motherhood, as sisters Robison and Maguire both go through in vitro pregnancies. None of this hullabaloo offers much to say about pop culture or has any political impact whatsoever in an election year, but it does imply that a double standard does exist when celebrities speak out: Men are tolerated, women are crucified. In this case, the Dixie Chicks stand their ground, refuse to apologize and re-emerge triumphant. The Bush administration declines; the Chicks do a nude magazine cover and go on Howard Stern. Vulgarity reigns supreme.
The movie catalogs their ups and downs, from disgrace to their return to the studio to record "Taking the Long Way," which debuts at No. 1 on the Billboard charts. In the process, it says more about the rights of individuals to express themselves in a free country than it does about a polarized America or the manipulation of rock 'n' roll stars to embrace political issues in order to influence voters. One thing it most emphatically fails to do is make a convert out of me. Despite the promise to turn the audience into converts if they've never heard the music before, listening to the Dixie Chicks is, to me, not unlike metal spikes scraped across a sidewalk grating.