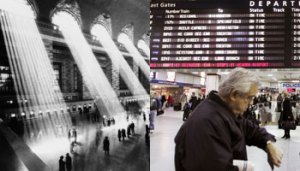 During a recent and rainy rush hour at Penn Station, dripping umbrellas and dirt tracked in from squeaky sneakers and soggy loafers added to the standard feeling of despair among New Jersey Transit and Long Island Rail Road commuters trying to get home. The air was thick and humid with anxiety, and it smelled like a combination of wet hair, hot dogs and defeat.
"There's a low-ceiling alienation to the place," said New York Times writer David Carr, who regularly takes the New Jersey Transit Midtown Direct line from his home in Montclair, N.J. "I alternate between the bus, train and driving. It's good to mix up the commute, otherwise you end up feeling like killing yourself."
Meanwhile, across town at the cathedral-like Grand Central Terminal, Metro-North crowds moved easily beneath the aquamarine astronomical ceiling, so high and domed that whether through acoustics or sheer grandeur, all sounds below took on a civilized hush.
"Each station serves as a portal of your New York experience and sort of defines you," Mr. Carr said. "You walk into Grand Central and you hear Wagner and Beethoven, and you feel part of the great human endeavor. You walk into Penn and you hear Psychedelic Furs or the Cure."
The chasm between rail-rider identities is already a natural caste system deriving from where one commutes from: scrappy/trashy New Jersey and Long Island versus WASP-y old-money Connecticut. John Updike as opposed to Bon Jovi, Peyton Place compared to The Sopranos, Kenneth Cole against The Tiecoon, and so on.
The stations signal to commuters how New York feels about them. Connecticut and Westchester riders step off their trains to be greeted by the majesty of the Grand Central main concourse: the opal clock atop the information booth (estimated worth: $10 million to $20 million), sculptures of Minerva, Hercules and Mercury, gourmet coffee, bread and cheese. New Jersey and Long Islands riders expect to fight their way up broken escalators to begin a salmon-like upstream battle beneath fluorescent lights. The take-no-prisoner crowds swell against narrow passageways, pushing past the Auntie Anne's pretzel carts and the ready-made Pizza Hut personal pies, considering entrance to one of the more terrifying bathrooms in Manhattan. Grand Central has a large and dignified American flag hanging from the ceiling since 9/11; Penn Station, judging from the number of armed soldiers, seems to be housing an Army barracks.
It's no surprise that the East Side Access project, which proposes to bring the LIRR into Grand Central via an eight-track tunnel 140 feet below Park Avenue, has been greeted with some resistance. The LIRR usually dumps its Syosset-bred legions into the grimy underground of Penn Station. If the project, estimated at last count at $6.3 billion, were to go forward, Ralph Lauren–clad riders would have to mix with Juicy Couture tracksuits and cell phones that boast Bubba Sparxxx ringtones.
"The entire point of living in Connecticut or Westchester is to limit your exposure to people who are from Long Island and New Jersey," said one magazine editor who has been commuting from Westport, Conn., through Grand Central for over a decade. "That's why we live there, it's why we wear natural fabrics, and it's why we don't stucco our homes. Granted, there are a lot of people in Westport and Darien who grew up on the island and vowed to end all the ridicule by buying a first home here, but these are the people who wear Nicole Miller and practically strive out loud. As far as we're concerned, Long Island might as well be Barbados—fine for a vacation, but year-round is so not going to happen."
"Oh yeah, they totally don't want them there," said Shane Hoffman, a Manhattan acupuncturist who experiences all three train rides visiting friends and family. "The LIRR is the most entertaining of the three, because of the Long Island yahoo people—it's delicious! It's such an amazing opportunity to see the styles from the era of Fame, plus there's a nice sampling of construction workers going out for the night—totally different than the Metro-North people going to Greenwich or the strange smart people heading to New Haven, recognizable by their heavy books."
Mini-factions have broken from these two warring commuter-groups. Many Garden State travelers heading through Penn Station are happy to be losing their Long Island brethren. Joni Noe, a 32-year-old photo editor and regular New Jersey Transit rider, said: "I'm not jealous about the LIRR going through Grand Central, if it means that those commuters won't be going through Penn Station. Would that mean we won't have to deal with as many New York Islander fans?"
Certainly there is something undeniably New York represented by both stations. Grand Central embodies the gilded glamour of a Truman Capote story: the whiff of promise of Fifth Avenue shops right outside its doors, Rockefeller Center and St. Patrick's Cathedral, express subways that whisk the cashmere-coated straight to the Upper East Side. Penn Station carries with it the air of hard work, sweat and trying to make ends meet. The surrounding streets of Penn are filled with the industries of immigrants—the garment and fur districts.
"Grand Central has architecture and heft and scope and white marble and Kennedys backing the restoration. Penn Station has jerry-rigged plywood sheets with orange graffiti arrows," the magazine editor from Westport continued. "In Grand Central, tourists gather in groups and point to the famous little spot on the ceiling they left intact—the one that shows how dirty the main waiting room was before the restoration. At Penn Station, people who point at the ceiling are remarking over how that pigeon managed to get in. Grand Central has a PBS feel about it. Penn Station is the WB."
BUT FORGETTING, FOR A MOMENT, THE BIG-PICTURE differences of the stations, one need only look at the dining options available to both sets of commuters. Penn Station has T.G.I. Friday's, Houlihan's and every fast-food option available, in miniature.
"Aesthetics and claustrophobic symptoms aside, Grand Central is on its own plane, with nicer restaurants and shops," said Ms. Noe. "They don't have the lowbrow spots like Krispy Kreme, do they?" (Answer: no.)
Grand Central, in addition to fine dining restaurants like the Oyster Bar, Cipriani Dolci and Michael Jordan's Steakhouse, boasts a "dining course" level below the main waiting area that puts any ordinary food court to shame: Masa Sushi, Junior's, Café Spice and Mendy's Kosher Deli. On a weekday lunch hour, nattily dressed workers descend upon the area, iPods in and heads bowed over The Times and the Post. There's even a specialty market where commuters can stop by a butcher and pick up Godiva chocolates or Murray's cheese on their way home.
"You just can't buy nice olive oil in Penn Station," said Mr. Hoffman.
Then there's the little matter of how each station treats its passengers when it comes to the actual boarding of trains. At Grand Central, the track numbers are announced up to half an hour before the departure time, allowing riders to leisurely decide when to get on the train and find a seat. At Penn Station, there is a palpable anxiety as crowds gather around the large board of departures, or the tiny television monitors. Somewhere between seven and 10 minutes before departure, a track will be posted and a running of the commuters commences, a Lord of the Flies–like flurry to get down the escalator and into a seat.
"I used to run track, and it's like a starter pistol going off," said Cristina Tapper, an editorial assistant at People magazine who attended the New Jersey Transit–reachable Rutgers College but now commutes daily on Metro-North from Mount Vernon. "That clamor is the major difference that sticks out in my head. I just remember having to run for a seat at Penn Station."
"As far as the rush-hour situation, here's a true story, " said Anne Gregory, a petite blonde who teaches physical education on the Upper East Side. "I once saw a guy who was practically body-checking his fellow riders when the track number was announced, only to be stopped when he heard a young voice yell, 'Dad!' In the insanity of trying to get to the escalator, he let go of his daughter's hand and started tearing ass. She couldn't have been older than 9."
"Oh, it's a total cluster-fuck," said Mr. Hoffman. "If you get called to a track without an escalator, you'll always end up behind the people with the luggage struggling down the stairs. Then it becomes about waiting: 'Is that old guy going to be pushed down?' It's insane. I think the New Jersey Transit people are more respectful. The LIRR people's exploding point seems to be much lower."
Penn's animals-in-a-cage feeling has a lot to do with the absence of seating. Grand Central riders have benches available to them, plus all the seats in the dining-concourse level. At Penn, it's not uncommon to see business men in three-piece suits squatting on their briefcase. "Essentially, both places are staging areas for getting a seat," said the Westport commuter. "I always get a great seat at Grand Central, which makes it a successful building. Never, ever in my entire life has my ass been happy at Penn Station."
The original Penn Station, a glorious Beaux-Arts structure in pink granite and glass, was famously demolished (to great public horror) to make way for a multimillion-dollar sports complex in 1963. This memory of beauty on the West Side haunts the aesthetically afflicted Jersey natives. "One entered the city like a god, one scuttles in now like a rat," wrote the architectural historian Vincent Scully. The powers-that-be at Penn Station have tried to make amends to their customers. There was a restoration of the New Jersey Transit waiting area in the late 1990's to remove some of the grime. The area features a four-sided clock from the original station. But it hasn't helped much, and most commuters don't even use it, choosing to stick by the big board with its seemingly random changing of numbers. You never know when yours will come up.
"There's just … there's this sag in front of the board, where you look at your now fellow inmates, trapped on this island off the coast of America with no or little way home," Mr. Carr continued. "There's a collective sadness that drops over the place."
But there's also hope. In 1998, the late Senator Daniel Patrick Moynihan started an official movement to create a new Penn Station across the street in the Farley Post Office Building. Drawings of the proposed building show an airy main room and glass ceilings. The project has become a bit of a political hot potato and is currently in limbo.
"I'm hoping I'm still gainfully employed long enough to experience it," said Mr. Carr. "The fact that it didn't happen yet is a significant failure of leadership—the fact that we have to re-engineer one of the worst ideas that ever was in the first place. I don't care if it takes a long time and gobs and gobs of money. When it comes to bridge and tunnel, we should all be treated equally."