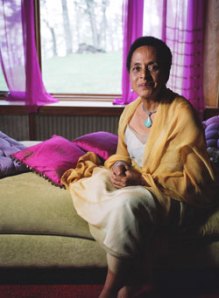 Something like 1,138 bands played all over New York during last week's 26th annual College Music Journal festival, but they all faded away when 62-year-old Afro-Peruvian singer Susana Baca took the stage at S.O.B.'s on Wednesday.
Ms. Baca has a hypnotizing voice, tender and whispery. But she sings with such a deep brawniness that even her most mellifluous ballads sound wise.
She had more to offer on Wednesday night than pretty love songs with whispery Latin charm: Her acoustic guitarist, who happens to look like an accountant, picked sugary solos that sent Ms. Baca spinning in her blue-green dress. When the band's two percussionists had built up some steam, the group erupted together into gleeful, harmonized exclamations.
It's been over a decade since Ms. Baca was first introduced to a wide American audience (she opened the compilation Soul of Black Peru, a CD released by the cosmopolitan rocker David Byrne). Her voice was more innocent and pure back then. On stage last week, it had single-malt smokiness—and smoky is better than innocent.
Kitschy-Kitschy-Coo
Mr. Byrne's old band Talking Heads is the godhead of the innumerable C.M.J. bands now busy rehashing artsy white-boy funk. Kitschy synthesizers are totally in.
The Australian octet Architecture in Helsinki wraps itself in a big artsy, funky blanket—and yet they're somehow the most rapturous band around. On Saturday night, they put on a goofy show—but a refined, spectacular kind of goofy.
The big-eared, bad-toothed, thickly accented singer exclaimed: "This is for the concert people!" He was right. His band used cowbells, bongos, steal drums, whistles, horns, handclaps, keyboards, synthesizers, shrieks, three-part harmonies, a fuzzy electric bass and two electric guitars to build up rousing pop landscapes.
On the down side, the songs' quick-tongued lyrics were drowned out by the musical circus. (Some lines were graspable, like two verses in a short pop song called "The Cemetery" that whimsically lists the names on tombstones).
The high-endorphin bandmates sung along even when they weren't behind microphones, and nearly all of their tunes unavoidably built into jolly orgies of "ya-ya-ya" or "ay-ay-ay-whoa-whoa." And when the lights went on after a second encore, the audience at Irving Plaza was still echoing the "la-la-la" refrain from an unbeatably catchy song called "Do the Whirlwind."
Though it's a feat to get C.M.J. concertgoers chiming in so adorably, Architecture in Helsinki aren't about to become a big-time party band. That's because of all their kitschy instrumentation, fruit-flavored bubblegum melodies, and the walloping tempos that stop and switch fancifully.
But who knows? Many of the Irving Plaza songs were from the band's forthcoming third album, so the audience had never heard them before. At their next New York gig, there may be an even more delirious sing-along.
Après Jacko
But what will happen to pop music when irony and electric guitars and goofiness all die? The Knife, a fastidiously un-ironic Swedish electronic duo, will save the day.
Late Wednesday night, the Knife's Olof Dreijer and his sister, Karin Dreijer Andersson, played their first concert in the United States at the sleazy dance club Webster Hall. Their music isn't quite sexy enough for gyration: The fast-paced songs are tense and unsettled, usually on account of Mr. Dreijer's guttural bass-lines, which vary between prehistoric rumbles and neon-colored droplets.
But Wednesday night's show hardly counted as a concert. There was so much going on visually (including the Knife's refusal to acknowledge their admiring audience) that it felt less like musical entertainment than an art exhibit.
The duo came out onto an unlit stage, dressed in head-to-toe black with reflective red masks (or maybe makeup). Ms. Andersson had a microphone and a contraption that distorted her vocals, so on tracks like "Silent Shout" her voice plunged from a Scandinavian alto to a massive growl.
Armed with glowing drumsticks, her brother played a synth pad that was programmed to sound like distorted steel pans or a corpulent keyboard (or drops of neon). That meant the songs' jittery percussion and staccato melodies and creamy strings were all prerecorded—another reason the night felt more like Art than live music.
There were claustrophobically colossal screens behind and in front of the performers, who were gorgeously camouflaged by overlapping videos. Then, on the ominous love song "Marble House," Ms. Andersson sung along with male vocals coming from a bodiless face (which was projected onto a monstrously oversized third film screen). The image wasn't stage décor; it was one half of a musical romance.
It was a satisfying artsy spectacle, but all that video and blackness and aloofness would be intolerable if the Knife's songs weren't so singularly interesting. On "We Share Our Mothers' Health," a sextet of beats tangled beneath Ms. Andersson's high-and-low vocals as the audience did its best to bop along. On the noir ballad "Heartbeats," Mr. Dreijer's drum pads shoplifted the tympanis from Angelo Badalamenti's Twin Peaks theme song, adding threatening thumps to a molasses-flavored melody.
This was pure pop filtered through angry electronics; love songs devolved into fundamentals; dance-floor disco via video art; Michael Jackson for the post-apocalyptic set.