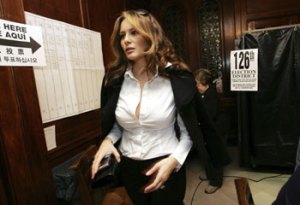 Around lunchtime on Nov. 7, a dozen broadcast news reporters sat in a locked, windowless room on an upper floor at the Time Warner Center.
The reporters—two from each of the five television networks and another pair from the Associated Press; altogether, a little election night Noah's Ark—had been stripped of their cell phones, BlackBerries and pagers. Those devices were sealed in individual manila envelopes and placed in the drawer of a desk. Three guards monitored the room. There were four pizzas (broccoli, sausage, pepperoni, plain), salad, soda, water, ice and chocolate-chip cookies. A Kremlin-style aura of secrecy prevailed, although attendees were permitted supervised bathroom breaks.
"I was told last week not to comment on the inner workings of the Quarantine Room or what happened that day," said Dan Merkle, the decision-desk director for ABC News, who was among those sequestered. "All I'll say is that it was a civil, collegial situation." Twelve Not-Angry Statisticians.
The room was the creation of the National Election Pool, a union of Fox, CNN, ABC, NBC, CBS and the A.P. It was designed to coordinate election coverage generally and, in particular, to prevent early exit-poll numbers from leaking out online, as they have in every previous national election since the advent of the Internet. News organizations spend millions of dollars each cycle to commission exit polls. From their point of view, early leaks have been annoying, at best.
This year, in what may also be considered a dry run for 2008, the networks were determined to keep the poll results quiet until they were ready to call races that night. Were these Mission: Impossible–style cloak-and-daggerisms effective?
"In one planning meeting," said Kathy Frankovic, the director of surveys for CBS News and a member of the N.E.P. steering committee, "I actually suggested that maybe someone would tape a BlackBerry to the inside of the toilet, the way Michael Corleone did with the gun in The Godfather."
Apparently, none of the quarantined reporters thought of that.
Per the N.E.P.'s strict guidelines, each network's pair of analysts was to arrive at Columbus Circle no later than 11 a.m. They were permitted laptop computers without wireless cards, and notes, binders and other personal effects. They had access to by-the-minute poll results but had to promise not to contact anyone in the outside world for six hours.
The polls were conducted by Edison Media Research and Mitofsky International and only tracked the Senate races. The television networks relied on the A.P. for information from the House races and the actual vote tallies.
Throughout the day, those in the Quarantine Room combed through results and drafted memos back to their networks' decision desks. The embargo ended at 5 p.m. sharp. Cell phones, BlackBerries and pagers were redistributed, and the Internet connection was switched on.
"We assume that once data gets to six news organizations, something's going to get leaked to people," Ms. Frankovic said.
Exit-poll numbers appeared on the Internet almost immediately. The Observer's Politicker Web log published, with caveats, exit-poll numbers at 5:26 p.m. But no numbers appear to have leaked before 5 p.m.
CNN and Fox immediately began absorbing the exit-poll results into their broadcasts. The major networks began their coverage on the evening news at 6:30 p.m.
The following day, critics praised TV news for being conservative in their election-night calls and not relying heavily on exit-poll data, which, as Ms. Frankovic put it, "might not always be the best." At 10 p.m. on election night, Fox stopped using those polls entirely, citing wide and implausible margins for Democratic candidates.
Well. Not totally implausible.
"Both the innate problems that exit pollsters have been finding and the closeness of races make those early exit polls almost useless," said independent pollster John Zogby. "They certainly were in 2004. Frankly, they weren't so hot in 2006 either."
Mr. Zogby cited the exit-poll results he obtained around 1 p.m. on Election Day: Jim Webb was leading George Allen in Virginia by a solid five points; in Montana, Jon Tester was leading incumbent Conrad Burns 53 to 46. The only close race, it seemed then, would be in Arizona, where four points separated Democratic challenger Jim Pederson and two-term Republican Senator Jon Kyl.
Of course, the Virginia and Montana races turned out to be breathtakingly close. Arizona was resolved early in the evening, with a nine-point victory in Mr. Kyl's favor.
"I like exit polls, and I need them to help me determine who votes, how they voted the way they did, and why they voted the way they did," Mr. Zogby said. "But in terms of framing the conversation, framing the conventional wisdom or projecting the winner, I have a real problem with people using them."
"He doesn't know anything about this," said Mr. Merkle. "He has no part in it."
Mr. Merkle said his colleagues were pleased with the Quarantine Room and would likely be in favor of keeping it for 2008. Exit polls are useful, he said, as long as they're used cautiously.
"Exit polls essentially were invented by Warren Mitofsky," said Quinnipiac University pollster Mickey Carroll. "Warren was an acerbic, opinionated, volatile, voluble guy who was also brilliant. The first time he came to my attention, I was a reporter at The [New York] Times—I don't remember the year. It was a Presidential primary someplace or another. Everybody called it, but Warren wouldn't. Well, it turned out they were wrong; he had been right. So were the networks too cautious? I don't know. If they're a little slow, no harm—the election still came out all right. The only difference is, one network will be 30 seconds ahead of another. I mean, who gives a damn?"
"We're still having a lot of technical problems," said Dave Marash, the Nightline veteran and lead anchor of Al Jazeera English, the international 24-hour English-language cable channel that will launch, after a two-year delay, on Nov. 15.
Mr. Marash was speaking from his office at Al Jazeera's Washington, D.C., bureau, one of four that will provide programming to the nascent cable news venture. He was making the final preparations for his inaugural broadcast: a half-hour news program that will air at 6 p.m. Eastern time and, from the sound of it, will look a whole lot like the CBS Evening News with Katie Couric.
"We are, by golly, going to go a little bit slower, have fewer stories per half-hour, give you something to remember about all of the stories," Mr. Marash said. He disavowed any similarities with Ms. Couric, except that "a 22-minute news hole is definitively limiting."
There will be an investigative piece about Darfur, he said, and two stories out of Latin America. Any reports from the United States will "be playing off the news right now."
Mr. Marash joined what was then called Al Jazeera International a year ago, after Ted Koppel left Nightline and ABC declined to renew his contract. His year at the network, he said, has just about matched his expectations, but for a few bumps along the way.
Among them: The international 24-hour English-language cable channel changed its name to Al Jazeera English 10 days ago, dropping the "International" because of some hurt feelings on the Arabic side of the operation. It will launch with between 12 and 13 hours of programming a day instead of the proposed 24 and, as of now, is available to American viewers only online.
At least one thing remains as promised, he said. Al Jazeera English will broadcast in English.
It's not just NBC producers and writers who are terrified of losing their jobs at the hands of Jeff Zucker.
Mr. Zucker, the C.E.O. of NBC Universal Television Group, became Rockefeller Center's resident villain when he announced that he was cutting 700 jobs a few weeks back. The news division stands to lose 200 people alone, 40 of whom—members of the staffs of Dateline, Nightly News and Today—will learn their fate this week.
Now, Mr. Zucker's quotes from a recent Wall Street Journal article—particularly one about how news is no longer a "growth industry"—are being forwarded around like threatening chain mail at the other broadcast and cable news networks.
At ABC, where Writers Guild members have been without a contract for two years, managers sent the article around last week, said two of the 130 writers who received the e-mail. "The implication was, 'You could be next,'" said one.
And if you were next, where would you go?
CNN isn't exactly hiring in droves. Neither is Fox.
"It's like losing your job as a typesetter," said a network source. "There's nowhere to go."
Well, Al Jazeera English might be hiring some technical staff ….