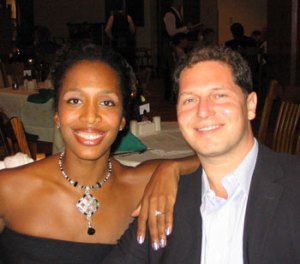 Michele D'Aprix and David Gordon
Met: Jan. 2005
Engaged: Aug. 25, 2006
Projected Wedding Date: Fall/Winter 2007
It was the great blizzard of 2005, and Michele D'Aprix, a bartender at Level V, one of the meatpacking district's many lounges, was enjoying a glass of red wine and a copy of Jonathan Ames' The Extra Man when David Gordon entered with some friends. "I was minding my own business and he stumbled into the bar," said Ms. D'Aprix, 32, a stunning, slender brunette with a mischievous smile.
"Whatcha reading?" asked Mr. Gordon, who has a boyish face and a curly, Cosmo Kramer–esque coif. He told her he and his posse were all neurosurgeons. "I didn't believe any of them," said Ms. D'Aprix, who demanded the men take her pulse and quizzed them on various molecular formations as the other bartenders clustered around her protectively.
At closing, Ms. D'Aprix found that she'd had a few too many and couldn't zip her jacket. "Doctor!" she screamed, and Mr. Gordon raced over. It was on to Bar and Book for more libations, after which he repaired to his Hell's Kitchen one-bedroom alone, Ms. D'Aprix whizzing back to her Williamsburg share in a cab.
They met two days later for dinner at Taboon, a Middle Eastern and Mediterranean restaurant in Hell's Kitchen.
"The reason we ended up really liking each other was because the last thing either of us wanted was to be in a relationship," said Mr. Gordon, 36, who at the time was recovering from a breakup. "It was the smoothest transition I've ever had."
After four months, they decided to take a nine-day trip to Myanmar and Cambodia, where Mr. Gordon contracted a stomach virus and Ms. D'Aprix had trouble with the local cuisine. There was some puking during temple visits. "But we forged on," Mr. Gordon said. "I was holding her ponytail while she was vomiting."
"If you can love each other after all that … ," Ms. D'Aprix said.
After they returned, Mr. Gordon closed on a two-bedroom in his neighborhood, into which Ms. D'Aprix swiftly moved, getting rid of his La-Z-Boy in the process. She began to commute from there to a new job as an assistant winemaker at Waters Crest Winery in Long Island. "It wasn't a question of 'Will you marry me?', just a presumption on both of our parts," Mr. Gordon said. "We'd just kind of talk about life together, and how many kids we wanted, and where we were going to live."
During another trip to a converted farmhouse in Roishem, Norway, he sang her an a cappella version of a song he'd composed himself using Refrigerator Poetry (kidding):
A pavement footfall rain distraction
the creation compression release
a mirror sprays instant refraction
of a million knives of light
A million rays of your light.
The last lyric:
Will you accept this ring, and be my wife?
Actually, there was no ring; the couple doesn't want to endorse the diamond trade. Still, Mr. Gordon reported, Ms. D'Aprix "had a visceral response": hyperventilating and then saying yes.
Eric Cohen and Francesca Harper
Met: Jan. 1, 2001
Engaged: June 5, 2006
Projected Wedding Date: Spring/Summer 2007
Eric Cohen, 31, a lawyer and the owner of Rare Bar and Grill in Murray Hill and the West Village, plans to marry Francesca Harper, an actress, dancer and choreographer who described her age as being "somewhere between 18 and diapers" at an as-yet-to-be-determined location; they are mulling transforming a raw space, as restaurateurs and choreographers will do.
They met through a mutual friend at a New Year's Day loft party on Canal Street. The ruddy, blue-eyed Mr. Cohen was immediately enamored of the expressive, toothy Ms. Harper, who was dancing in Fosse at the time. "I had seen Fosse. It was amazing show," he said. "I was fascinated." But he was too shy to get her number. "She's a pretty girl," he told their friend. "I don't think she'll be interested."
Thank goodness for e-mail!
It was a pleasure spending hours in delightful conversation, Mr. Cohen wrote Ms. Harper the morning after the party How's the Broadway schedule? What nights do the curtains stay closed?
Ms. Harper's response encouraged him to call her sometime, and they began going out in groups on occasion. On Valentine's Day, Mr. Cohen sent two dozen red roses to her theater. "It felt like a real expression of interest," Ms. Harper said. One night, after a few drinks at the Bowery Bar, they began making out on the sidewalk, to the enthusiastic applause of passers-by.
Mr. Cohen, then a corporate attorney for a large firm, was soon quite sleep-deprived thanks to Ms. Harper's work schedule. Often they wouldn't go to bed till 5 in the morning. And when Fosse went on tour, their relationship faced additional stressors, though Mr. Cohen made the best of a stop in Richmond, Va., on their anniversary, booking a room at the Jefferson Hotel and ordering room service, booze and a couple of cigars.
Then, after touring with The Producers, Ms. Harper got an offer to dance in Nathan Lane's Frogs. She returned to the city and moved to the Upper West Side, sharing an apartment with a ballet dancer, whom Mr. Cohen soon supplanted.
"Isn't that cute?" Ms. Harper would remark if the image of a child flitted across their TV. "I can't wait until we have kids."
"Be patient," Mr. Cohen would growl. "You're going to ruin the surprise."
But she was indeed shocked when he proposed, on a large yet secluded rock above the Hudson River after a hike in Inwood Hill Park, with a marquis-cut, baguette-flanked, platinum-set diamond ring. "A hike is a symbol of the kind of marriage I want," said the groom-to-be. "You start out together on a journey. Maybe you stop and look at the trees, maybe it gets a little tough going, but you come out together to a beautiful place."