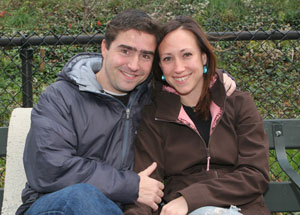 Robert Lyons and Kelly Moylan
Met: June 2005
Engaged: March 8, 2006
Projected Wedding Date: Dec. 2, 2006
Robert Lyons, 35, a film and video producer with his own production company, Quixotic Industries, plans to marry Kelly Moylan, 37, a psychotherapist who also acts and sings, at Gedney Farm in New Marlborough, Mass. The reception will feature a three-tiered round cake with butter-cream icing by Michelle Doll Cakes.
The handsome, squarely built, salt-and-pepper-haired Mr. Lyons was drinking at an East Fourth Street bar with some friends from the master class run by Philip Seymour Hoffman's LAByrinth Theater Company when he first clicked with Ms. Moylan, a kicky, thin brunette whose lips have a seductive curl. "It was really nice to meet you," they told each other at the end of the night.
A month later, in the sweltering July heat, they both attended a reading that featured Edie Falco and John Turturro at the Producers Club (ah, the thea-tuh!). The room had no air-conditioning. "If I hadn't been interested in talking to him afterward, I would have left," Ms. Moylan said. Afterward, they repaired to the dark cool of Pete's Tavern with a mutual friend and marveled at their commonalities: Both had Irish-immigrant grandparents, and their fathers attended the same school in the Bronx. Mr. Lyons then got on the No. 4 line with her to Brooklyn Heights, even though he usually took the F train to his place in Cobble Hill. He walked her all the way to her apartment building, where she gave him her business card—"in hopeless-romantic fashion," Ms. Moylan joked.
The following week, they dined at Bar Tabac on Smith Street. "I have to walk my dog," Mr. Lyons announced at the end of the meal. "I live right around the corner."
"What an innocent excuse to have me come upstairs," Ms. Moylan chuckled to the Love Beat. He kissed her gently before opening the door to his apartment and introducing her to his pet German shepherd–poodle mix, Sherwood (named after short-story writer Sherwood Anderson). "A shepherd-doodle," he said proudly.
For Date No. 2, they enjoyed a game of bocce at Floyd.
But then Mr. Lyons arrived over 40 minutes late for Date No. 3. "That is not O.K.," Ms. Moylan said. "You could have been fired for that."
She accepted his apology and they headed to Freddy's, the Prospect Heights landmark tavern facing extinction at the hands of Bruce Ratner. "We disagreed, we had a problem, but we had a great night nonetheless," Mr. Lyons said.
Six weeks later, they went to Rockaway Beach, where some topless sirens called out to him.
"I was like, 'Hello, do you see me?'" Ms. Moylan said.
"I didn't even notice," he said gallantly.
After eight more months of focused courtship, they returned to the beach on Ms. Moylan's birthday.
"I have a proposal," Mr. Lyons said—a common catchphrase of his.
"I figured he'd say something like, 'Let's turn around and go get sandwiches,'" Ms. Moylan said.
"A big proposal," Mr. Lyons amended, before dropping to one knee and proffering his maternal great-aunt's ring (a gift to her from the mystery writer Mary Roberts Rinehart): an old miner's-cut diamond flanked between two trapezoidal baguettes. "I want to spend the rest of my life with you," he said. "I love you."
They have since moved to a two-bedroom apartment in Park Slope, where Sherwood has learned to love Ms. Moylan's cat, Stinky.
Aileen Quigley and Tim Dosé
Met: Summer 2001
Engaged: June 12, 2006
Projected Wedding Date: Oct. 13, 2007
By day, Tim Dosé is an illustrator and tech guy for the illustration agency Lindgren and Smith—but by night, he's a dancing machine!
It was across a crowded floor at Swing 46 in Hell's Kitchen that Mr. Dosé, 28, who learned how to shake his thing at Dance Manhattan in Chelsea, first fell for Aileen Quigley, a slender, expressive brunette. All he had to do was utter those fateful words—"Wanna dance?"—and they were off like Fred and Ginger.
"He made me feel comfortable right away, and that's rare in New York," said Ms. Quigley, 30, an administrative assistant for Citigroup and (ahhh!) a part-time massage therapist at Equinox who learned her trade at the naughty-sounding Swedish Institute.
Afterward, they went with a few of Mr. Dosé's friends to a diner across the street, where Ms. Quigley tried out a few jokes. "They were hilarious," said the tall, dark, endearingly straggly-haired Mr. Dosé, "but she was doing them on the side, not jumping in to be the center of attention. I really liked that."
Months later, the two young people ran into each other at a birthday party in Woodside (that's Queens—we think), after which they proceeded to Copper Face Jack's, a nearby bar with a wood-burning fireplace. Mr. Dosé was about to make a move when a man with a puppy walked into the bar, like the old joke. "Aileen is crazy about dogs," Mr. Dosé said. "All conversation ceased."
They returned to the birthday girl's apartment, where Ms. Quigley was spending the night, and exchanged several kisses under the stern gaze of the resident cat. "It would sit there and stare at us, motionless," Mr. Dosé said, shuddering at the memory. The next morning, he did the walk of shame out of the apartment. All of Woodside was scandalized.
For their first official date, the couple ate at a now-defunct Vietnamese restaurant in midtown, engaged in a little P.D.A. at Zanzibar, and—of course—went swing-dancing. "My favorite thing is just watching her," Mr. Dosé said. "I call it the Aileen Show."
Ms. Quigley, meanwhile, knew it was love when she survived a three-day weekend with Mr. Dosé in a B&B outside Burlington, Vt. "I have a 48-hour threshold of interest for most people," she said. Luckily, he likes back rubs. "It's so nice to touch someone who appreciates it," she said.
After years apartment-hopping through the West Village (her) and Long Island City (him), they finally succumbed to a two-bedroom in Sunnyside.
One evening, after a trip to Florida to visit a friend, Ms. Quigley returned home to find a path of long-stemmed white roses leading from the front door to the living room. But Mr. Dosé was nowhere in sight. He'd left a note on the stereo that read "Play me," but she failed to see it.
Mr. Dosé, hiding in the office wearing a tuxedo, finally hit his head on a draft board and stumbled out, slightly dazed, to press the button in question. As Ben Folds Five's "The Luckiest" wafted over the speakers, he slid to one knee and gave Ms. Quigley a brilliant-cut, platinum-set diamond from the 1940's, an heirloom from his maternal grandmother. "The past couple of years have been so great," he said. "I want as many more years as we can get."
The couple will wed at the West Side Loft in Chelsea—with plenty of boogying, of course. "I always knew I wanted to find someone who liked to dance," the bride-to-be said. "I pictured myself being 85 years old, dancing with my husband."