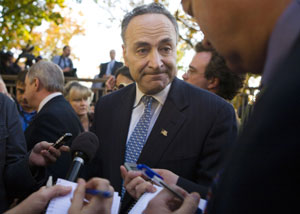 More than the inability to influence Iraq policy or the President's tax cuts, Chuck Schumer says that the single greatest failure of the Democrats as an opposition party was allowing Samuel Alito to join the Supreme Court.
"Judges are the most important," said Mr. Schumer, who orchestrated the implausible Democratic takeover of the Senate last week. "One more justice would have made it a 5-4 conservative, hard-right majority for a long time. That won't happen."
From now on, all the President's judicial appointments will need to meet the requirements of Mr. Schumer, the Park Slope power broker who has happily accepted the mantle of chief architect for the Democrats' effort to build a majority for the 2008 elections and beyond.
The Senator also intends, in the coming months, to rework the federal government's funding priorities in New York's favor, to steer the Democrats toward a radically new position on Iraq and, while he's at it, to cement his position as the unofficially declared tactical guru for the national party.
And in case anyone's wondering, yes, Mr. Schumer is entirely comfortable with this sort of power.
With his Gold Toe–stockinged feet dangling, the 55-year-old slumped in his armchair on Friday morning as if it were a leather throne. On his apartment's front door, a neighbor taped up a front page of The New York Times heralding the Democrats' success and scrawled "Congratulations Schumers!" across the cover.
The candidates that Mr. Schumer recruited, groomed and bankrolled had won a comprehensive victory over the incumbent Republicans, giving the Democrats a narrow majority in the Senate to complement a rout in the House. Since the election, Mr. Schumer has been awash in attention from the media, his Democratic colleagues and even from the President, who called, quite sportingly, soon after the results were finalized.
For Mr. Schumer, who was installed on Tuesday as Vice Chairman of the Democratic caucus and officially reinstated as head of the DSCC, the attention couldn't be coming at a better time.
"I am writing a book, about how to build a permanent—a long-term majority," Mr. Schumer said during an early-morning interview in the pink den of his apartment near Grand Army Plaza. He sat between a view of lower Manhattan and portraits of Democratic icons Franklin Delano Roosevelt and Al Smith. "I generally have an eye toward longer-term strategy and politics, and I think my colleagues rely on me for that."
His book, Positively American: Winning Back the Middle Class Majority One Family at a Time, will be released right around the President's State of the Union address, and will fit neatly into the role that Mr. Schumer now envisions for himself as tactician in chief for the newly ascendant Democrats.
"I've always had some influence, and I guess now, because of what we've been able to accomplish, I have some more influence," Mr. Schumer said. "So when I say we shouldn't do this or we should do that, I guess people will pay a little more attention. Or go along with it, even if they don't agree."
Certainly, the party wasn't united behind Mr. Schumer's election strategy this year. He championed a traditional approach: directing the bulk of the party's financial and logistical resources toward handpicked candidates in a few competitive races. Howard Dean, who heads the Democratic National Committee, advocated a "50-state strategy," spreading money around toward the longer-term goal of making the party viable even in areas that have been Republican strongholds.
After the victory—the Democrats picked up six Republican-held seats and defended every Democratic one—Mr. Schumer hardly seemed ready to concede the point.
"Fifty-state is a good thing to do, but it didn't help us in this election," said Mr. Schumer. "My only disagreement with Howard is that he should help us fund taking back the majority, because it would make a difference with things like the Supreme Court. And he came through—he ended up giving us $7.5 million. We tried the honey approach rather than the vinegar approach, and it worked."
So what's the immediate payoff of his success?
For one thing, Mr. Schumer said, New York will soon be "disproportionately" enjoying the spoils of last week's victory.
He said that the formula for determining which areas receive homeland-security funding will be changed to benefit places of high risk, like New York, and that more money will be sent to the city for health care and education, including the "No Child Left Behind Act" and special-education programs. He predicted increased federal funding for a proposed tunnel between New York and New Jersey and the Second Avenue subway line, and said that his own bill making college tuitions tax-deductible—which the Republicans refused to renew in May—would be passed in the "first month or two" of the next session.
On the subject of Iraq, Mr. Schumer has essentially taken a pass until now. He has argued that an opposition party's responsibility—at least in an election season, and in an area that has proven so politically troublesome to the Bush administration—is to critique foreign policy and not set it.
Now, Mr. Schumer said, he hopes that a controversial plan strongly advocated by Senator Joe Biden of Delaware—which essentially calls for the dissolution of Iraq into three autonomous ethnic enclaves (and which Mr. Schumer quietly supported last year)—will emerge as a concrete Democratic alternative to current administration policy.
"It may actually move into play," said Mr. Schumer. "I've always believed that the Sunnis, Shiites and Kurds hate each other more than they will ever love any central government."
Outside of Iraq, Mr. Schumer echoed his colleagues' calls for more multilateralism and said the climate of greater comity would help in North Korea—"We are totally dependent on the Chinese," he said—and in the Middle East.
"I really dislike the Syrians," Mr. Schumer said. "That's the problem here. But it probably ends up being better to talk to them than not."
Mr. Schumer wanted to make clear that these will not be mere suggestions to be considered or discarded by the White House as the administration sees fit.
"Bush will be a lame duck unless he has a dramatic change of course—unless the Rasputin-like influence of Cheney goes. You could see Cheney, just by his body language, is just angry," said Mr. Schumer. "If Bush doesn't budge, he will be a lame duck."
As far as working with his Republican colleagues in the Senate, Mr. Schumer said that, at least in one way, victory has made life easier.
"One good thing for me: All the people who I opposed, who I haven't talked to, are not there," he said, leaning forward with a sharp cackle. "Every single incumbent that we targeted is not there—so I breathed a sigh of relief. Some of them would just glare at me. I don't blame 'em."
One day earlier, on an unseasonably warm Thursday afternoon in Washington, Mr. Schumer, along with fellow Senators Harry Reid and Richard Durbin, was set to speak at a rally on the "Senate Swamp" outside the Capitol. A few miles away, Republican George Allen conceded his tight Virginia race and officially gave the Democrats control of the Senate. On the Senate lawn, carpeted with fallen red oak leaves, an intern in khakis hunched over a podium and conducted a sound test by reading Bob Dylan lyrics.
Dozens of Senate interns and staffers—the men in khakis, the women in black pantsuits and white blouses—began filing toward the lawn. A flier publicizing the rally had been sent to many of the Democratic offices in the capital. A multicultural selection of supporters was chosen to stand on risers behind the podium, and an aide in a dark suit reminded the group that the microphones on the podium could pick up "every whisper."
Other rally organizers lined up scores of beaming Democrats on both sides of a sidewalk and handed out miniature American flags. Sheryl Crow's "A Change Would Do You Good" played on the loudspeakers, and the lines formed a cheering, flag-waving corridor for the three Senators to walk through. Wearing a dark suit and a blue tie spotted with white ducks, Mr. Schumer marched on Mr. Reid's right side and made no effort to conceal his utter elation. "I felt like one of three generals who had liberated a country," Mr. Schumer later said.
"Chuck! Chuck! Chuck!" the crowd chanted when Mr. Schumer was introduced by Mr. Durbin as "our hero."
"If we can keep our focus on the average family, we will stay a majority for a generation," Mr. Schumer said. "That is what we aim to do."