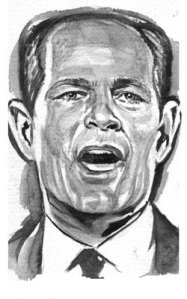 New York State politics is cankered and corrupt. Anyone who requires proof need only ponder the cases of Hakeem Jeffries and Lorraine Coyle Koppell, two notable victims of our farcical redistricting process.
In 2000, Mr. Jeffries challenged a long-time member of the State Assembly, Roger Green, for the Democratic nomination in the 57th District. He fell short in the end, receiving about 40 percent of the votes cast.
The district was redrawn at the next available opportunity. Mr. Jeffries' home was shunted into an adjacent district.
Mr. Green became entangled in scandal in 2004, pleading guilty to filing false expenses. Despite that, he won re-election later the same year.
Ms. Koppell, too, was thwarted by the redistricting process. Unlike Mr. Jeffries, she at least made it as far as the general election in 2000, where she mounted a robust challenge to Republican Guy Velella for his State Senate seat. Two years later, the new boundaries excluded her house from the district—and added a few affluent white neighborhoods, the better to buttress Mr. Velella's position.
Mr. Velella, like Mr. Green, also ended up before the courts. He was sentenced to a one-year stint on Rikers Island in 2004 after pleading guilty in a bribery conspiracy.
The cases of Ms. Koppell and Mr. Jeffries put a human face on what can otherwise seem an abstract problem: the need for electoral reform in New York State. At present, legislators have de facto power to draw each district according to their whims. The result is a moribund political culture in which budget difficulties fester and Medicaid costs spiral out of control.
"Look at it this way—in the last election, of 212 incumbents, 25 percent had no opponent at all," Queens Assemblyman Michael Gianaris told The Observer. "About 60 percent had opponents who could not raise even $1,000 for the race. If you can't raise $1,000, you're not running a campaign."
Mr. Gianaris has been one of the most vocal proponents of reform. He has proposed a bill that would put redistricting in the hands of an independent commission. The bill has over 30 co-sponsors.
As of last night, the reformers have an even more powerful figure in their corner: Governor-elect Eliot Spitzer, who repeatedly asserted the importance of changing the redistricting process during his campaign. In a speech last year at the Rockefeller Institute of Government, Mr. Spitzer described the current situation as "unconscionable."
But the expected battle for reform against the entrenched interests personified by Senate Majority Leader Joseph Bruno and his Assembly counterpart, Sheldon Silver, will not be an easy one.
The G.O.P., under Mr. Bruno, is almost entirely dependent on the current system to retain control of the Senate, despite the fact that there are five registered Democrats for every three Republicans in New York. And Mr. Silver has used the favorable map to expand his party's already gaudy majority in the Assembly.
It's no wonder, perhaps, that Mr. Spitzer's two immediate predecessors, George Pataki and Mario Cuomo, conspicuously failed to curb the flagrant misuse of the redistricting process. "You are asking people to change a system that works for them," said Rachel Leon, the executive director of Common Cause New York.
And attempts in the more distant past to change the system—such as the constitutional convention way back in 1967 calling for a bipartisan commission to take control of redistricting—failed at the polls after being packaged with a raft of other measures that proved less popular.
But Mr. Spitzer's election is giving many good-government types grounds for optimism this year. "We haven't had a Governor who has been willing to stand up to the Legislature," said Dick Dadey, the executive director of Citizens Union, in the lead-up to Election Day. "We are hopeful that if Spitzer is elected, he will be able to break the logjam."
In addition to the newly elected Governor, these would-be reformers believe that national controversies—such as the one surrounding the redrawing of Congressional boundaries in Texas—have put the issue on voters' radar as never before.
And they contend that frustration with Albany's ineffectiveness has reached a fever pitch among the public and even with insiders.
Hakeem Jeffries, who was drawn out of his home district six years ago, was finally elected to the Assembly yesterday. According to Mr. Gianaris, Mr. Jeffries has already assured him that he will support the redistricting reform proposal.
"Enough people have now been elected who have their own personal horror stories about redistricting," Mr. Gianaris said. "There is a perfect storm for change."
Now it's up to the new Governor to harness the energies of that storm.
Mr. Spitzer ran on the slogan "Day One: Everything Changes."
Will he live up to his billing?