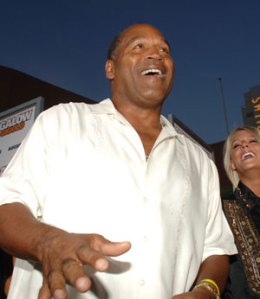 In April 2006, celebrity publisher Judith Regan began working on what she called "Project Miami." It would be a book by O. J. Simpson in which he would not not confess to the 1994 murders of Nicole Brown Simpson and Ronald Goldman.
Four months later, with the book well underway, Ms. Regan began to shop an interview with Mr. Simpson around the broadcast networks.
She approached Barbara Walters at ABC. Ms. Walters said on the Nov. 15 episode of The View that she declined the interview.
But, according to four sources, Ms. Walters had expressed serious interest in Ms. Regan's proposal. Another source, who has knowledge of Ms. Walters' thinking, said that the newswoman expressed interest but never formally committed.
The sources, three of whom work at the network, said ABC News executives objected immediately. Ms. Regan then proposed that Ms. Walters do the interview through the network's entertainment division instead of its news department.
Ms. Walters was intrigued, but needed to know exactly what revelations the book, called If I Did It, would contain. (Ms. Walters would not comment for this story.)
Ms. Regan arranged a phone call between Ms. Walters and the book's ghostwriter, Pablo Fenjves, a former co-worker of Ms. Regan's at The National Enquirer who was also a witness for the prosecution in Mr. Simpson's criminal trial—it was he who recalled the "plaintive wail" of what might have been Nicole Brown Simpson's Akita on the day of her murder.
Ms. Walters was sent an excerpt of the work in progress, which she read, the sources said.
ABC, as a matter of course, would not commit to airing an interview with Mr. Simpson before the interview was completed. Ms. Walters' journalistic ideals were getting in the way.
Ms. Walters, according to two sources, would have wanted to air the interview in February 2007. She already had several prime-time engagements planned for the fall, including "30 Mistakes in 30 Years," a career blooper reel that ran on Nov. 17. Plus there was the task of integrating Rosie O'Donnell onto The View. Plus she had to find a replacement for Star Jones. Ms. Walters' schedule was packed through winter.
She spent no more than 10 days, by one informed account, in consideration, weighing these factors as well as a personal distaste for the enterprise. Ms. Walters declined the interview. So Ms. Regan set out to find a less ideal host.
The problem with O.J. Simpson—like Robert Blake or Michael Jackson or John Mark Karr or Charles Manson—is that he is more than a solitary, loathsome figure. He sullies whoever occupies the chair opposite him. Ms. Walters would have been journalist enough to absorb his stench, but few others in the news business are so hearty.
Ms. Regan contacted a handful of the most powerful television insiders, according to two other sources with knowledge of her efforts. She came to each with the promise of a "top-secret" project that she described as "explosive." To find out more, they had to sign a nondisclosure agreement. (Ms. Walters, the sources said, was among those who signed. According to two sources close to Ms. Walters, News Corp. lawyers threatened to send a cease-and-desist letter after her statements on The View.)
Ms. Regan failed to find a suitable replacement.
She brought the project to Mike Darnell, the executive vice president of alternative programming at the FOX (FOXA) Broadcasting Company; his boss, Peter Liguori, the entertainment president of Fox; and his boss, Peter Chernin, the News Corp. executive in charge of the network. HarperCollins, the parent of ReganBooks, is owned by News Corp. (Executives of News Corp. declined, through publicists, to comment.)
She would conduct the interview herself. Why not?
Fox accepted. The special was scheduled for Nov. 27 and 29, the very end of sweeps. News Corp. boss Rupert Murdoch was kept fully informed, said two company sources. Other News Corp. executives, including Roger Ailes, the president of the Fox News Channel and the Fox affiliate group, were told hours before the release went out on the evening of Nov. 14, the News Corp. sources said.
The appeal for Mr. Murdoch and his subordinates was clear. Fox has had a terrible run this fall, even worse than it has had in recent years before its hits, American Idol and 24, begin again in January. None of the network's new programs have succeeded.
The ones that have avoided cancellation—the Brad Garrett vehicle 'Til Death, for example, which averages only five to six million viewers a week—have done so by failing slightly less miserably. Vanished, a show about a Senator's wife who goes missing, was cancelled on Nov. 16. It averaged just over three million viewers an episode. (By comparison, the last season of American Idol regularly drew 25 million viewers per episode.)
A blockbuster interview, even with—or especially with—a figure as widely reviled as Mr. Simpson, could overcome the network's bleak sweeps performance. Mr. Darnell's oeuvre—he is the only named producer of the special—includes 1998's When Animals Attack!, 2002's Temptation Island and 2000's Who Wants to Marry a Multi-Millionaire?, whose multimillionaire had a criminal record and whose only tangible outcome was not a marriage but the short-lived nude-modeling career of "winner" Darva Conger.
But things went quickly south. In the week since News Corp. announced the Simpson package-of-terror, sanctimony has been the order of the day. The publishing industry reacted in disgust. At least a dozen Fox affiliates announced, sight unseen, that they would not carry the broadcast. Two major affiliate groups—Tribune and Sinclair—which own dozens of Fox affiliates between them, were threatening to pull the special from their airwaves at the start of this week, said a News Corp. source. Borders and other bookstores volunteered to give all the profits from sales of the book to charity.
Even Bill O'Reilly and Geraldo Rivera strutted out on the Fox News Channel to declare this the latest outrage in the culture wars. First Christmas; now O.J.
All that foaming led Mr. Murdoch, who is in Australia this week, to announce on Monday afternoon that he and his top executives had decided the hubbub wasn't worth it.
"I and senior management agree with the American public that this was an ill-considered project," Mr. Murdoch said in a statement issued on Nov. 20, addressing both any question of who comes first at News Corp. ("I") and whether there might have been dissent in the ranks.
Hadn't there been?
Mr. Ailes, ever the company man but not exactly good buddies with Mr. Chernin, had allowed his top talent to speak out against the News Corp. family in the days after the Simpson special was announced. On Nov. 17, Mr. O'Reilly called for a boycott of all advertisers who bought commercial time during the special. Moments after the reversal came down on the afternoon of Nov. 20, Fox News anchor Shep Smith—whose career-defining moment involved seeing the phrase "curb job" on a teleprompter and speaking the phrase "blow job" on live television—uttered another gaffe in addressing his corporate parent's sensible decision.
"Now we know News Corp. and Fox News—err, Fox Broadcasting, which is in no way connected to Fox News—has decided to cancel the publication of the O.J. book and cancel the broadcast of the O.J. interview," Mr. Smith said on his 3 o'clock newscast, not quite correctly representing the relationship between the channels and their corporate parentage.
But come Monday, News Corp. senior management was a unified front: "We are sorry for any pain this has caused the families of Ron Goldman and Nicole Brown Simpson," they said. And that was all they said.
It was a nice thing to say, but it did little to address the most legitimate objection to the Simpson special, which is that it allowed Mr. Simpson, directly or indirectly, to profit once more from his role or non-role in the murder of his ex-wife and Mr. Goldman. The figure being tossed around in news reports is $3.5 million for his non-confession confession, though whether that is the amount of his advance, or is entirely inaccurate, is unconfirmed. Ms. Regan has promised the money will go to his children or to the Goldmans, if they work up the energy to sue. (Ms. Regan could not be reached; her cell phone voicemail was full.)
Judith Regan's books—or Pablo Fenjves' books—are printed, and some have even shipped. They are wrapped in plastic in warehouses around the country, where most of them will stay—except for the multitude of copies that will be unwrapped, passed around, read and resold for many times their original value on eBay.
As for Ms. Regan's emotional four-hour interview with Mr. Simpson—tape which was not yet finished being edited into the two one-hour segments allotted for the special—it will remain locked in the News Corp. vault for at least a few hours until it "leaks" out and winds up on YouTube.
And Fox will engineer two nights of sweeps programming without Mr. Simpson.
The network knew that America has always had a special weakness for unconvicted criminals. But this fall, Nielsen numbers reflected a subtle shift in public opinion, a shift that Fox should have noted.
Historically, confessing in prime time, outside the confines of a trial, when there are no longer any consequences for rapes, murders and child-fondlings of years past, has become an honored sweeps-time ritual for the celebrity wrongdoer and his network of choice. This fusion of tabloid news and infotainment programming has grown into a slobbering subgenre. TV stars, including Headline News' Nancy Grace and Dateline NBC's Chris Hansen, have staked their careers on the popularity of this form of television. An entire network—Court TV—was founded on its principles.
British interviewer David Frost pioneered the form in 1977, when he conducted eight hours of interviews with a weather-beaten Richard Nixon. Mr. Nixon, realizing that he must make a spectacle of himself, broke down in tears on the final hour of the final day of interviews.
Years later, Martin Bashir's 2003 interview of Michael Jackson drew 27 million viewers when it aired in the United States, and 14 million when it aired first in England. And Katie Couric's 2004 interview of O.J. Simpson, conducted on the 10th anniversary of the murders, drew both criticism and boffo ratings for NBC.
But this year, when it became clear that JonBenét Ramsey's non-killer John Mark Karr was too much of a liability to appear on Good Morning America, the program's bookers passed the interview over to the producers of the new syndicated Dr. Phil-alike, the extra-bald Dr. Keith Ablow. These producers, according to four sources close to that show, plied the flimsy man-child with wine and used hidden cameras to catch him extemporizing backstage on the sexual preferences of little girls.
Ratings for The Dr. Keith Ablow Show, that day and every day, hovered just over one million viewers.
A disappointing five million viewers watched Diane Sawyer interview Mel Gibson for the first of two hours on Oct. 12 on Good Morning America—one million fewer than were watching whatever NBC was counter-programming over on the Today show, according to Nielsen.
Mr. Simpson's stillborn interview would have been the most tiresome event to occur since Oprah Winfrey's springtime bout with disgraced memoirist James Frey. Mr. Simpson's book merely inverts Mr. Frey's formula: Where A Million Little Pieces was a work of fantasy sold as a work of history, If I Did It is a memoir disguised, half-heartedly, as a novel. Mr. Frey's truth is subjective; Mr. Simpson's is hypothetical. But the mechanism is the same: Lie, confess, don't really confess.
There is also the latest season of Survivor, which married the worst instincts of the news division to entertainment programming and so divided its cast into four teams by race. It was a naked ratings ploy disguised as a pop sociological experiment, and it performed poorly. For all the hype, only 18 million viewers—off from a series peak of 45 million—tuned in for the premiere.
On Court TV and Headline News, Ms. Grace has continued her wide-nostriled tirade against defense attorneys, police investigators and anyone suspected of committing a violent crime. On NBC, Mr. Hansen has persisted in setting up sting operations to trap would-be Internet sex offenders. Both shows have presided over suicides this fall.
In Mr. Hansen's case, a sex predator shot himself in the head earlier this month before the Dateline camera crew could capture his shame. In Ms. Grace's case, Melinda Duckett, the young mother of a boy who had gone missing in Florida, shot herself in the head this September, less than 24 hours after a televised interrogation by Ms. Grace. On Nov. 20, lawyers representing Ms. Duckett's estate announced that they would be suing Ms. Grace and the network.
By contrast, the two breakout hits of the fall season are shamelessly life-affirming scripted shows: Heroes, on NBC, about a pretty and ethnically diverse group of young people with superpowers who band together to save the world; and Ugly Betty, on ABC, about a fat girl with braces who triumphs over cosmopolitan adversity. Both draw more than 14 million viewers a week.