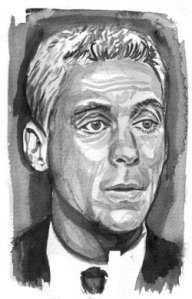 It's been barely a week since her fellow House Democrats officially picked Nancy Pelosi as their candidate for Speaker, and it'll be six more before she actually grabs the gavel.
Which makes it a largely academic exercise, for the moment, to wonder when and how a leadership coup against the 66-year-old San Franciscan might actually happen.
Yet the sharp internal rebuke she received last week—when her ward-boss strong-arming on behalf of John Murtha's bid for House Majority Leader backfired to the tune of a 149-86 win by Maryland's Steny Hoyer—does have a mutinous precedent.
After all, it was in 1994—the last time partisan control of the House flipped—that another incoming Speaker, Georgia's Newt Gingrich, took sides in a party leadership fight and lost, backing Pennsylvania's Robert Walker over Tom DeLay for majority whip. Three years later, Mr. DeLay and a number of other members in the House leadership tried, and narrowly failed, to throw Mr. Gingrich overboard.
Mr. Gingrich survived as long as he did because, in part, he walked away from the '94 leadership fight with few visible bruises. He had the good sense, once he saw Mr. Walker's bid for the dead dog it was, to avoid spending too much of his own political capital in a losing cause.
Ms. Pelosi threw herself into the late stages of the leadership contest by urging her colleagues to support Mr. Murtha and by telling freshmen lawmakers, in effect, that they'd never eat lunch in D.C. again if they dared defy her.
That her pitch only worked on a few dozen Democrats raises the question of whether the soon-to-be Speaker has turned herself into a toothless tiger.
The good news for Ms. Pelosi is that her leverage over the caucus is still substantial.
For one thing, the power of the Speakership—the ability, for instance, to sentence disloyal backbenchers to the subcommittee on subcommittees—provides a compelling incentive for rank-and-filers to stay in line. And Democrats, who are fortunate that most Americans regard last week's food fight as inconsequential inside baseball, would face a public-relations disaster if they moved anytime soon to overthrow the first female Speaker in American history.
More to the point, any successful coup needs a leader.
This is where Ms. Pelosi's internal aptitude is most evident. She became the House Democratic leader in 2003 and, since then, has filled the leadership with a particularly non-threatening brand of loyalist.
Just look at James Clyburn of South Carolina and Connecticut's John Larson, who will hold two of the five elected Democratic leadership posts in the next Congress.
The new House Majority Whip, Mr. Clyburn, 66, is a gentlemanly Southerner who is utterly dispossessed of the ambition and effrontery of a Tom DeLay.
And Mr. Larson, 58, will probably be delighted with his lot as vice chairman of the Democratic Caucus.
Ms. Pelosi is insulated in other ways, too.
By swearing allegiance to the seniority system—and thereby refusing to honor the G.O.P.-initiated custom of term-limited committee chairmanships—she has mollified most of the mighty Democratic lions of the House.
Nor is she particularly threatened by the hard-charging batch of younger House Democrats. Some of them—like Alabama's Artur Davis and Chris Van Hollen of Maryland, Hoyer allies both—seem more interested in winning statewide office than in slowly climbing through the House ranks. Others—like Tim Ryan of Ohio and Kendrick Meek of Florida—are proven sycophants happy to do Ms. Pelosi's bidding in exchange for incremental career advancement in Congress.
That would seem to leave Mr. Hoyer as the de facto alternative. But he's run against Ms. Pelosi before, losing a 118-95 decision five years ago. And his age—67—and insider-hack image would both be serious impediments.
If there is a single most identifiable threat to Ms. Pelosi, it's probably Rahm Emanuel, the 46-year-old Chicagoan whose stewardship of the Democratic Congressional Campaign Committee this year has won him a thankful following among the incoming freshman class.
Mr. Emanuel is the antithesis of Messrs. Clyburn and Larson—brusque, relentlessly ambitious and relatively independent of Ms. Pelosi. So far, she's handled him deftly, cutting a deal that will make Mr. Emanuel the No. 4 Democrat in the next Congress—and depriving him of the majority whip's job that he clearly had his eyes on.
But even Mr. Emanuel is partly Ms. Pelosi's creation, since she appointed him—with evident trepidation—as the DCCC's chairman two years ago. That move helped win her the Speakership. She can only hope the price wasn't too high.