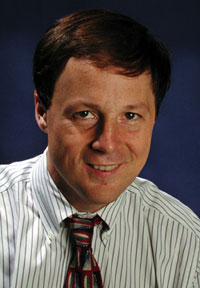 Allbritton Communications, which owns seven ABC affiliates, including WJLA-TV in Washington, D.C., now wants to own a newspaper.
A newspaper? Didn't everyone write those old, unprofitable things off?
Allbritton's paper, a tabloid called The Capitol Leader, will have a circulation of between 20,000 and 30,000, according to Frederick Ryan Jr., Allbritton's president. It will be published three days a week, though only once a week during Congressional recesses. The majority of its readers—Capitol Hill staffers, lobbyists, that sort of crowd—will receive a free subscription. There will be newsstand sales, and also paid subscriptions. Designer Lou Silverstein, formerly an art director for The New York Times, created a template for the newspaper.
The Capitol Leader will debut in January, along with the new Congress. Allbritton once owned The Washington Star, which shuttered in 1981.
The Capitol Leader is paired with an as-of-yet-unnamed Web site. The paper and the Web site will be run out of the same office, by essentially the same staff. The main newsroom for both will be located in Allbritton's television facility in Arlington, Va. There will be a smaller news bureau on Constitution Avenue in Washington, D.C.
"Obviously, you have to have synergy," said Jim VandeHei, one of the multi-platformed project's first big hires. (The endeavor, in addition to its Web-friendliness, also has an agreement with CBS on the national level.) "Everything that will be in the paper will be online. All of the people, the stars that we bring in, will be in that paper."
To staff the startup, Allbritton approached The Washington Post's political editor, John Harris, a 21-year vet of the paper. They recruited Mr. VandeHei shortly before the midterm elections. Mr. VandeHei was not particularly interested in leaving his job.
"I have one of the coolest jobs in journalism," Mr. VandeHei said he thought at the time. "Why would I give it up for this?"
Mr. VandeHei told his recruiters that he'd need a big budget to come over—that he'd hire a half-dozen top reporters at a salary "way above what reporters would make at The New York Times and Washington Post."
There were more demands. They would have to hire six more "rising stars" in political journalism, and have the resources to fly reporters about on the campaign trail with their mainstream-media rivals.
Allbritton went for it. Mr. Harris and Mr. VandeHei went to talk to their Post bosses.
The Post "came back with an unprecedented offer for us to stay," Mr. VandeHei said, an offer that included positions leading the newspaper's online political coverage.
Washington Post managing editor Philip Bennet declined to com­­ment on personnel decisions or The Post's counteroffer.
"We have a really successful, dynamic presence on the Internet," Mr. Bennett said. "It's a huge part of the future of the newsroom. It's embraced by everyone from [publisher] Don Graham to our most recent reporting hire. The idea that one would have to leave The Post to have a career that involved a lot of innovative online journalism doesn't ring true to me."
"The distinction between old media and new media is false," Mr. Bennett said. "The Washington Post, like The New York Times, is in new media. We do it all day long."
Mr. VandeHei said new-old media types have come clamoring. "I have e-mails from journalists begging for jobs," he said. "I don't want to use names, but they are people that you know."
One Post staffer said the news of the dual departure, compounded with a vague but menacing belt-tightening memo sent on Nov. 14 by editor Len Downie, was "distressing."
"There is no better place to write about politics than The Washington Post, and they'd rather go to a Web venture. That is pretty scary for the future of journalism," the staffer said.
Or is the future just too bright?
"I think we'll show that we're better than The New York Times or The Washington Post," Mr. VandeHei said.
"I'm a little bit skeptical that this is enough to launch," said a D.C.-based political reporter. "It's two good reporters, but that only takes you so far. You're competing against giants with just so much institutional leverage."
Was that leverage, or just baggage? "You can turn a small speed­boat faster than an aircraft carrier," said Mr. Ryan.
"We'll only attract people who are at a point in their career where they want to start something new," Mr. Harris said. "There's a lot of people who are like me, coming up on mid-career, who recognized the world as we know it just doesn't exist any more. The world of journalism that I came into in 1985 is changing."
"I'm 43," Mr. Harris said, "so I'm sure there will be a lot of 23-year-olds to help."
"I'm hoping that we'll have the flavor of working for the college newspaper, where everyone pitches in," he said. He noted it "will be a lot better funded than a college paper." And: "It's not going to be Wayne's World," he said.
–Michael Calderone
"You'd never, never, never leave The ­New Yorker," Caitlin Flan­agan told The Observer one year ago.
Who's "you"? Ms. Flanagan, the contrarian stay-at-home writer-mom, is now no longer a New Yorker contributor.
"Caitlin is not on staff right now; she's working on a book and will only be able to contribute occasionally," New Yorker deputy editor Pamela Maffei McCarthy wrote in an e-mail.
Ms. Flanagan's last byline for the magazine came in December 2005, on a piece about the life of P.L. Travers, the creator of Mary Poppins.
Since then, Ms. Flanagan has come out with her own contribution to the bibliography of domesticity: In April 2006, Little, Brown published her feminist-baiting book on modern motherhood, To Hell With All That: Loving and Loathing Our Inner Housewife.
That book sold 8,700 copies to date, according to BookScan.
Ms. Flanagan, when reached by e-mail, chalked up that "never, never, never" comment to the circumstances at the time. It was before her first book was published and prior to the second book deal, she wrote.
Before joining The New Yorker in 2004, Ms. Flanagan was a staff writer at The Atlantic, where she rose to prominence with a 12,000-word cover story about how upper-middle-class women's libbers depended on nannies—or serfs, in her formulation—to give them enough free time to sound off against patriarchy. Or pancakes.
After switching jobs, Ms. Flanagan resumed writing occasional pieces for The Atlantic—which led to that declaration of eternal loyalty to The New Yorker.
But economic power truly does liberate women from old dependencies.
"She's done the math, and it's not really worth it for her," said Benjamin Schwarz, Ms. Flanagan's editor at The Atlantic. "She's rewarded extremely handsomely for her book-writing, and no magazine can compete with that. Any work she's doing for a magazine, she's doing for charitable purposes."
Ms. Flanagan wrote that she's "not writing anything at all (except e-mails to you) until I've finished the book."
Ms. Flanagan's last New Yorker piece, the Mary Poppins article, brought her a dose of a different sort of notoriety. Valerie Lawson—who authored "the only com­prehensive biography" of Travers, as Ms. Flanagan's piece put it—complained to the magazine that Ms. Flanagan had drawn over-heavily on her work, without adequate credit.
The New Yorker then printed an opaque and somewhat stilted letter of not-quite-protest from Ms. Lawson. That note was the product of a lengthy e-mail negotiation between Ms. Lawson and Ms. McCarthy, which was subsequently published in full by the Columbia Journalism Review.
Ms. Lawson's letter appeared in The New Yorker on Jan. 23, 2006. Ms. Flanagan sat the rest of the year out.
Asked whether the Mary Poppins piece and Ms. Lawson's criticism had affected her decision to focus on book-writing instead of magazine work, Ms. Flanagan wrote back: "No."
Mr. Schwarz, who is The Atlantic's literary and national editor, called Ms. Flanagan an "uncannily talented writer." He declined to comment on whether she would resume writing for him in the future. This year, Ms. Flan­agan examined teenage girls' perceived lax attitude toward oral sex in the magazine's January-February 2006 issue. In June, she reviewed a book by the former nanny to Hollywood agent Michael Ovitz.
As for her upcoming book, Ms. Flanagan said, via e-mail: "It's about teenage girls and the ways that they have been both served and also shortchanged by the women's movement."
Ms. Flanagan wrote that she is not sure whether she will return to magazine writing or dive into a third book, and expressed some surprise at any interest in the twists and turns of her career.
"How in the world did you get stuck with the Caitlin Flanagan beat?" Ms. Flanagan wrote. "Did you lose a New York Observer drinking game?"
—M.C.